Adam Perry Lang Interview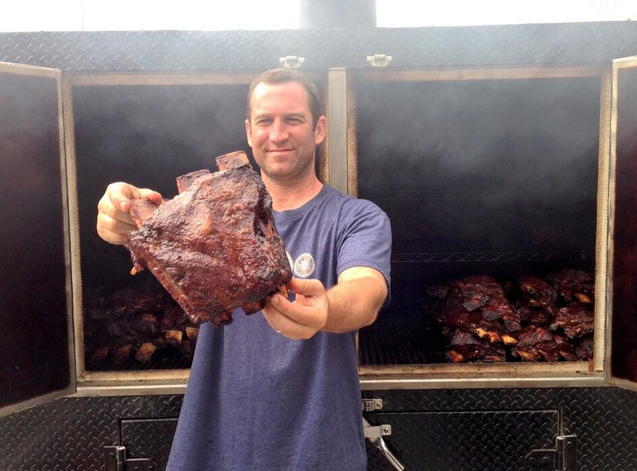 Adam Perry Lang is a classically French-trained chef that took his talents to the world of barbecue. He was the founder of the nationally acclaimed restaurant Daisy May's BBQ. Lang is really serious about his barbecue. In his first year on the national barbecue circuit, he won Grand Champion honors at the World Pork Expo as well as first place for his Pork Shoulder "The World Series of BBQ" in Kansas City.
Lang traveled across the country this summer to collect the coolest handmade products for the ultimate tailgate, including George Dickel Tennessee Whisky. Adam prepared his famous barbecue for a cooking segment on "Jimmy Kimmel Live!"
He recently released the second edition of his first, New York Times best-selling book "Serious Barbecue." It's considered by many to be a "barbecue bible" and is currently available in bookstores or at his website.
Adam was kind enough to take the time to chat with me about grilling, his book, and his work with George Dickel Tennessee Whisky.
Art Eddy: First off I would like to discuss the reprinting of your book "Serious Barbecue." What inspired you to reprint the book?
Adam Perry Lang: Well it was my first book, but I had the privilege to self-publish it. I got the rights back. There was such a demand for it. It was tough to get. It was very expensive on Amazon. I decided to take control of it and bought the rights back from the original publisher.
It is a re-issue of it. It is doing great. It is exactly as the title states. It is serious barbecue. What I found out about barbecue is that very few people want to know entry level barbecue. They want bragging rights barbecue out of the gate and I teach them that.
AE: Grilling can be somewhat intimidating. What are some tips you can give to people that tend to make hockey pucks out of meat on the grill?
APL: Well that is just the thing. It might be serious, but it is no difficult to do. You have to get very serious about it. When you are dealing with fire it is a bit more unruly than just turning a knob on a stove or a range. Whether you are doing it or not you have to get serious, because you turn your back on it and the fire almost has its own personality. It knows then you are walking away. It is going to get you.
AE: What do you prefer charcoal or gas?
APL: Definitely charcoal or wood. I am a live fire guy. Although I do like gas for certain things. I love it for its convenience. I recommend it all the time. I tell people to buy the grill that you are going to cook on the most. To me it is not just about cooking. It is about getting out there with your family, hanging out with your friends, and even just being out there by yourself. It is just being outdoors and getting to experience it for yourself.
While I prefer charcoal, wood, and natural forms of cooking because I love fire, I don't down someone who is cooking with gas or an electric.
AE: For those who might not be the best chef, what type of meal is easy to cook and is somewhat foolproof?
APL: It is not the actual dish that makes it foolproof. It is the techniques. I think one of the best techniques to have is having a safe area on the grill. I typically take a flat cast iron griddle and put it on the pan. If the flames get out of control I can take the food and put it on the flat cast iron griddle. It is still getting cooked, but it gets a break from the direct fire and the flames.
Whether you are going hot dogs, hamburgers, pork, steak it is really less about the recipe and more letting yourself cook anything with some simple little tips. Those tips is what I go over in "Serious Barbecue" and in all of my books. That is how I like to teach people.
AE: You recently had teamed up with George Dickel Tennessee Whisky to create some excellent dishes. What was that experience like?
APL: Even before I met the awesome people at George Dickel I was always a whisky guy. I am not a big wine drinker. I am a beer and whisky drinker. For me whisky is the perfect pairing for grilling and just outdoor life. It is just a sipping drink. For me it is a break in the action for a lot of grilled meats.
Look at the Japanese. Every Yakitori type bar you go to has an awesome selection of whisky. They know what they are doing. For me pairing up with them was a natural fit. I was looking for someone like me, who was really like me, to jump on board with. Their whole motto is exactly what I am about, which is "hand made the hard way."
I am really into craft. I am into doing things with my hands. Getting into it and not buying the simple way out. Here is a whisky company that as they are making the whisky they are taking the notes down. They are doing all by hand. They are tasting it. It is not heavily automated. It is all just wicked. For me that is how I like to cook. Plus I love their whisky. So it was an easy pairing.
AE: What is your favorite meal to make?
APL: I am a steak guy. I love grilling steaks. For me that is the ultimate. I cut them thick. I cook them hot, slow. I do many different things. I am known as what they call an active griller. I like to move stuff around the grill a lot. I just love steak. Charred, beautiful, sometimes dry aged, sometimes not and just straight off the grill. That's when my kids are all over me. They want the first bite.
Related Posts
| | | |
| --- | --- | --- |
| | Print article | This entry was posted by Art Eddy III on September 17, 2013 at 5:54 am, and is filed under Lifestyle. Follow any responses to this post through RSS 2.0. Both comments and pings are currently closed. |
Comments are closed.