Posts tagged
cooking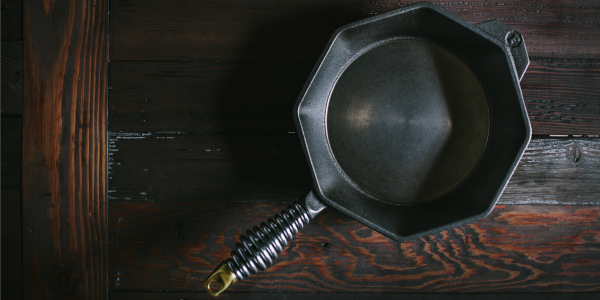 A proper cast iron skillet isn't something you just casually add to your mix of available cooking tools. It's a different sort of cookware beast. It's  both primitive and utilitarian, and timeless in more ways than one. The utility never goes out of style and the actual pan itself – if you can secure a good one – can be a staple of your kitchen for decades or generations to come.
There's a certain degree of mystery surrounding this piece of cooking technology as well. From competing views on how best to use it to various approaches for proper care and maintenance, the cast iron skillet is a surefire conversation starter. Whether you swear allegiance to its superior cooking abilities or you've never owned one before, a cast iron skillet is something every man should have handy.
I've never used a cast iron skillet before. I've heard of them, sure, but I just never had the opportunity to try one out. So when FINEX sent a cast iron skillet for us to review, I wanted to make the most of the opportunity.
FINEX markets itself as the first brand to bring machine-polished, heirloom-quality cast iron cookware back to the States for the first time in over half a century. Founded in 2012, the Portland-based FINEX Cast Iron Cookware Company is helmed by Mike Whitehead, who got the start-up company going with two successful Kickstarter campaigns. According to a 2014 interview, Whitehead was raised in his father's metal fabrication and welding shop. He wanted to know more about where his food came from and what was contained in it and this led the founder to "search for a healthier alternative to chemically lined nonstick pans." With iron being part of his family's fabric, Whitehead was able to push forward with the new start up. His goal was to manufacture a locally produced product that was an improvement on the classic cast iron skillet. That meant developing a new take that focused on an ultra-smooth cooking surface, a quick-cooling hand-polished stainless steel handle and a characteristic octagon shape that looks sexy and helps with pouring liquids. The end result is pretty successful.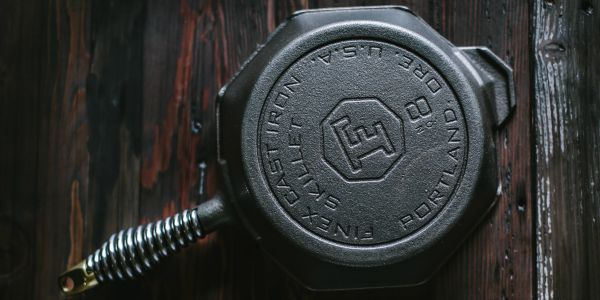 I just moved into a new spot, so once all the boxes were unpacked, I wanted to give this new cast iron skillet thing a try. I read up on the how to maintain your skillet. Figured this was important because the last thing I wanted to do was mess up heirloom quality cookware after my first recipe. The FINEX cast iron skillet comes pre-seasoned with organic flaxseed oil, but the first few times you use it, it's smart to add a little extra oil while the skillet is still new. The more you cook with the thing, the more oil you will add and the more seasoned the skillet gets. This doesn't mean that you can't ever wash the skillet. Don't soak it or put it in the dishwasher or make other rookie moves like that, but rinsing in hot water and using a mild abrasive like a scrubby pad, coarse salt or brush is totally acceptable.
Okay, I knew how to care for the thing, but what to make? You can literally make anything in a cast iron skillet. That's what makes these things so badass. You can do a breakfast hash, sear meat, bake things – you name it. If it needs heat and you can cook it on a stove or in the oven, you can pretty much do it with the skillet.
I decided to make beer glazed citrus chicken because I like all of those things and I wanted to try something saucy with my first skillet run. Here's a link to the recipe. You can click over for the details, but essentially I made a zesty citrus glaze in a sauce pan, seared up some chicken in the skillet and then tossed everything together and into the oven to bake. The results were pretty amazing: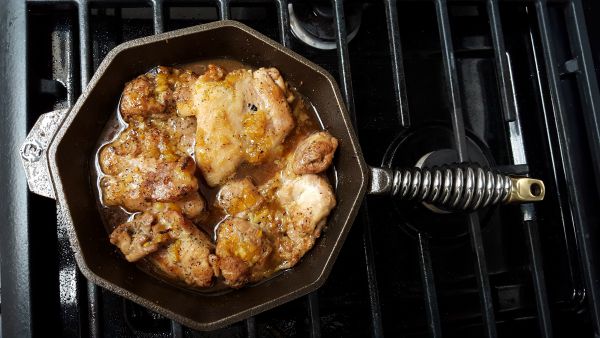 I really love how this thing can go from stove to oven and back with ease. It really opens things up from a cooking perspective. The skillet heats up quickly and evenly and the whole process was made more enjoyable because I know that this first meal is just the foundational layer of seasoning will grow as more meals are made in the skillet over time.
Was the handle quick cooling? On the stovetop yes, after the oven, not so much. I mean that should be painfully obvious, right? Well let the little burn mark on my left hand serve as a cautionary tale. The handle may look safe at all times, but any semi-intelligent human should know that this won't be the case right after you take this thing out of the oven. Lesson learned / I have no idea how that happened. Purely the fault of the absent minded chef here. The skillet did it's job just fine. Just something to keep in mind when working with an overly attractive handle like this.
Bottom line, this is a kitchen investment worth making. FINEX makes a quality product that's completely manufactured in the USA. So I say support your primitive need to cook with iron. Support your country. Support your long term efforts to be a better cook. This is a long play cookware addition that requires a bit of upfront costs, yes, but it'll grow with you and it'll only get better with age.