Week 2 NFL Picks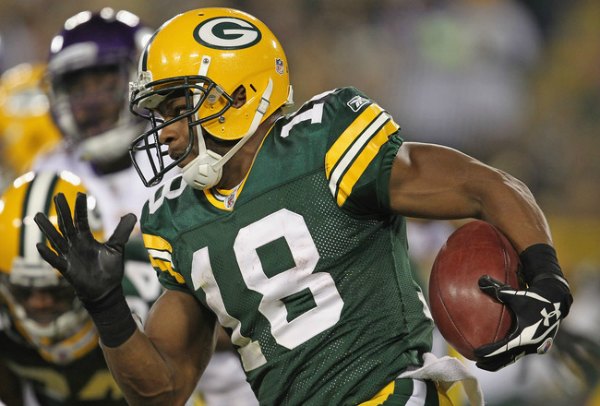 So a wild opening week of NFL football made last week's picks look pretty damn weak. I'm already in a hole with a 6-10 record ATS. Here's hoping Week 2 will be less of a disaster. On to the picks:
At Green Bay -4.5 Chicago
Aaron Rodgers isn't going to panic. The Bear's looked solid, but that was against the Colts. The Bears D isn't shabby, but it's not nearly on par with a 49ers unit that looked downright dominant. Cedric Benson plays well against the team that originally drafted him. Look for more balance from Green Bay, as the Packers equalize their record at home. Also, with Greg Jennings inactive, look for Randall Cobb to build on his exciting multi-purpose start to the season.
Pick: Packers -4.5
At NY Giants -7 Tampa Bay
Victor Cruz made some awful drops in Week 1, but I think he got it out of his system. The Giants could use some help in the secondary, and they need to see what David Wilson can do with the ball. Hopefully the kid doesn't fumble in the first series so we can see what he looks like throughout the rest of the game. Bradshaw did well, but the G-Men need more of a rushing presence up the middle and in short yardage situations. I like the way Doug Martin runs. With Blount out with a stinger, Martin should get plenty of looks. It'll be interesting to see if the Giants can bring more pressure on D. They didn't look too threatening in the opener, but I like their chances to bounce back.
Pick: Giants -7
At New England -13.5 Arizona
The Pats don't lose in Week 1. They just don't. Brady and company looked sharp against an overmatched Titans team. I found myself cheering for Kevin Kolb once he got in the game against Seattle. It can't be fun to be viewed as a big trade/fat franchise contract blunder. Guy stepped in and looked pretty sharp. Too bad he has to follow that effort up against such a superior opponent.
Pick: Pats -13.5
Minnesota -1.5 At Indianapolis
Christian Ponder looks much improved, and AP is back to All Day status. Luck had a bunch of turnovers in his first pro game, but I don't expect that to continue. This is a tough, pick 'em-type situation, but I'm going with Luck to win his first pro game in Indy's home opener.
Pick: Colts +1.5
New Orleans -2.5 At Carolina
So the Saints got slapped around in their home opener. They sucked at third downs, had too many bone-headed offensive penalties and just looked vulnerable all over the place on defense. The Panthers couldn't run the ball at all in their opening loss to the Bucs. DeAngelo Williams, who was supposed to have a huge game with Jonathan Stewart sidelined, ended up with a meager -1 yard on the ground. JStew is practicing again and should give the Panthers a nice lift. Still, I expect this game to end with Cam Newton walking off the field wearing a towel over his head in disappointment. Saints rebound on the road.
Pick: Saints -2.5
At Buffalo -3 Kansas City
The Bills got lit up by a division rival last week. Not the way you want to start the year. Losing Fred Jackson for a month and David Nelson for the year doesn't help either. Things just looked bad. CJ Spiller is sure to have a big game, but I like the Chiefs to win in a grinder.
Pick: Chiefs +3
At Philadelphia -2.5 Baltimore
Philly's top wideouts are both a little gimpy right now. Maclin's got a hip flexor (or pointer or some shit) and DeSean finished practice today with ice around his leg. Factor in Vick's desire to hurt himself and the fact that the Ravens look downright barbaric right now on defense, and it looks like things could get ugly in Philly. Joe Flacco looked fantastic against a Bengals team that was still in preseason mode. With some pretty passes and lots of Ray Rice, the Ravens should put up enough points to earn the upset.
Pick: Ravens +2.5
Oakland -2.5 At Miami
I feel like the Raiders have no chance at competing in their division this year. You can only run DMC into the ground for so long. And at some point you need healthy wide receivers to make plays. Being able to get the ball to your punter helps, too. What the Raiders need is a trip to Miami to beat up on the Dolphins. But will the Dolphins go down that easy? They got a win at least a couple games this year, right? Maybe this will be one of 'em.
Pick: Dolphins +2.5
At Cincinnati -6.5 Cleveland
Man, the Bengals looked terrible on Monday, but at least they moved the ball. Somewhat. The Browns defense kept Cleveland in the game against the Eagles, but you can't give your workhorse running back 19 carries and not have him break 50 yards. And you can't have your new franchise QB throw 4 picks, put up single digit passer rating and expect to win. With Joe Haden starting his suspension, Andy to AJ should be a good connection this week. As bad as the Bengals looked, they're probably not the worst team in Ohio.
Pick: Bengals 6-5
Houston -7 At Jacksonville
So much for taking it easy with Arian Foster. Houston worked their workhorse back hard in Week 1, and the results were nice. Houston's got a lot of things going right at the moment. That's what happens when you play the Dolphins. Balls get batted at the line, endzones look bigger and easier to get through, turnovers happen. The Jags have to be happy with the progression of Blaine Gabbert. MJD looks ready to carry the load again too. I think the Texans will still be too much for Jacksonville to handle though.
Pick: Texans -7
Dallas -3 At Seattle
The Rob Ryan defense in Dallas has finally come into its own. That's not good for rookie QB Russell Wilson. Seattle definitely not a doormat, but with the Cowboy's find rhythm on both sides of the ball, it's going to be tough for the Seahawks to come out on top.
Pick: Cowboys -3
Washington -3 At St. Louis
The Rams defense looked great against Detroit, but I'm so high on RG3, I might just eat a whole bag of potato chips. If Garcon plays and Fisher goes with another conservative game plan, the Skins will be 2-0.
Pick: Skins -3
At Pittsburgh -5.5 NY Jets
Manning was toying with the Steelers all game last Sunday night. The Jets exploded on the Bills. Pittsburgh returns home a little bit healthier. While the Jets have had some success against the Steelers recently, I expect this game to bring the New York back to reality, especially if Darrelle Revis sits out.
Pick: Steelers -5.5
At San Diego -6 Tennessee
The Titans running game is a huge question mark.  Then again, the Chargers don't have the clearest backfield right now either. If Mathews plays, it'll be a big boost. It's more likely that we're going to see a combo of a washed up Ronnie Brown, a harder running Curtis Brinkley and short yardage guy Le'Ron McClain. The Chargers offense could use a shot in the arm. They can't rely on FGs forever. The Titans get Kenny Britt back, which is nice, but I don't think it will be enough. This game could be the most unwatchable game of the week.
Pick: Chargers -6
At San Francisco -6.5 Detroit
The 49ers look scary. They're in a soft division, they have a punishing defense and new weapons and depth on offense. Alex Smith played decisively against the Packers. He didn't just manage the game and minimize mistakes, dude made plays. It's telling that the Lions can still win games when Matthew Stafford throws three ugly picks. Their offense has the ability to rebound, but their secondary could sure use some help. It's hard to hate on the Lions, but San Francisco just looks like too much to handle.
Pick: 49ers -6.5
At Atlanta -3 Denver
Atlanta looked extra-explosive to start the year, but the new Manning-led Broncos can sure control a game. Look for Manning to eat clock and keep the high-octane Falcons offense off the field.
Pick: Broncos +3
Last Week: 6-10
Last Season 140-120-12
Related Posts
| | | |
| --- | --- | --- |
| | Print article | This entry was posted by Chris Stout on September 13, 2012 at 4:29 pm, and is filed under Sports. Follow any responses to this post through RSS 2.0. Both comments and pings are currently closed. |
Comments are closed.