Top Gear Season 17 DVD Giveaway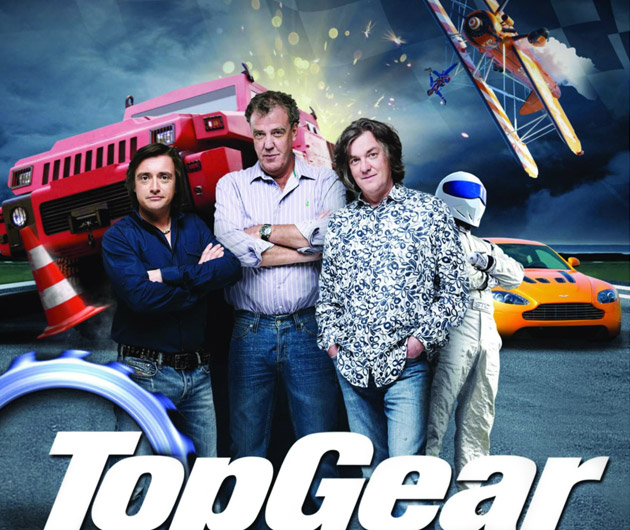 Top Gear is awesome. You know this already. It's like the perfect balance of supercar porn, beautiful camera work, engaging personalities and the right amount of humor and celebrity banter. Jeremy Clarkson, Richard Hammond and James May have been doing Top Gear since the 2002 relaunch of the BBC television series (when James May replaced previous presenter Jason Dawe). The original version of Top Gear began in 1977 as a local series on BBC Birmingham. It ended up on BBC2 and until 2001. Clarkson has been at the helm of Top Gear, which one of the most popular television programs in Britain, since 1988.
The best thing about Top Gear is that the co-presenters have such great, genuine chemistry. Clarkson is witty, pompous, self-important and clever. He treads that fine line between arrogant snob and approachable everyman. Not an easy task, this.
Richard Hammond, that impish, big-smiled comic foil, fully embraces his role as a loveable hamster. He feels approachable, but still spends an awful lot of time whitening his teeth. In 2006, Hammond survived a serious car crash when the Vampire dragster he was driving crashed while traveling at 288 MPH. He made a full recovery and returned to his Top Gear hosting duties.
James May is the black sheep of the bunch. He's always bringing up the rear in racing challenges. His car is always first one to break down. May has appeared in different programs about space travel, science fiction, toys and wine. He balances the wonder of a child with a sharp tongue and he carries an affable underdog vibe with him at all times.
And then there's the Stig. Some say he's a the mystery driver who sets lap times, trains all the Stars in the Reasonably Priced Cars and has cousins all over the world. But no one knows for certain who the Stig really is. We just know that he listens to some really weird stuff when driving around the track at top speed.
Season 17 kicks off with a 50th birthday bash for the Jaguar E-Type, hosted by Jeremy Clarkson. Richard Hammond heads to South Africa to test out a Hummer on steroids and James May battles Amy Williams in Mini Rally Car race. Other highlights of the season include: a trip to Italy to test high performance hatchbacks; a head-to-head battle between the McLaren MP4-12C and the Ferrari 458 Italia; a comparison of the Jaguar XKR-S and the Nissan GT-R; demolition of derelict houses; a seaside evaluation of two electric cars (the Nissan Leaf and the Peugeot iOn); and celebrity laps from Alice Cooper, Ross Noble and Sebastian Vettel.
So we're partnering up with the BBC to give away Top Gear Season 17 DVDs to three lucky readers. To enter, just follow us on Twitter (@MANjrcom) and send us an email below. We'll pick the three winners at random next Thursday, March 22. Good luck!
Related Posts
Comments are closed.