SoBe Squamata Hat and Skate Deck Giveaway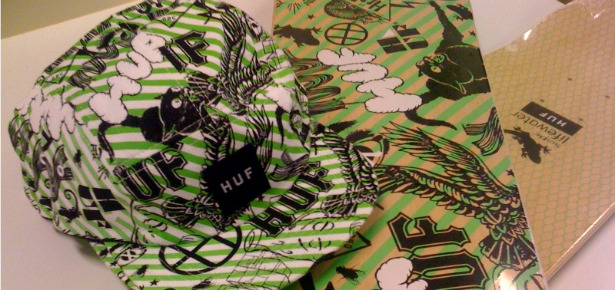 SoBe, the lizard logoed brand of tea, fruit juice, energy and improved water beverages, ran a campaign this summer in LA called the SoBe Squamata Summer Series. The SoBe Squamata truck rolled around Southern California passing out samples and promoting fashion collaborations from artists like Eric Elms, Dr. Romanelli and Craig Redman. Los Angelenos were treated to events that combined art, entertainment, music and fashion.
Now that SoBe Squamata Summer Series has wrapped up its efforts, we're giving away some custom SoBe gear designed by local artists. The custom hat and skateboard deck that were giving away were distributed to fans throughout the LA area. If you missed out on your chance to score some SoBe gear from the Squamata truck, fear not. We're giving away two prize packs that include a hat and a custom skate deck. Here's what you need to do enter this giveaway:
Follow us on Twitter (@MANjrcom)
Leave us a comment telling us why you deserve to win
Winners will be chosen at random
Giveaway ends next Tuesday, October 12th
Related Posts

about 2 weeks ago - No comments
Hines Ward's REFUEL web series, BECOME ONE, highlights the former football star's training efforts as he prepares to compete in the 2013 IRONMAN® World Championship triathlon in Hawaii this October. in our Hines Ward interview that we posted a few weeks back, Ward talked about BECOME ONE and the training that goes into triathlon prep.