Randy Moss Traded to the Vikings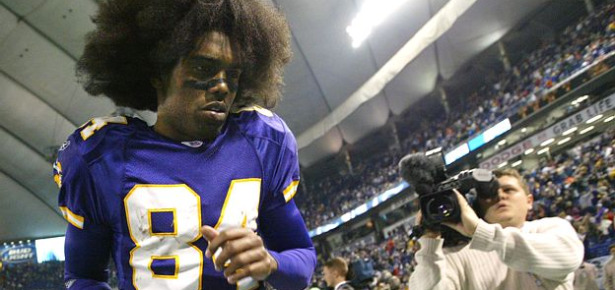 The Patriots shipped Randy Moss back to Minnesota today. New England got a third-round pick for the future Hall of Famer. In the first four weeks of the season, Moss posted 9 catches for 139 yards and three touchdowns. He dropped a hastily thrown touchdown pass on Monday night, his only target in the game. It was the first game that Moss failed to register a catch in a Patriots uniform.
Despite his amazing skill set, it's obvious that Moss was becoming a distraction. Remember that bizarre press conference after the Pats beat the Bengals in Week 1? That was the beginning.
"Sometimes you want your boss to tell you you're doing a good job. That's every man or woman who works for somebody. … And that's just the way with football. If you do a good job and think that you're doing a good job, you want to be appreciated. I really don't think that — me, personally — that I'm appreciated."
It's one thing to be motivated by a contract year, but it's different when you're a semi-disgruntled receiver looking for appreciation from a shrewd franchise that's not going to give you a big payday.
So if you're Moss, why not bitch and moan and get an early release? And if you're the Pats, why go out of your way to keep this guy happy for 12 more games when you know he's out anyway? Why not get something in return for him now.
I like the move. The Vikings are desperate for results and the Pats have shown in the past that they can win without a superstar receiver.
Remember that New England got Moss from the Raiders for a fourth round pick in the 2007 Draft. The Raiders used the pick to select cornerback John Bowie. Bowie went on to record two tackles in the NFL. He now plays for the Hartford Colonials in the UFL.
Moss, on the other hand, started 51 games for the Pats and caught 259 passes for 3,904 yards and 50 touchdowns. He averaged 15.1 yards per catch with the team and in 2007 he set NFL records for the most touchdowns in a season (23), the most games with at least two touchdown catches (8) and the most touchdowns scored in the first 10 games with a new team (16).
So after all that production and glory, the Pats still flipped Moss for a higher round pick. Sure he's still got it, and yea, Brady's ability to make big plays down the field takes a hit, but the Pats made the right move. They can accelerate the progression of explosive 2009 third round pick Brandon Tate (who's already scored two touchdowns off kick returns this year). They play up the no-one-is-bigger-than-the-team angle, and they can feel confident that they got an amazing return on their 2007 investment.
It works for Minnesota, too. The Vikings get their franchise's most popular player back. Favre gets a much needed weapon to stretch the field. Percy Harvin gets to focus on possessions and short routes. Adrian Peterson gets breathing room to run.
It's pretty awesome that Moss gets to play in back-to-back Monday Night Football games. He squares off against Darrelle Revis and the Jets next week. You also got to love the fact that Moss and the Vikings have to travel to New England on Halloween. If Brady can maintain the borderline-psychotic intensity that he displayed on Monday, and if Favre can find a way to be effective again, that's going to be one hell of a game to watch. Trick-or-treaters be damned.
Related Posts
| | | |
| --- | --- | --- |
| | Print article | This entry was posted by Chris Stout on October 6, 2010 at 11:11 am, and is filed under Sports. Follow any responses to this post through RSS 2.0. Both comments and pings are currently closed. |
Comments are closed.