Week 2 NFL Picks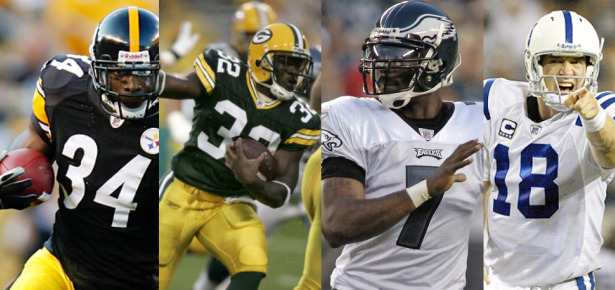 Alright so last week's picks weren't that fantastic, but I still hit a nice parlay after Rashard Mendenhall took it to the house in Pittsburgh's overtime win against Atlanta. Seven correct calls, six incorrect calls and three pushes against the spread. Nothing to write home about, but not a total embarrassment either. Odds makers are starting to figure teams out a bit better, so this week pick's features fewer upsets and some more reasonable spreads. Here are the picks:
At Cleveland (-2) Kansas City
The Chiefs looked pretty good against San Diego last week. In rainy conditions, KC played physical football and excelled on special teams. Jake Delhomme hasn't practiced this week because of an ankle injury, and the Browns were edged out by the lowly Bucs in Week 1. Shaun Rogers isn't ready to rumble at full speed yet either. With Seneca Wallace starting, I like the Chiefs here.
PICK: Chiefs +2
At Green Bay (-13) Buffalo
Don't let the loss of Ryan Grant fool you into thinking that Green Bay will lose a step. Brandon Jackson is a capable fill-in for the high-octane Packers offense. And the kinda Bills suck. Buffalo will be without linebacker Paul Posluszny, who hurt his knee against Miami. The spread is huge, but the Packers are at home. I don't care how many decent running backs are on the Bills roster, Packers win and cover.
PICK: Packers -13
Baltimore (-2.5) At Cincinnati
The Ravens didn't look all that pretty against the Jets, but they still got the W. That defense is as stiff as any unit in the league, and even on an unimpressive day, Flacco and his new set of offensive weapons look like they can do some damage. The Bengals got bombarded by the Pats, but found a way to make the loss less painful in the end. No matter how you stack it up, Baltimore is just better (even on the road).
PICK: Ravens -2.5
At Tennessee (-5) Pittsburgh
Upset special! Interim Steelers QB Dennis Dixon looked horrible on short throws, but his 52-yard pass to Mike Wallace shows that, in a pinch, the guy can fling it. Mendenhall's day was fairly unimpressive until he broke out for a 50-yard TD run in overtime. But the Steelers D is back, baby! Troy's pick last week was game-changing and Pittsburgh's defense only allowed 58 rushing yards. Chris Johnson isn't going to break off a 150-yard game against this squad. Vince Young has never faced Dick LeBeau's blitzing schemes. Look for Young to make some plays with his feet and some mental mistakes in the passing game. As long as Dixon doesn't have three turnovers, the Steelers can squeak by the Titans.
PICK: Pittsburgh +5
Philadelphia (-6) At Detroit
In the battle of the backups, I'll take an inaccurate Michael Vick over an inaccurate Shaun Hill. When plays break down for Hill, he'll toss the ball to Megatron, triple-coverage be damned. When plays break down for Vick, at least he'll have a chance to do something with the football in his hands. Jahvid Best scored two TDs last week, but he also averaged 1.4 yards per carry. Detroit should have won last week, but this week's loss won't be controversial.
PICK: Eagles -6
At Dallas (-7.5) Chicago
Chicago couldn't punch the ball in from the goal line last week. Matt Forte had a big game, but not on the ground. In Mike Martz's pass happy system, Jay Cutler's gonna rack up some serious yardage, but he's also gonna make some mistakes. The Cowboys know all about mistakes. A dumb holding call at the end of last week's game against Washington erased a Romo-to-Roy Williams touchdown and a comeback victory for Dallas. The Cowboys leading rusher, Marion Barber, only mustered 39 yards against the Redskins. Miles Austin proved he was worth the money, though. Austin caught 10 passes for 146 yards and a score. The Bears got a gift last week, but Romo is no Shaun Hill. He'll make some big plays against Chicago's suspect secondary and put the Cowboys in a position to win.
PICK: Dallas -7 (buy the damn .5)
At Carolina (-3.5) Tampa Bay
Matt Moore suffered a concussion in Week 1's loss to the Giants, but it looks like he'll play this week. Moore had three picks and a fumble in Week 1.Yikes. Carolina's offense really needs to get it together, but I think things will start clicking in Week 2 (as long as Moore finds Steve Smith and hands the ball off repeatedly). Tampa Bay's defense looked piss-poor against Cleveland in the first half last week, but the Bucs tightened up and capitalized on turnovers in the second half. Look for Carolina's offense to find a rhythm against the Bucs in Week 2.
PICK: Panthers -3 (buy the .5, again)
At Atlanta (-6.5) Arizona
The Falcons lost a tough one last week in Pittsburgh. Michael Turner couldn't get going and Atlanta never found the endzone. Arizona moved the ball well against the Rams, but the Cardinals had four turnovers and almost allowed the Rams to take the game. Beanie Wells isn't healthy and Derek Anderson is who you thought he was. The advantage in this game goes to the home team. Look for the Falcons to rebound.
PICK: Falcons -6.5
At Minnesota (-5.5) Miami
Favre's rusty as hell, but the Vikings are still a damn good football team. I like the Dolphns, but not against a Vikings team at home in the dome. There's no way the Vikings don't feed Adrian Peterson. He only got six second half carries last week. Minnesota makes the adjustments this week.
PICK: Vikings -5.5
At Oakland (-3.5) St. Louis
It's doubtful that the Rams will let Sam Bradford throw 55 pass attempts every game, but the fact that they let their rookie QB go to the air that many times shows that St. Louis has confidence in the new face of the franchise. Michael Bush practiced this week, but he's still not close to taking over the featured tailback role. If you got surprise fantasy love from Darren McFadden in Week 1, you'll probably have one more week to capitalize.
PICK: Rams +3.5
At Denver (-3.5) Seattle
Who knows what to think of Seattle? Is the team that good or did the 49ers meltdown that bad? I think the Broncos can take 'em, but with so many other games to wager on, I'd steer clear of this one.
PICK: Broncos -3 (buy .5)
Houston (-3) At Washington
Arian Foster's not going have a monster game against the Skins. He'll be a useful back for weeks to come, but Schaub's going to do the heavy lifting this week. Washington looks like a solid football team, but the Texans are too fired up.
PICK: Texans -3
At San Diego (-7) Jacksonville
The Jags are for real, but the Chargers bounce back from last week's loss to win at home.
PICK: Chargers -7
New England (-3) At NY Jets
Revis isn't a 100 percent. Mark Sanchez and Shonne Green didn't light up any highlight reels last week. Meanwhile, Tom Brady and the Pats came out all fired up against Cincy. The final score didn't reflect the initial shellshock that New England delivered. For all the bluster in the offseason, the Jets are going to start the year 0-2.
PICK: Pats -3
At Indianapolis (-5.5) NY Giants
Peyton gets the edge in the Battle of the Mannings. Ahmad Bradshaw puts up good fantasy numbers, but Colts take the shootout in Indy.
PICK: Colts -5.5
New Orleans (-5.5) At San Francisco
The Niners dominated the Seahawks at the start of last week's game. After the first quarter, everything fell apart. Now there's all kinds of finger-pointing and Singletary smells a rat. On the flip side, the Saints hung on in a low-scoring season opener, but Pierre Thomas can pound the rock, Brees can distribute at will and the Saints can certainly handle a team in early-season disarray.
PICK: Saints -5.5
Related Posts
| | | |
| --- | --- | --- |
| | Print article | This entry was posted by Chris Stout on September 18, 2010 at 11:34 am, and is filed under Sports. Follow any responses to this post through RSS 2.0. Both comments and pings are currently closed. |
Comments are closed.