Posts tagged
Randy Moss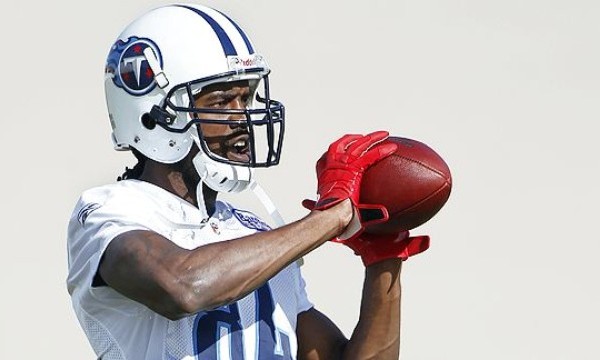 Despite reports that he's crazy fit, Randy Moss is calling it quits. And it's probably for the best. Moss rejuvenated his career with the Pats, catching 250 passes for 3,765 yards and 47 touchdowns in his first three seasons with the team. That production dropped dramatically last year. After the first four games of the season, Moss put up nine catches for 139 yards and three scores. In his final game with New England, Moss didn't even catch a pass. He wore out his welcome, and the Pats shipped him to the Vikings for third round pick.
The return to Minny didn't last long. Moss played in only four games. He caught 13 passes, scored twice and acted pretty douchey. The Vikings cut him and 19 teams past him up on waivers before he was claimed by the Titans. In eight games with Tennessee, Moss caught six passes for 80 yards and didn't find the endzone.
Moss was looking to go to a contender this season, but apparently he didn't get any offers from teams with a chance to win. He didn't want to the TO thing, bouncing from crap team to crap team on one-year deals, so he decided to hang 'em up.
Moss exits the scene with some pretty sweet numbers (954 passes for 14,858 yards and 153 touchdowns). He set the single season TD reception record in 2007 (23), after previously setting the record for TD receptions by a rookie in 1998 (17). He's second all time in career TD receptions (tied with TO), career 100 yard games (64) and 1,000+ yard receiving seasons (10).
The thing we'll miss the most about Randy is his way with words. From "straight cash, homey" to smoking weed "every blue moon," Moss had a knack for expressing himself. Sure he had run-ins with traffic control officers, caterers, water bottles and refs, coaches and players, and yea, at times he lacked effort and professionalism, but Moss was still fun to watch and always entertaining in interviews and press conferences.
Here's a tribute to the this future Hall of Famer, courtesy of DJ Steve Porter: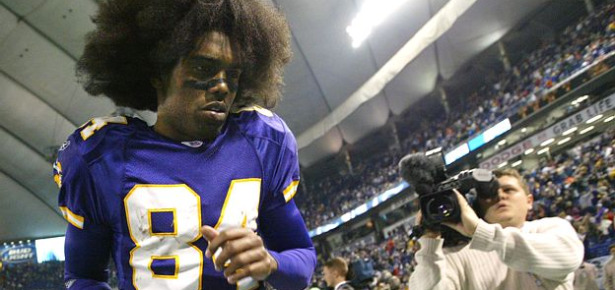 The Patriots shipped Randy Moss back to Minnesota today. New England got a third-round pick for the future Hall of Famer. In the first four weeks of the season, Moss posted 9 catches for 139 yards and three touchdowns. He dropped a hastily thrown touchdown pass on Monday night, his only target in the game. It was the first game that Moss failed to register a catch in a Patriots uniform.
Despite his amazing skill set, it's obvious that Moss was becoming a distraction. Remember that bizarre press conference after the Pats beat the Bengals in Week 1? That was the beginning.
"Sometimes you want your boss to tell you you're doing a good job. That's every man or woman who works for somebody. … And that's just the way with football. If you do a good job and think that you're doing a good job, you want to be appreciated. I really don't think that — me, personally — that I'm appreciated."
It's one thing to be motivated by a contract year, but it's different when you're a semi-disgruntled receiver looking for appreciation from a shrewd franchise that's not going to give you a big payday.
So if you're Moss, why not bitch and moan and get an early release? And if you're the Pats, why go out of your way to keep this guy happy for 12 more games when you know he's out anyway? Why not get something in return for him now.
I like the move. The Vikings are desperate for results and the Pats have shown in the past that they can win without a superstar receiver.
Remember that New England got Moss from the Raiders for a fourth round pick in the 2007 Draft. The Raiders used the pick to select cornerback John Bowie. Bowie went on to record two tackles in the NFL. He now plays for the Hartford Colonials in the UFL.
Moss, on the other hand, started 51 games for the Pats and caught 259 passes for 3,904 yards and 50 touchdowns. He averaged 15.1 yards per catch with the team and in 2007 he set NFL records for the most touchdowns in a season (23), the most games with at least two touchdown catches (8) and the most touchdowns scored in the first 10 games with a new team (16).
So after all that production and glory, the Pats still flipped Moss for a higher round pick. Sure he's still got it, and yea, Brady's ability to make big plays down the field takes a hit, but the Pats made the right move. They can accelerate the progression of explosive 2009 third round pick Brandon Tate (who's already scored two touchdowns off kick returns this year). They play up the no-one-is-bigger-than-the-team angle, and they can feel confident that they got an amazing return on their 2007 investment.
It works for Minnesota, too. The Vikings get their franchise's most popular player back. Favre gets a much needed weapon to stretch the field. Percy Harvin gets to focus on possessions and short routes. Adrian Peterson gets breathing room to run.
It's pretty awesome that Moss gets to play in back-to-back Monday Night Football games. He squares off against Darrelle Revis and the Jets next week. You also got to love the fact that Moss and the Vikings have to travel to New England on Halloween. If Brady can maintain the borderline-psychotic intensity that he displayed on Monday, and if Favre can find a way to be effective again, that's going to be one hell of a game to watch. Trick-or-treaters be damned.