Week 4 NFL Picks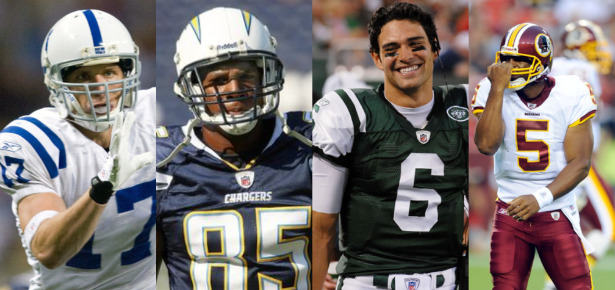 Last week, I was 100 percent 50/50. Eight correct calls and eight crappy calls. I'm 23-21-3 against the spread so far this season, but I'm still making weekly cash on those Steelers, baby! Let's see if we can stay above .500 after a Week 4 slate of games where the favorites all look mighty tempting.
At Tennessee -6.5 Denver
The Broncos haven't seen a defense as good as the Titans this year. The Jags, Colts and Seahawks are easy to shred. The Titans are giving up the fifth fewest yards in the air so far (178.3 yards a game) and they're the league's seventh-best defense in total yards allowed per game (294.7). Denver's been getting it done with Kyle Orton spreading the ball around. Knowshon is hurt and the Broncos can't run the ball. Their 67 rushing yards per game are good for 30th in the league. Vince Young played well last week. Take away that Pittsburgh debacle and he's actually having a pretty solid season. If Young can avoid boneheaded picks, the Titans win easy.
PICK: Titans -6.5
At Pittsburgh -1.5 Baltimore
So let's recap this 3-0 run by the Big Ben-less Steelers. They were dogs to start the season at home against the Falcons. They were dogs when they went to Tennessee in Week 2. They were only favored by 2.5 against the Bucs in Tampa Bay. Now they host the Ravens at home in what amounts to a pick'em. So pick'em. Don't expect Charlie Batch to throw three TDs (ever again). Just expect a bruising, low-scoring affair with a motivated home team edging out the purple visitors.
PICK: Steelers -1.5
Cincinnati -3 At Cleveland
Seneca Wallace or Jake Delhomme? It doesn't matter. Cincy's offense isn't firing on all cylinders, but the Browns only have one cylinder – Peyton Hillis. The Browns have kept it respectable. They've lost three games by tiny margins (three to the Bucs, two to the Chiefs and seven to the Ravens), but this team is going to lose the next four games (Cincy this week, Atlanta, at Pittsburgh, at New Orleans). The Bengals can beat this team by three.
PICK: Bengals -3
At Green Bay -14.5 Detroit
Damn, I hate these extra large spreads, but make no mistake, Green Bay's gonna play angry. After that sloppy-ass, mental-mistake-riddled mess on Monday, the Packers are going to settle down and get back to playing good football. Jahvid Best is dealing with a toe injury. He'll likely be a game time decision. If he's limited in any way, the Lions get blowed out.
PICK: Green Bay -14.5
At New Orleans -13.5 Carolina
The Jimmy Clausen Era didn't get off to a great start. Clausen's first half QB rating was 0.0. He went on to complete 16 or 33 passes for 188 yards. He threw a pick and lost a fumble. He also didn't get much help from the ground game. Gregg Williams is going to bring the pain against Clausen. Look for the Panthers to turn the ball over frequently to a team that can score at will. Big spread yes, but a favorable matchup as well.
PICK: Saints -13.5
At Atlanta -7 San Francisco
I want the 49ers to put it together, I really do. There's just something about Mike Singletary. You just want to see him succeed. He fired Offensive Coordinator Jimmy Raye after last week's putrid play calling, and VD likes the decision. Atlanta's good. They took advantage of Garrett Hartley's missed kick and finished off the Saints in the Superdome. Now they get to go home and host a team that still needs to find its identity. San Francisco will right the ship, but not this week.
PICK: Falcons -7
Seattle -1 At St. Louis
You know what? I'm picking the Rams. This division is wide open and Seattle has a pretty cushy schedule. They've won two games at home, but now they need to venture away from the comfy green foliage of the Pacific Northwest and go to Middle America to play a revived Rams team that's coming off a 30-16 upset over the Redskins. Look at the final scores of the first two games. Even when the Rams lose, they keep it close (13-17 loss against Arizona, 14-16 loss against Oakland). I kinda like this team. Bradford's a breath of fresh air, and even with a gimpy Stephen Jackson, I'm going grab the Rams in this pick'em. Darby can hang.
PICK: Rams +1
NY Jets -5.5 At Buffalo
Ryan Fitzpatrick was surprisingly effective against New England last week. Maybe the Bills knew what they were doing when they cut Trent Edwards. Last week, the Bills scored four times in their first five possessions and CJ Spiller provided a much needed spark on offense and on special teams. The Jets, meanwhile, are everyone's favorite team again. After Week 1, expectations were reset. The hype died down. Then came victories against the Pats and the Dolphins. During those wins, Mark Sanchez completed 36 out of 58 passes for 476 yards, six touchdowns and no interceptions. Sanchez wasn't sacked at all last week, and if continues to play like he has the past two games, the Jets will continue to frighten their division. Revis is out, but that's not enough to keep the Bills in this. The Jets will shut down the run, make plays with LT and through the air and finish 3-0 in their division after Week 4.
PICK: Jets -5.5
Indianapolis -7 At Jacksonville
Save Del Rio? Not against the Colts. Indy owns the Jags. The Colts have beaten the Jags five times in their last six matchups. Peyton's crushing it and he's getting everyone involved. Austin Collie, the best final round fantasy draft pick you've ever made, was limited in practice, but he's expected to play. With Garrard sucking it up big time and Maurice Jones-Drew unable to find the endzone in the first three games, it's not looking good for Del Rio's future in Jacksonville.
PICK: Colts -7
Houston -3 At Oakland
The Raiders want to kill your parlay. Like almost every week. Don't let them. The Texans are better, but I got a bad feeling about them going to that shit field in Oakland and laying an egg. I got no real reason. Just a feeling.
PICK: Oakland +3
At San Diego -8.5 Arizona
Who has two thumbs, drafted Antonio Gates pretty high and loves the fact that Vincent Jackson is in AJ Smith-induced roster purgatory? This guy! Gates, who's always a fantasy monster, has been even more of a beast this year. Through three games, the ballin' TE has 17 receptions for 242 yards and 4 touchdowns. Who needs a starting WR? Not you, San Diego. Sure you lost to Seattle and that has to hurt some, but this is a great game for a rebound. The Cardinals are not playing good football. Arizona gives up too many yards on the ground and they can't generate any yards in the air. Injuries don't help either. Alan Faneca is hurt. Steve Breaston and Early Doucet are hurt. Beanie Wells will play, but he isn't ready to fully take over either. Arizona has too many holes to win this game on the road or even cover the spread.
PICK: Chargers -8.5
At Philadelphia -6 Washington
Oh, the drama. McNabb is expecting cheers in Philly. That's like expecting real titties on Santa Monica Blvd. Not gonna happen, dude. McNabb has a chance to stick it to his old team and end the redemption tale of the season, but Vick will outplay him. Vick will face a much tougher defense than he has before, but I'll take Philly and their skill players over McNabb with an axe to grind and no running game to help him grind it out.
PICK: Eagles -6
At NY Giants -4 Chicago
This is the week I pick the Bears. Chicago is the only undefeated team in the NFC, but they could easily be 1-2. I'm not buying this team as the best the conference has to offer. No way. What I am buying is the end of Tom Coughlin. Dude got a stay of execution after that surprising, late-surge Super Bowl season, but his players are over it. Dude's too outdated. He's too rigid and too red-faced. And he looks like he has the flu, all the time. The Giants need answers. They need to rally behind their coach and win won for the Cough Drop. But they won't, and everyone will try to convince you that the Bears are really good. They aren't, but they'll win on Sunday night.
PICK: Bears +4
New England -1 At Miami
Damn this Pats team is frustrating. You think they're gonna cover the spread and then they let CJ Spiller run a kick back 95 yards for a score. What's up with this team? What's up with this whole division? I read an ESPN fantasy outlook for Chad Henne before last week's game and it said something like Chad doesn't have the arm or the receivers to throw down field, he's not gonna do jack but hand the ball off. Then the dude threw for 363 yards against the Jets. All I know for sure is that this game is going to be great to watch. The Pats can't seem to stop anyone, but they still have Tom Brady, Randy Moss and Wes Welker. Brandon Marshall should put up strong numbers. This is truly a coin-flip pick, but I'm leaning towards New England here.
PICK: Pats -1
Related Posts
| | | |
| --- | --- | --- |
| | Print article | This entry was posted by Chris Stout on October 1, 2010 at 12:01 pm, and is filed under Sports. Follow any responses to this post through RSS 2.0. Both comments and pings are currently closed. |
Comments are closed.