HARLEM Kruiden Liqueur SHOT Showcase in Vegas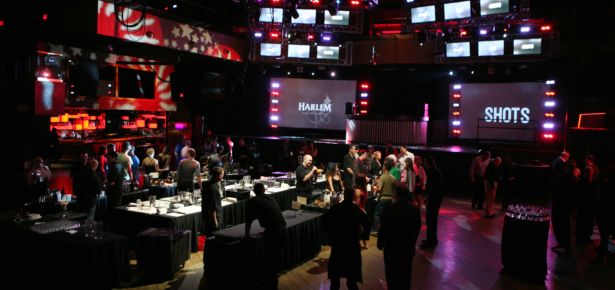 Earlier this month, the MANjr team attended a SHOT Showcase for HARLEM Kruiden Liqueur at the Palms in Las Vegas. Named after Haarlem, a town just outside of Amsterdam, the Dutch liqueur is produced by the Nolet Family, the fine people that make Ketel One Vodka. Haarlem is the town where Carl Nolet Jr.'s grandmother was born. HARLEM is the first product that Nolet has introduced since 1983.

HARLEM is basically a more nuanced, Jager-like liqueur that's full of subtle herbal and citrus tones. It's a bit darker and stiffer than Jagermeister (HARLEM is 80 proof, Jager is 70 proof), and it has a fuller, more complex-tasting edge to it. The actual ingredients in HARLEM are a secret, so the blend of aromas and flavors is rather difficult to describe. Kruiden is the term the Dutch use to describe the herbs used to give HARLEM it's bold and earthy flavor. Meant to be served as an ice cold shot, HARLEM has this orangey root beer bite that kicks the back of your throat and coats your palate with a balanced combo of bitter and sweetness.
The SHOT Showcase, which took place at the Rain Nightclub inside the Palms Casino & Resort in Vegas, was a coming out party for the liqueur. The culmination of a national contest, the Showcase featured bartenders throughout the US who won The HARLEM® Make Your Best Shot Competition. Judged by Tasting Panel Magazine, the competition invited bartenders to create their own custom shots using HARLEM as the main ingredient. The results were quite impressive.
Local bartenders from Chicago, LA, Miami, Vegas, New York, San Francisco and Orange County showed off their winning 2 oz. concoctions to rave reviews. Every bartender brought a unique spin to the liqueur.
Some bartenders played on the sweetness of the shot. Mike Miller and Adam Garvanian from Chicago created two shots, The Red Light and Harlem Night, that accentuated the after-dinner desert quality of the liqueur. The Red Light featured 1 oz. of HARLEM with ¾ oz. Effen Black Cherry Vodka, ¼ oz. Vanilla Flavored Alcoholic Whipped Cream with a cherry on top. The Harlem Night combined HARLEM with equal parts Bailey's Irish Cream, chocolate liquor and a dash of Goldschlager. This shot was served in a glass rimmed with cinnamon sugar.
Richie Petronzi, a Miami bartender from the Burger N Beer Joint decided to throw bacon in the mix. His Harlem Nights shot included an oz. of ample smoke bacon fat washed HARLEM, ½ oz. fresh pressed apple juice, ¼ oz. fresh lemon juice and ¼ oz. grade-A maple syrup. This hearty shot was served with fresh tarragon and a slice of honey smoked bacon.
Phoenix-based Andrew Record from Hacienda del Sol decided to play up the zesty citrus quality of the liqueur. His HARLEM Renaissance shot included lemon cello, rosemary-infused simple syrup, fresh lemon juice, soda water and a thin orange zest garnish.
Another Phoenix winner, Gail Riley from My Ole Man's, played on the liqueur's fruity flavors. Her shot, Harlem Rage, combined vanilla vodka, raspberry vodka, pineapple juice and cranberry juice with the Dutch liqueur.
My favorite shot came from LA bartender Justin Long from First and Hope and STK. Long's Harlem Express combined 1 oz. of HARLEM with ¾ oz. chilled espresso, ¼ oz. vanilla syrup and ¼ oz. cream. Served in a mini-Guinness-pint shotglass, Long's HARLEM Express was a creamy, fluffy coffee treat with a kick.
From sweet to fruity to bacon to coffee, each bartender's take on HARLEM was worthy of being showcased. Each shot enhanced a different undertone or highlighted a distinct flavor. HARLEM shots are going to be a staple at the Rain Nightclub from now on. The club announced the opening of the new HARLEM Kruiden Liqueur VIP room this week. Visitors to Rain can enjoy shots of HARLEM in this lavishly furnished VIP room that's decorated with Kristall chandeliers, massive horizontal mirrors, black carpet, and bold red paint. Framed by bright LED lights, the new VIP room will be easy to spot, even inside the 25,000-sq. ft. of club Rain. The HARLEM Kruiden Liqueur VIP room at Rain will serve the brand's signature drink, The Slamsterdam, along with a variety of other cocktails made exclusively for HARLEM.
All-in-all it was a great Vegas trip. We met a bunch of cool people from Manolith, Complex Magazine, Thirsty in LA, Bourbon Blog, Imbiber and Liquor Snob, and we got to sample some tasty shots and experience Sin City in style. A big thanks to all the bartenders who participated in the Showcase. Everyone enjoyed the good times.
Related Posts
| | | |
| --- | --- | --- |
| | Print article | This entry was posted by Chris Stout on October 19, 2010 at 10:46 am, and is filed under Lifestyle. Follow any responses to this post through RSS 2.0. Both comments and pings are currently closed. |
Comments are closed.