The MANjr Team Reviews Rick's Cabaret in Las Vegas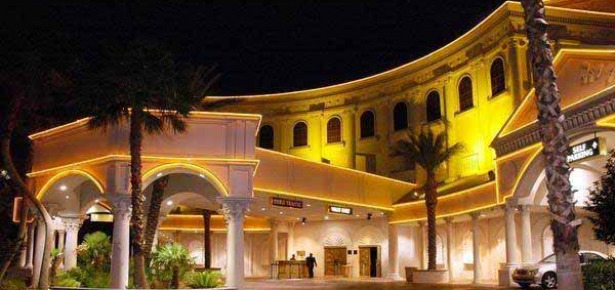 When the guys at Rick's Cabaret invited the MANjr team out to Vegas for a review of their club, we were all for it. Who doesn't like Vegas and strip clubs? They go together like pinstripes and Yankees, like socks and shoes, like hummus on a pita. But the strip clubs in Vegas aren't like the seedy shacks off the train tracks you find back home. The strip clubs in Vegas are epic pleasure palaces reserved for VIP types like Kiefer Sutherland and Rick Fox.
Well the MANjr team got the full VIP treatment at Rick's Cabaret, and we'll never look at a strip club the same way again. Once you go VIP at a place like Rick's, there's no going back.
It all started with curbside pickup at the casino. After chowing down some amazing steak and lobster at the ARIA, we got picked up by Miles in a Rick's Mobile SUV. Miles was cool as hell. He's in a band called Lik that opened for Molotov and he scored bonus points for knowing that Portos Bakery is awesome. When Miles pulled up to Rick's, he hollered at some schmuck to move his limo so that he could drop off his VIP cargo in style.
Super-cool manager Bill greeted us at the back entrance and escorted us into the club like we were Henry Hill's crew from Goodfellas. Bill promised to show us a good time, and after our initial glances at the gorgeous women in and outside the club, we knew Bill would live up to his pledge.
Once inside, Bill led us to our own VIP section with three couches and a clear view of the main stage. He introduced us to Jennifer, an attractive, energetic hostess who served as our bodyguard and guide for the rest of the night. Jennifer introduced us to Sandy, an equally perky bartender who ensured that our glasses were full the entire night. As the first round of Macallans and beers came out, Sandy suggested we all try her signature shot, Sandy Peaches. The shot was as sweet as the company we kept that night.
As we tossed back the first round, we began to realize just how massive this place was. Rick's Cabaret is a multi-level complex of poles, intimate corners and private rooms. Sportscenter was on at the bar and two amazing brunettes were vying for attention on stage. There's a central staircase that leads up to a level that's reserved for private dances only. It's the kind of daunting staircase that a drunk dude would only brave with the help of a friendly, scantily-clad guide.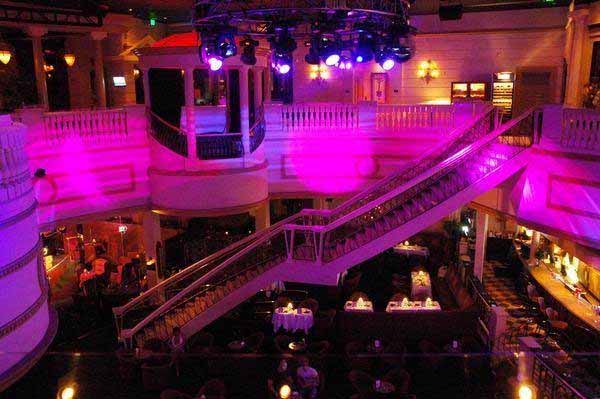 Luckily those guides were all around us. As we conversed with Jennifer and learned about her family, her Sonora roots and her love of interior design, the MANjr team started to disperse. One guy met up with a Thai Goddess and got lost for the next three hours. Another dude found chemistry with a Russian blondie and made his way upstairs. One dude enjoyed a moment with a stunning Playmate from 1989. $20 lap dances were had by all, but the private dances cost a bit more. It's quite easy to spend a lot of money at a place like Rick's.
The MANjr team highly recommends the Rick's VIP experience to anyone who wants to live it up in Vegas. Bachelor party? Don't go anywhere else. Birthday party? Do it up in style. Whatever the occasion is, you can't go wrong with Ricks. The place offers a level of personal attention and quality service that's genuinely welcoming and refreshing. You'll find public amusements and private encounters that'll suit budgets and titty agendas of all sizes. And with the sheer volume and variety of beautiful women on hand, there's really is something for everyone.
So the next time you mob out to Sin City with your boys, schedule some time to visit Rick's Cabaret. The playful ambiance, first-rate management, upbeat service and impressive selection will change the way you look at gentlemen's clubs in Vegas.
Related Posts
Comments are closed.