Posts tagged
WWE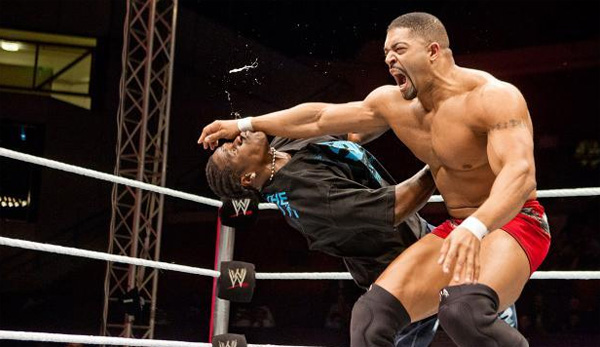 We all have seen some exciting athletes who excel in two sports. Bo Jackson comes quickly to the forefront when this topic is brought up. Yet what about an athlete who not only shines in the sporting world, but also makes a name for himself as a lawyer. Not that many athletes can state that claim unless you happen to be WWE Superstar David Otunga.
David attended Harvard Law School and passed the Illinois' bar exam. Next he joined the Sidley Austin law firm. Even though he loved his job something was missing. Deep down he still wanted to follow his dreams of becoming an actor and a WWE Superstar. Growing up Otunga was a huge fan of Hulk Hogan and had visions of one day stepping into the ring.
Now he is living that dream and loving every minute of it. I was able to talk with David about his career path, the importance of Black History Month, and his favorite WWE moments.
Art Eddy: Let's talk about your career in the WWE. What made you leave your career in law where you earned a Harvard Law degree to being a WWE Superstar?
David Otunga: Ever since I was a kid I always had really big dreams. I knew that I wanted to be in the WWE. I wanted to be an actor. I grew up looking up to guys like Hulk Hogan, who just came back to the WWE. He will host next year's WrestleMania, which is really cool.
I grew up idolizing Hulk. I was a big Hulkamaniac. I like guys like Arnold Schwarzenegger and Sylvester Stallone. Guys who were muscular and had great physiques is what drove me into body building. I always knew that it was something that I wanted to do, but my mom told me that I needed to have a fall back career, which is actually great advice.
I was always trying to make it into entertainment, but nothing was really sticking. All the way I was still going to school and getting good grades. I eventually earned a degree and landed a job at a top law firm in Chicago. I was enjoying it. It was a great firm. I still wanted to follow my dreams. Ultimately I had to make a huge decision. If I stay at the firm I would probably be happy, but I would always regret not going after my dream and seeing what I could do.
I made the decision to leave the firm and go after it. Fortunately I made it. I was able to accomplish my dream. I am glad I decided to that. It turned out to be a great decision.
AE: Love that story. Just goes to show you that you can achieve whatever you want in life as long as you believe in yourself. What has been your favorite moment so far in your WWE career?
DO: It was one of the first big things that I did. It was when I was able to host "RAW." Before that the hosts of "RAW" have been hugely famous people and big time celebrity names. So for me to get to be able to do that as a rookie, who had only been on NXT for a few weeks, it was a great way for me to have a debut.
I was able to host it and be in the main event with John Cena. It was crazy. That really stuck out as wow, I really made it somewhere now.
AE: Who is your favorite person to match up against in the ring?
DO: I always say that some of my favorite matches are against John Cena. One reason is because of our chemistry. I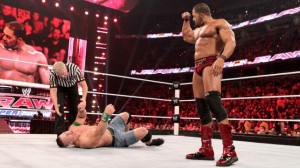 was always allowed to be myself. It was very comfortable. So I would say John Cena. It is always cool and always a pleasure to work with him.
AE: How long did it take you to be comfortable in front of the mic on one of the world's biggest stages?
DO: Actually that was one of the things that became easy for me. Being a lawyer obviously I was very good at speaking. That actually prepared me. That is a question that people ask me a lot. They ask if being a lawyer, an entertainer, and a wrestler, ever intersect.  I say yes. The training is similar in certain aspects. Certain things in law school prepared me for wrestling and acting. Then certain things in wrestling and acting also translate well to becoming an actor.
AE: We are almost out of the month of February and of course this month is Black History Month. What does this month mean to you?
DO: It means a lot. We come so far as a country and being together that I think the youth growing up don't understand how things used to be. They don't understand what people went through in the 60's. That is always something I am trying to teach my son and my nieces and nephews and make sure that they understand. I want them to understand their African-American heroes and people who did amazing things for African-Americans. It is very important for the youth to be able to look up to people and say wow if they can do that than I can do that too.
AE: As a kid growing up who were some of your role models that you liked learning about during Black History Month?
DO: Obviously Martin Luther King Jr. because he was instrumental to all the things that was going on at that time. It is crazy when I think about that it wasn't all that long before I was born that he was killed. My parents got together in the 60's. My dad is from Kenya. My mom is a white American from Ohio. They were in an interracial relationship in college in the 60's in the height of everything.
Just hearing their stories and everything that they went through is amazing to see the strength that they had. They have always been big on making sure that I know my history and that I am aware and conscious. Now I am trying to pass that along to the younger generation.
AE: I remember you being in the film "The Call" with Halle Berry. I know the WWE keeps you busy, but are you looking to be in some films in the near future?
DO: It depends if the right project comes along. I will definitely keep that open. That was always something I said I wanted to do. When I was a kid I always said I wanted to be professional wrestler and an actor.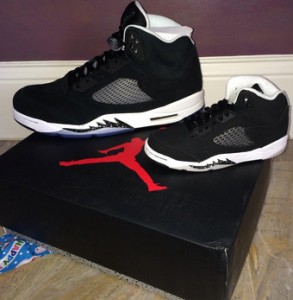 AE: I saw a picture on your Twitter page of some Air Jordans. It was the Air Jordan V's, the "Oreos" I think. I am a sneakerhead. Are you and if so what is your favorite shoe?
DO: I am a little bit. I am getting into it a bit more and more now. I only collect the Jordans. That is my favorite. My sister in law, Julia gets awesome Jordans for my son. I get him ready for school every day. I have so much fun going in and picking out his outfits. I pick out the shoes first. He has everything. He has Jordans. He has got cool Air Maxs.
Air Maxs are big in Chicago. I am actually wearing some right now. Anyway, I started getting jealous of his collection. So for Christmas she got us both the "Oreos." She got a pair for me and then a smaller size for my son, which was really cool. He likes to have whatever I have.