Posts tagged
Reign On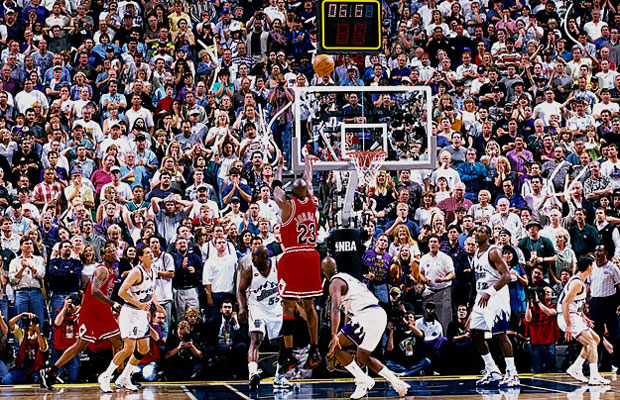 No matter the sport every fan has their own beloved moments that they will always cherish when they think about their favorite team. For me I feel I grew up in the right era as a Chicago Bulls fan. In the 1990's I was living in a suburb outside of Chicago. As a kid I loved pretending I was like Mike when I was playing hoops with my friends.
Besides having Air Jordan on the team, I also got to watch Scottie Pippen, John Paxon, Horace Grant, B.J. Armstrong, Bill Cartwright, Stacy King, and many more. Once Jordan knew that he needed others to help him get a title, the Bulls were hard to beat. Chicago was able to three-peat not once, but twice. They won Championships from 1991-1993 and also in 1996-1998.
Recently while watching the Bulls take on the Miami Heat I was reminiscing about my favorite moments of the Chicago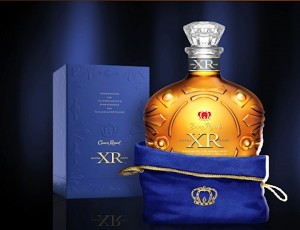 Bulls. To relish that moment even more I was enjoying Crown Royal Extra Rare Whisky. It is the second edition in the series. It is an exquisite blend crafted to include a small reserve of the final batch of whiskies that were saved from the renowned LaSalle Distillery (located on the island of Montreal), opened in 1924 by the Bronfman family. The distillery was closed in 1993, but LaSalle remained a bottling facility until 2003 and to this day still operates as a warehouse for many fine Crown Royal whiskies.
Just like the Bulls in the 1990's, Crown Royal XR has become legendary.  The aroma of this Crown Royal XR has hints of pear with complimentary floral bouquet notes.  The honeyed pear maintains upon first taste and is joined by tones of dried apricot and raisins mid palate.  The finish is exquisite with an elegant touch of cocoa and brown sugar.
So with that here are my five iconic #ReignOn moments from the Bulls during the 1990's.
5. Scottie Pippen Posterizes Patrick Ewing.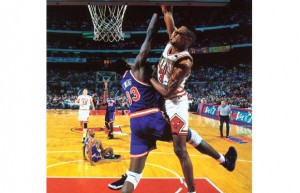 When Jordan left the Bulls to pursue a career in baseball, Scottie Pippen took over as the main man in the Windy City. During Game 6, 1994 Eastern Conference Semifinals Pippen met up with New York Knicks All-Star Patrick Ewing. In that moment Pippen won that battle over Ewing by slamming home right over the big fella.
Pippen recalls that moment by saying, "It was one of those games where we were playing against the Knicks and we were frustrated and tired of them holding and pulling and doing things of that nature. I think that after that dunk, I sort of overreacted, almost trying to push [Ewing] into the stands,"
He might have overreacted after the dunk, but he sure threw it down at that moment.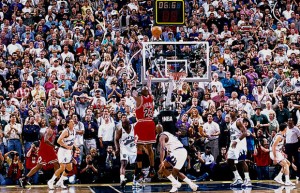 4. Completing the Three-peat In Dramatic Fashion.
MJ knows how to close out a game. Even more he knows how to finish out an NBA Finals series. In Game 6 of 1998 Finals the Bulls were trailing the Utah Jazz by one point. Could the Jazz hold on and force a Game 7? The answer was no.
MJ stole the ball from Karl Malone which set up one of those memorable MJ moments. Everyone in the building knew that Jordan would take the final shot. MJ brushes by Byron Russell and pulls up for what is known as "The Shot." The ball goes in and the Bulls are once again NBA Champions.
3. He can Fly!
In their first appearance in the NBA Finals the Bulls were looking to knock off the Los Angeles L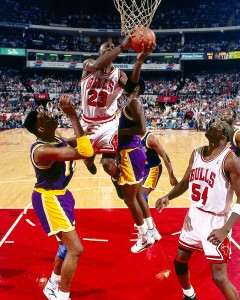 akers from the top of the NBA mountain. In Game 2 of the 1991 Finals MJ rocked one of the craziest moves. As if to almost make things harder than needed Jordan drove the lane and looked to make an easy dunk.
Then what seemed to be like an eternity MJ was hanging out in the air and decided to change his scoring attack from a dunk to a very difficult left handed lay-up.  As he was in the air deciding what to do he passed by teammates and opponents like it was nothing. He moved the ball from his right hand to his left hand, the ball went off of the backboard and went in.  It was almost as if Jordan wanted to send a message to Magic Johnson by saying we are now taking over the NBA.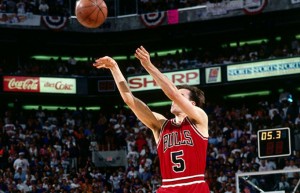 2. John Paxon is Clutch.
The Bulls were always lead by Jordan and Pippen. Some fans do forget that the Bulls has a strong supporting cast. One of those guys was guard John Paxon. In Game 6 of the 1993 NBA Finals the Bulls were down by two points against the Phoenix Suns. As the Bulls brought the ball up the court the Suns looked to double team Michael and eliminate Scottie as scoring threats.
When you double team someone that will always leave a guy wide open. With excellent passing by the team, Horace Grant found an open John Paxon behind the three point line. With ice in his veins Paxon took the role of hero and scored the game winning basket. That Bulls completed their first three-peat by defeating the Suns.
1. MJ is Sick…no I mean Flu-like Sick!
One thing a champion must have is heart. No matter what lies in their path they look to find a way to win. Right before Game 5 in the 1997 NBA Finals reports were coming out that Michael Jordan had flu-like symptoms. Doctors told him that he shouldn't play. He didn't listen.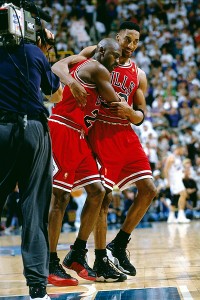 All he did was score 38 points to help the Bulls win that game, in which three of those points was the go ahead three pointer to secure a victory. Now known in NBA lore as "The Flu Game," that moment will always stick out to me as one of my favorite games in all of Bulls history.
So what are your favorite #ReignOn moments from your favorite NBA team? How does it stack up against mine? I would love to hear your thoughts!