Posts tagged
Reebok

This week at Spring Studios in New York City, Reebok hosted the launch of one of its boldest running shoes to date: the ZPump Fusion.
The event was kicked off with a presentation from Reebok President Matt O'Toole and Reebok Head of Advanced Concepts Bill McInnis describing the inspiration behind the shoe and its technology.   Key guests who helped celebrate the launch included Sports Illustrated swimsuit model Hannah Davis who took part in the presentation in a fresh pair of ZPump Fusions, and Entourage star Adrian Grenier who was in the audience in the new running shoes as well.  Top UFC stars Jon Jones, Conor McGregor and Paige VanZant were also in attendance, along with UFC President Dana White.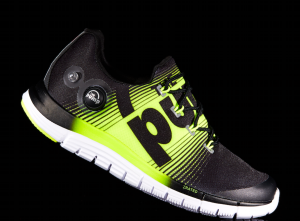 After the presentation ended, attendees and celebrity guests were invited to catch a sneak-peak at upcoming ZPump Fusion color ways in the specially designed "Future Room." After lacing up, attendees were able to truly wear test the shoes in a specially constructed obstacle course that tested their agility and speed in a one-of-a-kind 4D multimedia experience.
Unlike traditional running shoes which are often made up of over 40 individual parts, the ZPump Fusion is constructed from just three, which means no unnecessary components or rigid parts to restrict movement in the foot. It's also one of the first running shoes to provide a fully customizable fit, thanks to Pump technology that adapts to your foot.
The ZPump Fusion will be available on Tuesday, March 10th for $110 from retailers including Finish Line and reebok.com