Posts tagged
Reebok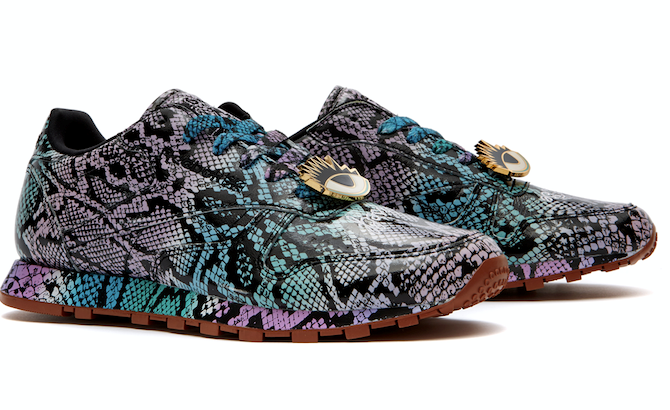 Reebok is at it again with some fantastic shoe designs. Reebok always seems to think outside the box and look at shoe design on a whole new level. It continues with the Reebok Classic x Melody Ehsani collaboration. It kicks off Fall 2015 with the introduction of a vibrant Classic Leather Lux sneaker, designed to reflect Melody's edgy street style.
The CL LTHR LUX ME, covered from sockliner to laces in gradient python print, will have trendsetters rejoicing as Melody drops this colorful shoe just in time for late summer.  The CL LTHR LUX ME is complete with Melody's signature lace embellishment for an extra flash and a "brick" rubber outsole that will leave a fierce mark in fashion. This style seamlessly continues Melody's inspirational messaging with "Just be your yourself" described on the vamp.  The CL LTHR LUX ME also features Melody's signature take on the modern evil eye, which works to ward off all negativity.
Said Melody Ehsani of the collaboration: "I've often heard musicians say that they see color when they hear certain songs. When I was working on this shoe, I was doing a lot of internal work, struggling with trying to find answers to some of life's big questions. I've done enough work up to this point to know that I just had to go deeper within myself. When I did, I developed a greater awareness of myself, understanding that the core of me is limitless.  We are concrete individuals in a physical world, however we come from an abstract source. The emotion of that limitlessness was best understood to me through the gradation of these colors that I applied to the signature python pattern on this particular shoe."
The CL LTHR LUX ME will retail for $149.99 and is currently available at www.melodyehsani.com and Melody's LA store at 424 1/2 North Fairfax Ave, LA, CA 90036.
You can also get these kicks at shops like Extra Butter, Addict, Villa, Shoe City and Reebok.com.