Posts tagged
NFL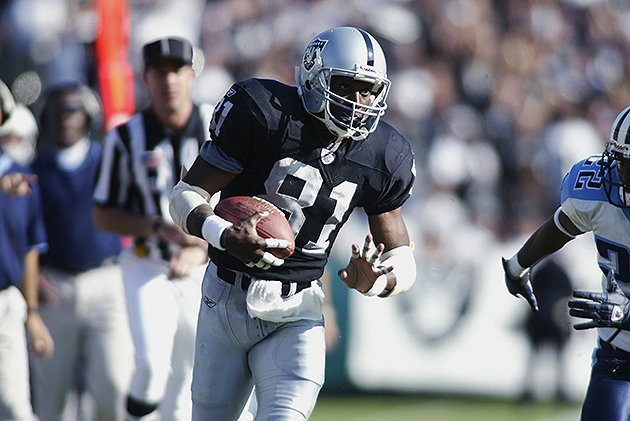 Heisman Trophy winner Tim Brown has proved that he was one of the top NFL receivers during his days with the Oakland Raiders. The nine time Pro Bowler scored 105 touchdowns during his NFL career. He entered the College Football Hall of Fame in 2009 and was awarded the 2012 NCAA Silver Anniversary Award.
Brown, who had over 1,000 receptions in the NFL still does a lot after he retired from the game. Brown is the National Chairman for the 911 for Kids organization that educates kids on the proper use of using the 911 emergency service.
I was able to chat with Tim about his days at Notre Dame and in Oakland, golf events, and his work with 911 for Kids.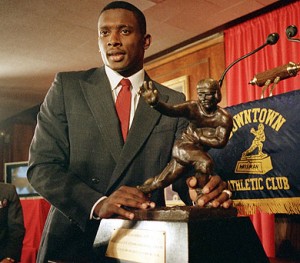 Art Eddy: You had an outstanding career in the NFL and in college at Notre Dame. Was winning the Heisman Trophy the top highlight of your career?
Tim Brown: Certainly it is the thing that I am known for. Maybe when or if I get into the Hall of Fame that will all change. As I sit here right now and people speak of Tim Brown they usually start out by saying Heisman Trophy winner, Tim Brown. I think from that standpoint absolutely it has been the biggest accomplishment so far.
AE: What was it like to play for Lou Holtz at Notre Dame?
TB: Well it was everything man. When Lou got there I was just a guy on the team. I was headed nowhere as far as football goes. Some inspirational talks with him, one on one for a couple of weeks straight changed my whole mindset towards football.
He kept telling me every day that I could be the best player in the country and not just on Notre Dame's team. It took me a minute to believe that, but he was showing me what I was doing in practice on a day to day basis. By the end of two weeks I got to a point where I believed everything he was saying. Now it was up to me to go out and work on it. I decided to do that and things worked out pretty good. Every time I see him I bow down to him because if it wasn't for him there is not Tim Brown Heisman Trophy winner.
AE: As I stated earlier you excelled in both the NFL and in college. Was there anything that surprised you from your transition from the collegiate level to the NFL?
TB: I think that thing that surprised me the most was that how great the athletes were at every position. The offensive tackles could run and do the things that you weren't used to seeing the guys do in college. It was just amazing and you realize this is a whole different league here. You see everybody do what you thought no one else could do but yourself. So I think that was thing that surprised me the most was how great the athletes were.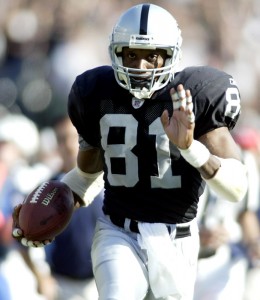 AE: What stands out for you most playing for a team like the Oakland Raiders?
TB: The relationship I had with the fans. I think I had a relationship with Raider Nation that was second to none. Even after I played with the Raiders. The communication we had through my radio show, me being around town for 15, 16 years, and even I had the taste of Raider Nation in Los Angeles and Oakland.
I tell people that was part of me staying in Oakland. I had a couple opportunities like in the 1994 offseason where I signed with (Denver) Broncos and the Raiders matched that contract. Even after that I had two or three opportunities for me to leave. Part of the reasons for me not leaving was that I loved when I walked into the stadium, or when I walked into the mall, or when I walked into a restaurant, people loved me.
There was never a time where a Raider fan came up to me and said something negative. I think from that standpoint it gave me a sense of comfort that I just didn't think I could build that over three or four years in some other city. That was a big, big part for me why I stayed in Oakland.
AE: Which teams did you look forward to playing against the most?
TB: Denver man. I hated the Broncos so bad. People asked me, why would you sign with them if you hate them so bad? I would say maybe because the money was too good to turn down. The Broncos were definitely the team that we looked forward to playing a couple times a year, every year.
San Diego also. For years we couldn't beat Kansas City. So I couldn't say that was a team we looked forward to playing. Certainly towards the end of my career when we turned things around a little bit all the AFC West, all of the three teams were something that we looked forward to.
AE: You made it to the Pro Bowl nine times. What are your thoughts on the new changes the NFL has made to that game?
TB: They are trying to do whatever they can do to keep interest for everyone playing. I do believe that this would generate more interest, but I think it will only be until the ball is kicked off. Once the ball is kicked off you are going to see the same type of football you have been seeing.
It is so much different from what it used to be. You have some players who have some nice contracts because they are Pro Bowl players. They were making millions and millions of dollars. Even towards the end of my career there may have been guys who made three or four million dollars. There were not guys making nine, ten, eleven, or twelve million dollars.
Now you have guys making that. It makes it almost impossible to say I am going to put this on the line, put my eleven million dollar salary that I got coming up next year on the line for a game that doesn't mean anything. It is going to be very difficult for the NFL to make that game the game it used to be. Unless you pay the guys what they make per week that week, you are not going to see that much effort.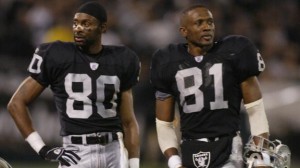 AE: You got to play with a lot of great players like Marcus Allen, Bo Jackson, Howie Long, and Jerry Rice. How fun was it to play with those guys?
TB: It was great. Marcus really taught me how to play the game at a high level. How to deal with all the stuff you have to deal with. It wasn't like he sat down and talked to me about this stuff. Just watching everything he dealt with the Raiders. How he kept practicing hard and playing great was something that could inspire anybody who paid attention to what he was doing to inspire you to another level.
Bo was just an incredible freak of an athlete. I just don't think that there will be anybody to play the game the way like Bo Jackson again. You got Howie, who is the hardest working guy. He wasn't the most talkative guy, but he led by example.
Having to be able to finish out my career with the Raiders with Jerry was super special. It was super special simply because for once in my career I had a guy on the other side who could garner the same or even more attention than I was getting. It freed me up to do some things. I had a great, great time with Jerry for those three years. For him to say he was coming over to help me get to the Super Bowl and actually accomplish that was amazing.
AE: I love the work you do with the 911 for Kids program as the National Chairman. How did you start working with that organization and tell me about the great work that this organization provides to the community?
TB: The true story behind that is I was in the locker room one day. Howie Long came in yelling my name. 'Where's Tim Brown?' He didn't sound like he was happy either. I was really trying to hide from him. In the locker rooms we had in El Segundo was a converted elementary school. All the rooms were very small. There were not that many places to hide. So I was moving around one corner and he did the same.
He put his finger in my chest and said, 'Hey kid at the end of this year I am going to retire and you are going to take over for me.' I was so scared I didn't know what to say, but yes. I felt at that time it was the appropriate thing to do. I later found out that what he wanted me to take over for him was the being the National Chairman for the 911 for Kids. That was in 1993.
We have been going for more than 20 years. We have reached over 5 million kids with our program. Teaching kids the proper of how to use 911. We have awarded hundreds of hero awards to kids who have used 911 to save a family member or a friend. It has been an incredible program. It is a feel good effort on our part and live saving on these kids part. It has worked out great.
AE: What are some of the events that your organization does each year?
TB: We do a golf event every year. We hold the event at The St. Regis resort in Laguna Niguel. Every year we do a miniature minicamp. Three or four of those up and down the coast of California. We would love to have more volunteers for our minicamp and more sponsors for our golf tournament. It just makes it all go better.