Posts tagged
movies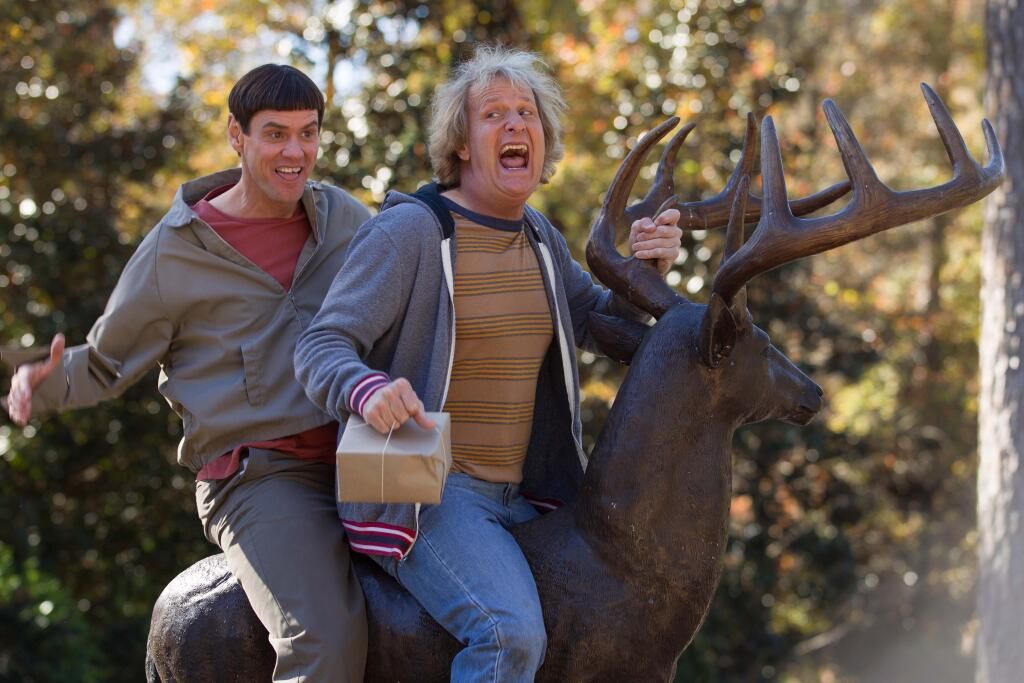 As fans of the comedy classic Dumb and Dumber know, life is always better with a buddy. To celebrate the February 17th release of the hilariously over-the-top sequel DUMB AND DUMBER TO, we're taking a look at a collection of unconventional dynamic film duos who are no less memorable!
Back to the Future
Starring Michael J. Fox as time-traveler Marty McFly and Christopher Lloyd as the zany Dr. Emmett Brown, this unlikely pair literally changed the future of the adventure genre.  With on-screen chemistry so strong, Back to the Future launched one of the most successful franchises in movie history, including two theatrical sequels, an animated television series, a theme park ride, toys, comic books, video games and t-shirts.
Hot Fuzz
The unlikeliest of pairs, Simon Pegg and Nick Frost team up as an exceptional former London cop (Pegg) and a not-so-exceptional small town cop (Frost) faced with uncovering a strange occurrence of murders in the small country village they're determined to protect. While Frost has longed for the explosive, high-octane life he envisions Pegg braved in London, the two must come together to solve the "conspiracy" before it's too late.
The Blues Brothers
Inspired by "The Blues Brothers" musical sketch from Saturday Night Live, John Belushi and Dan Aykroyd are on a mission from God to bring the Blues Brothers Band back together. Emerging from several deadly situations and an epic car chase in a race to get to Chicago, comedic legends Belushi and Aykroyd charm with the complete and utter nuttiness that ensues along their journey of one last good deed.
Dumb and Dumber To
Jim Carrey and Jeff Daniels return as everyone's favorite dumbest duo, the unforgettable and often unredeemable Harry and Lloyd. Setting out on yet another cross-country trip, Harry and Lloyd find themselves in mishap upon misadventure, making what would appear to be a series of unfortunate circumstances into slapstick comedy. If nothing else, Harry and Lloyd were meant for each other until the end.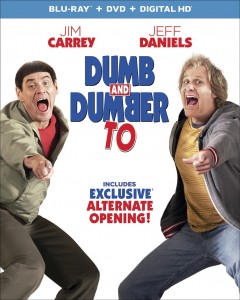 Don't miss your chance to take home the sidesplitting comedy Dumb and Dumber To, available to own on Blu-ray & DVD February 17! Plus we have a chance for you to win a copy on Blu-ray. Follow us @MANjrcom to see if you win!We will randomly select one of our followers! Good luck!
Two decades after Jim Carrey and Jeff Daniels' endearingly dense pairing spun slapstick comedy into box office gold in Dumb and Dumber, the long-awaited sequel, Dumb and Dumber To, arrived on Digital HD on February 3, 2015 and on DVD and will be available on Blu-ray Combo Pack and On Demand on February 17, 2015 from Universal Pictures Home Entertainment. Directed by Peter and Bobby Farrelly (Dumb and Dumber; There's Something about Mary; Me, Myself and Irene) the Dumb and Dumber To  Blu-ray Combo Pack offers hilarious extra belly laughs including an alternate opening, deleted and extended scenes, and a multi-part feature that takes viewers behind the scenes of the no-holds-barred comedy.
The side-splitting sequel also stars Rob Riggle (The Hangover, 21 Jump Street), Kathleen Turner (Marley & Me, Romancing the Stone), Laurie Holden ("The Walking Dead," Silent Hill), Rachel Melvin (My Funny Valentine, "Days of Our Lives"), and Steve Tom ("Major Crimes," Seven Pounds).
Jim Carrey and Jeff Daniels reprise their signature roles as Lloyd and Harry in the sequel to the smash hit that took the physical comedy and kicked it in the nuts: Dumb and Dumber To. The original film's directors, Peter and Bobby Farrelly, take Lloyd and Harry on a road trip to find a child Harry never knew he had and the responsibility neither should ever, ever be given. Along for the ride are co-stars Kathleen Turner, Laurie Holden, and Rob Riggle.
The Blu-ray Combo Pack includes a Blu-ray, DVD and DIGITAL HD with UltraViolet. Blu-ray unleashes the power of your HDTV and is the best way to watch movies at home, featuring 6X the picture resolution of DVD, exclusive extras and theater-quality surround sound. DVD offers the flexibility and convenience of playing movies in more places, both at home and away. DIGITAL HD with UltraViolet lets fans watch movies anywhere on their favorite devices. Users can instantly stream or download.
Bonus Features Exclusive to Blu-ray are an alternate opening, deleted and extended scenes, and the always popular gag reel.