Actor Tim Jacobs chats about "R.I.P.D." which opens this weekend in theatres

Tomorrow the film "R.I.P.D." hits the theaters. The film stars Jeff Bridges and Ryan Reynolds as two cops dispatched by the otherworldly Rest In Peace Department to protect and serve the living from an increasingly destructive array of souls who refuse to move peacefully to the other side.
I was able to chat with Tim Jacobs who stars in the film along with Jeff Bridges, Ryan Reynolds, and Kevin Bacon. Jacobs plays a "Deados" character who helps out Bacon's character Hayes. Tim explained what the audition process was like and what he learned from being on a movie set.
Tim has done theater as well. We talk about the difference between shooting a film and performing on stage.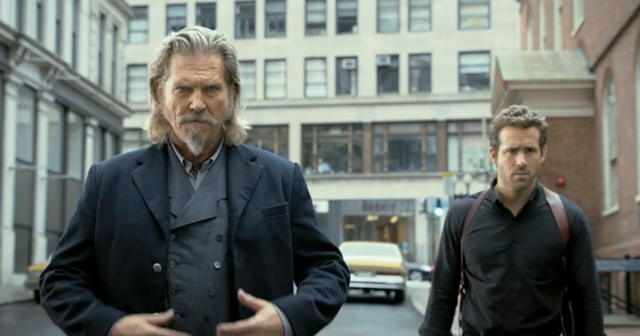 Art Eddy: You are in the film "R.I.P.D." that comes out this Friday. Can you tell me a bit about your role and the basic plot of the film?
Tim Jacobs: "R.I.P.D" is about a supernatural police force (Rest in Peace Department) that is charged with finding and "arresting" evil souls that somehow escaped judgment and are hiding on earth. Nick (Ryan Reynolds) joins the force after being gunned down in raid. He and his partner Roy (Jeff Bridges) chase down the evildoers (Deados) and bring them to justice.
They get all they can handle when they meet Hayes (Kevin Bacon) as he threatens to destroy the world. In the movie, I was one of the Deados that worked closely with Hayes to bring about the end of the world as we know it.
AE: What was the audition process like?
TJ: This was the best audition I have had in a while! The casting call they put out was for athletic men over 6 feet tall. The night before the audition, they asked us to come dressed ready to move. They didn't tell us if it was indoors or outdoors or what we would be doing so I dressed like I was going to play flag football in November.
When we arrived, we filled out all the proper forms and met with the stunt coordinator. From there it was basically a physical fitness test. We did push-ups, pull-ups, jumped rope, box jumps, and even some stage combat. From there, they picked who they liked and sent the rest on their way. From there we went immediately to wardrobe and were measured for costumes. It was all kind of a blur.
AE: The film was based of the comic book from Dark Horse Comics. Did you read the comic series at all?
TJ: We had a copy of it with us when we were shooting. I did peruse it, but never read the whole thing.
AE: The film also stars a bunch of great actors like Jeff Bridges, Ryan Reynolds, and Kevin Bacon. Did you get a chance to pick their brain on working in Hollywood?
TJ: While we did work with those guys, we didn't really get a chance to converse for long with them. The time between takes was never very long, so while there was chatter, it wasn't anything substantial. I will say that Jeff Bridges is an incredible person. I don't think I saw him once without a smile on his face between takes. Kevin Bacon is also hilarious, but we already knew that.
AE: What will you take most from that experience on the set of the film?
TJ: My first time on a movie set was invaluable. You always have to keep your head on a swivel. The entire set changes between scenes. People are all moving where they need to go and woe to you if you get in their way. It is all fast paced on the set.
AE: I know that you have done theater as well. Do you prefer one over the other?
TJ: They are both entirely different beasts. Movies are wonderful for how big they can get while still having incredibly intimate moments. The number of takes you can have means that you can strive for perfection. In a live theatrical performance there is no second take. What you do is what the audience gets. The thrill of live performance is something that is hard to replicate. That being said, I don't think I have a distinct preference for one over the other.
AE: Did you go to acting school to hone your craft?
ATJ: I started acting in middle school, but didn't get serious about it until after my first year of college. After dabbling in photography and criminal justice, I decided that what I really wanted to do was be myself in many different iterations.
As an actor, I am allowed to takes parts of myself and relate them to my characters and bring those specific parts out on stage. It really is taking a microscope and turning it in on yourself. I did go to college at the University of Wisconsin – Eau Claire and earned my degree in Theatre.
AE: What advice can you give other young actors who are looking to get into acting?
TJ: Don't get discouraged, we all get rejected. Be realistic though. If you are not going to put 100% of your effort into being an actor, you probably won't be the next superstar. It is hard, but if you love to act, it is worth it.
Related Posts
Comments are closed.