SMIRNOFF Looks Back On The History Of The Moscow Mule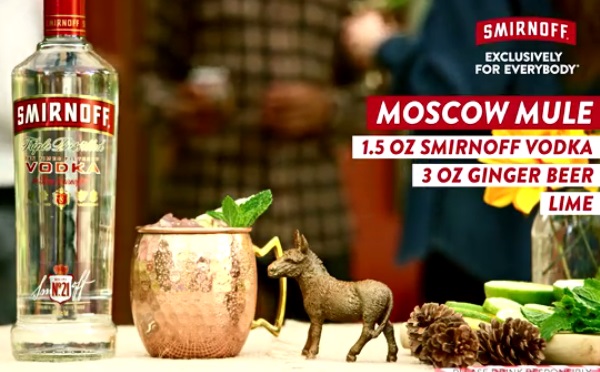 You might have recently ordered a Moscow Mule. You have seen them being showcased in bars and clubs, but did you know that this cocktail is 75 years old?  Now more than ever you will see cocktail menus across America feature the Moscow Mule and creative variations of the recipe—but there's only one original. As the co-creators of the original Moscow Mule in 1941, SMIRNOFF vodka and Cock'n Bull Ginger Beer are celebrating seventy-five years of America's first vodka cocktail.
In the late 1930s, John G. Martin was the president of an American alcohol company, Heublein, which owned the rights to SMIRNOFF vodka.  One historic day seventy-five years ago, in 1941, Martin sat at the bar of The Cock'n Bull, an iconic pub on Hollywood's Sunset Strip, with owner Jack Morgan.  At a time when brown spirits were king, Martin was struggling to market his newly acquired vodka to American palates.  Morgan, too, had a dilemma: few people cared for or even knew about his ginger beer. Martin and Morgan made cocktail history when they created a solution to sell both products by combining SMIRNOFF™ No. 21 vodka with Cock'n Bull Ginger Beer and a spritz of lime in a copper mug. This was the world's first Moscow Mule.
Following the creation of the cocktail at The Cock'n Bull, Martin travelled to bars around the United States encouraging bartenders to make a Moscow Mule, giving each of them an instant photograph of themselves with the final creation. Martin took a copy of the instant photograph on to the next bar, encouraging other bartenders to make the cocktail and eventually sparking a frenzy for the Moscow Mule across the country.
To kick off the celebration of this milestone anniversary, SMIRNOFF hosted a series of immersive dinners at the 14th Annual Tales of the Cocktail, one of America's premier spirits festivals that highlighted the Moscow Mule during an annual cocktail competition. Throughout the evening, invited guests of legal drinking age were transported back in time to experience the story of the Moscow Mule in a pop-up restaurant modelled on the historic meeting between John G. Martin and Jack Morgan.  Guests responsibly sampled original Moscow Mules, made with SMIRNOFF No. 21 vodka and Cock'n Bull Ginger Beer.
For 150 years, the SMIRNOFF brand has been enjoyed by legal drinking age consumers around the world, but it wasn't until the Moscow Mule was created that vodka became a popular spirit in the United States. The mixability of SMIRNOFF vodka and its quality have inspired other vodka varieties across the globe and served as the basis for popularizing some of the world's most famous cocktails.
No matter when or where you craft an original Moscow Mule to commemorate this tremendous milestone, please remember to always enjoy it in a copper mug and drink responsibly.
Related Posts
| | | |
| --- | --- | --- |
| | Print article | This entry was posted by Art Eddy III on July 27, 2016 at 6:29 am, and is filed under Lifestyle. Follow any responses to this post through RSS 2.0. Both comments and pings are currently closed. |
Comments are closed.