Review: ToughTested Rugged Battery Pack and Marine Earbuds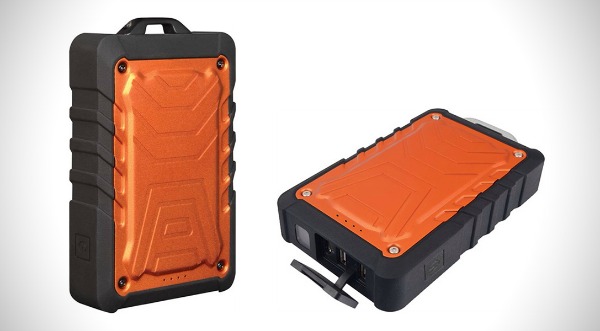 Whenever I leave the house for more than an hour so, I always have some sort of charging device in tow. Maybe I'm on my phone too much, but I'm just spoiled like that. I like keeping track of the latest football news, streaming music whenever it suits me, looking up directions for the quickest route someplace to avoid LA traffic, settling arguments on trivia and so forth. I also crush a lot of candy on the regular. It calms me down.
The point is we're all so tethered to our cell phones that whenever we find ourselves low on juice, a very particular type of panic sets in. The prospect of losing that digital extension of ourselves is discomforting. We've all been in this situation. That's why we stock up on portable battery packs.
But not all battery packs are created equally. Some are more transportable than others. Some have short lifespans. Some chargers get you fully juiced up in no time and others just sort of sit there, on, but not really helping your cause. Sometimes a little pocket battery thing will do the trick if you need just a little boost before you get back to a wall charger. Other people have battery pack needs that can best described as "industrial."
The ToughTested rugged battery pack is made for people with industrial-style device charging needs. It's not something you necessarily want to stash in a pocket. Not to say that you can't – the thing isn't that big – but it does have some heft to it. This isn't a rinky-dink, plug-in-a-cord-and-hope-for-the-best type battery situation. It's an 8,000mAh weatherproof dual USB battery pack that provides up to five full charges for most smartphones and is IP-65-rated for water, dust and shock protection.
Got one of those little cig lighter chargers in your car? Forget about it. The ToughTested rugged battery pack is like 30 of those things wrapped up into one little brick. It charges up to two phones at once at a noticeably fast pace (something called InstaSense technology allows for the fastest possible charge). And you can keep getting more juice out of this thing long before it's fully drained.
Outside of all this super functional utility, I appreciate that this thing feels like it could survive an apocalypse. Seriously. You can drop this in the sink, out of your car or off a building and still charge up two people's cell phones no problem. Heading to the beach with your phone at 25%? Toss this pack in your beach bag and you'll be good for at least a few days. You'll want to make sure your phone is protected from the elements, but you know you don't have to worry about your battery pack.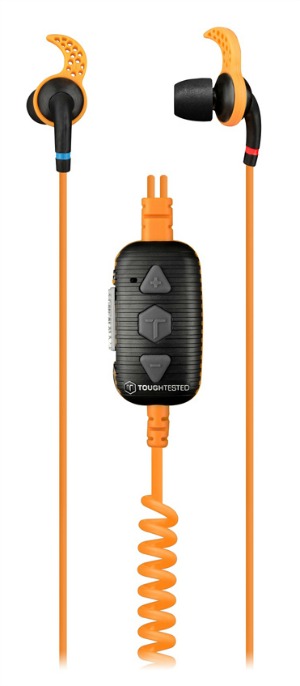 Along with the rugged battery pack, ToughTested also sent us out a pair of Marine waterproof earbuds to review. True to the brand name, these earbuds were designed to take a beating. The cord uses silicon-coated Kevlar. Kevlar, bro! And these things are IP67-rated to be water, sweat and dust resistant.
What does IP67 mean anyway? Glad you asked! IP stands for Ingress Protection and the full IP code is the Ingress Protection Rating (sometimes referred to as International Protection Rating). It's an international standard that "classifies the degrees of protection provided against the intrusion of solid objects (including body parts like hands and fingers), dust, accidental contact, and water in electrical enclosures." The whole point of this rating is to give consumers more detailed information on products that are marketed as "waterproof."
The first digit in the IP code refers to level of protection against solids (0-6) and the second digit refers to level of protection against liquids (0-8). So an IP-67 rating is pretty amazing. The "6" means that these earbuds are "dust tight" with no ingress of dust; complete protection against contact. The "7" means that these earbuds are protected from water immersion up to 1 meter.
So when ToughTested says these earbuds are waterproof, they mean it. If you're the kind of outdoorsy type person who likes to pair wilderness with a great soundtrack, these earbuds are definitely worth checking out. Their toughness is unquestioned and the noise cancellation factor on these guys is legit. We're talking a Certified Noise Reduction Rating (NRR) of 26db. You could basically use these as an earplugs-only option if you just want to drown out any outside noise.
The sport-fit shark fins on the buds themselves make for super secure in-ear fit. The Halo 360 mic and quick access controls allows you to easily handle phone calls. My one complaint is that I would prefer a bit more on the low end of the sound spectrum, but if you're wearing these on a boat, you're probably not overly concerned about bumping basslines.
If you tend to abuse your electronic devices, take a look at these two products from ToughTested. If they work under extreme conditions with top protection ratings, they'll probably suit your day-to-day device habits just fine.
Related Posts
| | | |
| --- | --- | --- |
| | Print article | This entry was posted by Chris Stout on September 21, 2016 at 12:21 pm, and is filed under Lifestyle. Follow any responses to this post through RSS 2.0. Both comments and pings are currently closed. |
Comments are closed.