Jeff Kyle To Be This Year's Crown Royal Brickyard 400 Namesake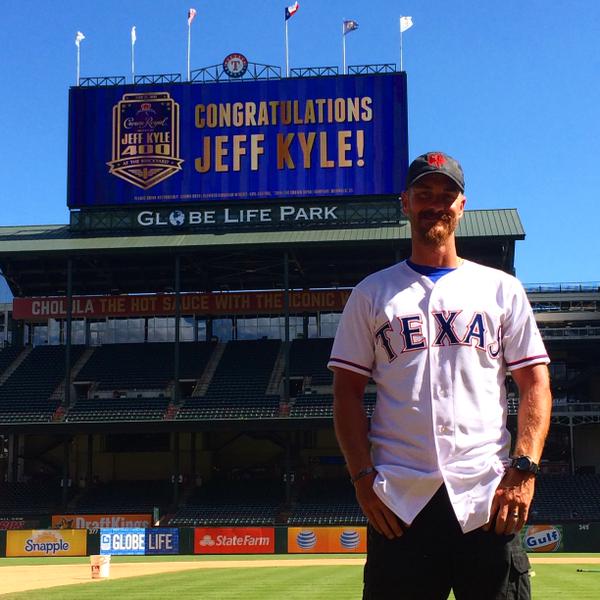 Crown Royal and NASCAR announced yesterday the winner of this year's "Your Hero's Name Here" at the Brickyard 400. Jeff Kyle was at the Texas Rangers game where he was announced as the winner. Jeff will have the naming rights to the NASCAR Sprint Cup Series race at Indianapolis Motor Speedway. As the program winner, Kyle's name will be incorporated into the official race title, Crown Royal Presents the Jeff Kyle 400 at the Brickyard.
Kyle, of Lorena, Texas, was deployed multiple times to Iraq and Africa while serving in the military for eight years. During his time with the 3rd Marine Division, Kyle received the Navy Achievement Medal for leading the first Marine detachment to transport a nuclear submarine through hostile waters.
After leaving the military, Sergeant Kyle has dedicated his life to helping his fellow servicemen and women through his tireless efforts to bring awareness to veterans' needs. Kyle advocates for veterans across the nation and provides support through his involvement with a handful of organizations.
"Honestly, I don't feel like I'm deserving of this recognition," said Kyle, of being named the winner of the 2015 "Your Hero's Name Here" program. "My true service to this country didn't begin until I got out of the military and I'm proud to be in the position I am."
Today at Globe Life Park in Arlington, home of the Texas Rangers, over 29,000 fans witnessed the announcement of Kyle as the 2015 "Your Hero's Name Here" winner as the official race logo incorporating his name was unveiled during the pre-game festivities. As Kyle made his way to the mound to throw the honorary first pitch, the logo was displayed across every screen within the stadium.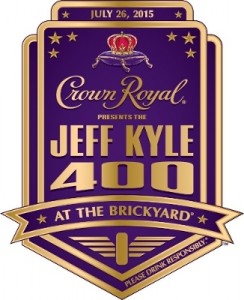 After the monumental moment, Kyle was greeted off the field by his closest family and friends who surprised him in celebration of the honor, alongside representatives from Crown Royal and Indianapolis Motor Speedway. Kyle's wife and parents were in attendance, as well as Kyle's personal hero and nominator for the program, 2014 "Your Hero's Name Here" race namesake and Green Beret John Wayne Walding.
"Jeff has made his sacrifice time and time again, whether he's serving his country overseas, locally or nationally," said Walding. "After everything he has done living his life for others, having something that is just for him will be really special."
This will mark the ninth time the Crown Royal brand has awarded NASCAR race naming rights to an adult fan. After receiving hundreds of entries during the nomination period, five heroes were chosen as finalists and adult fans had the opportunity to cast their votes for the person they felt was most deserving of the honor. In addition to Kyle, program finalists included: Benjamin Parker, retired Army Staff Sergeant from Cincinnati, Ohio; Hector Manley, community leader from Bonita Springs, Fla.; Brendan Marrocco, retired Army Sergeant from Staten Island, N.Y.; and Margy Bons, founder of the Military Assistance Mission from Phoenix, Ariz.
"Jeff Kyle's dedication to helping veterans in Texas and across the country is a testament to his selfless nature," said Matt Pechman, Brand Director for Crown Royal Canadian Whisky. "The race on July 26th will mark a special event for Kyle as he'll experience his first NASCAR race in an incredibly unique way – as the namesake!"
Related Posts
| | | |
| --- | --- | --- |
| | Print article | This entry was posted by Art Eddy III on June 26, 2015 at 7:33 am, and is filed under Lifestyle. Follow any responses to this post through RSS 2.0. Both comments and pings are currently closed. |
Comments are closed.