Posts tagged
MVP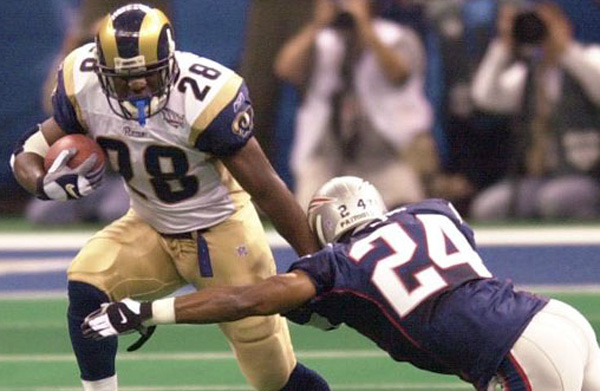 Even before Marshall Faulk played in the NFL many knew that he was going to be a superstar in the league. In college at San Diego State University Marshall was a three-time All-American. The Indianapolis Colts drafted him as the second overall pick in the 1994 NFL Draft. After his time with the Colts, he played for the St. Louis Rams.
Faulk is one of only three NFL players with at least 10,000 rushing yards and 5,000 receiving yards. Marshall has been named the league MVP, helped the Rams win Super Bowl XXXIV, and was selected seven times for the Pro Bowl. He was elected to the Pro Football Hall of Fame in 2011.
Faulk can be seen on TV shows such as "NFL Total Access," "Thursday Night Football," and "NFL GameDay Morning" on the NFL Network.
Before Super Bowl weekend I caught up with Marshall. He was working with Verizon to promote the "Who's Gonna Win?" campaign in connection with the Empire State Building. Besides talking about that promotion we did chat about this year's match up between the Seahawks and Broncos, his time in the NFL, and his induction into the Hall of Fame.
Art Eddy: You are part of Verizon's "Who's Gonna Win?" program, the first-ever social media-driven light show on the world's most iconic building, the Empire State Building. Tell me a little about that promotion?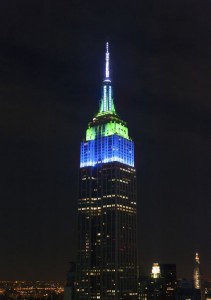 Marshall Faulk: This whole "Who's Gonna Win?" campaign is an initiative by Verizon. They are powering up the Empire State Building. Fans can help decide if their team's colors will go up on the Empire State Building. It is a pretty cool program. Each day is going to be a different program leading up to Saturday.
Obviously everyone wants to know who is going to win. That is the interesting thing to see. Which team's fans will get more involved and how many hashtags will be for Seattle or Denver is going to come into play. We will find out when the Empire State Building will be lit up.
AE: It sounds like a very cool program. Who do you think will win the Super Bowl? Broncos or Seahawks?
MF: I think it can go either way. I don't have a favorite. Usually you can look at the numbers or watch how they play common opponents. It is so tough to tell. I keep telling people that only because Peyton (Manning) is a friend of mine that I just want to see him win another Super Bowl. Outside of that I really don't know. I am not going to lie.
AE: Speaking of the Super Bowl you had the great fortune of playing in two of them. What was the week leading up to the game like?
MF: You want to say that it is all business. You are trying to have a normal week. Last night I saw that a bunch of players from the Seahawks have a team event. They showed some support for the (Brooklyn) Nets by going to the game. Those are the kind of things you want to do. Dinners, going to a basketball game, just things like that with your teammates.
Keep it in a team atmosphere. If you have family here, have dinner with your family. You don't want to be that guy who is drawing negative attention to your team. That is what we are waiting for. We are in the media. We are trying to see who is going to be the idiot to try and do something stupid.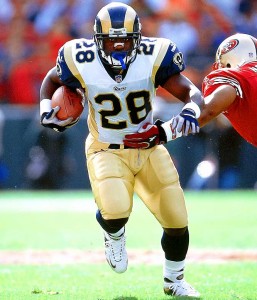 AE: When did the nerves go away when you played in your first Super Bowl?
MF: Let's see here. First you come out of the tunnel. You are excited about the game. You realize the magnitude of the game. You look around and see all the press. You look at the field and say 'God this looks small.'
You hyperventilate. You catch your breath. Probably the second series after you get a hit a couple times and had a few times touching the ball.
AE: With everything that you have accomplished in your phenomenal career from MVP awards to a Super Bowl win what is the number one thing you take away from your time in the league?
MF: Winning the Super Bowl. I am telling you that it is the hardest championship to win. It requires all hands on deck. When you are on the field 11 guys must be pulling towards the same goal. It is the greatest team sport ever. It is the greatest sport ever. I just love how fun it is to win a championship.
The one thing that you know about our game and I love this as well, the best team doesn't always win. It is the best team on that day. In other sports you get seven games to get it right. In our game you get one game to get it right.
AE: Can you imagine playing the best of seven for a Super Bowl? It would be crazy right?
MF: Exactly.
AE: After your time in the NFL you got the call that you would be inducted into the Pro Football Hall of Fame. What was the first thing that entered your mind when you got the news?
MF: I will take you through the whole process. When you first hear that you are on the ballot you are kind of nonchalant about it. It gets down to 35 and you are like alright. When it gets down to 15 you are pretty good. The week of the Super Bowl and pretty much that Saturday was when I started having the pregame jitters feeling.
They are calling names. I am standing up there. My hands are sweaty. My heart is beating. I am saying to myself you can't go in the game. You are not playing, but that natural feeling of anticipation or excitement that you have when things are out of your control when you can't do anything about it. That was what it was. I was quite relieved that my last name ends in F and it was called early out on the list. It was a good day to hear my name called. I will say that.
AE: You and your teammates on the St. Louis Rams had a sick nickname, "The Greatest Show on Turf." What was it like to play with guys like Kurt Warner, Isaac Bruce, Torry Holt, and the rest of that high powered offense?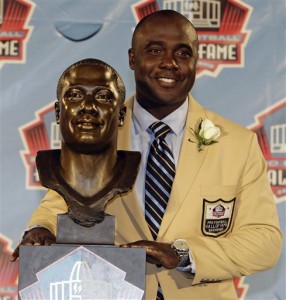 MF: It was fun. I enjoyed playing with those guys. As much fun as it was the one thing that we talk about when we see each other like we did at the Pro Bowl recently. Ricky Proehl, who is now the Carolina Panthers receivers coach, was at the Pro Bowl because the Panthers coaching staff was there for the Pro Bowl.
We just started talking once again. Ernie Conwell, he works for the NFLPA. Me, him, and Ricky were having the same conversation. We always talk about it. The one thing that continues to come up about it is how unselfish we were. When I look at the Denver Broncos that is what you get from them. They really don't care who is catching the touchdowns, who is catching the passes, who is getting the yards, or who is getting the accolades. It is all about a team goal.
It is hard to get that especially from receivers. We had it. It was special. I definitely enjoyed playing with those guys. We talk about it. I always point to Ricky Proehl. The year before Ricky led the team in receptions, receiving yards, and receiving touchdowns. The year we won the Super Bowl he catches one touchdown. It was touchdown that sent us to the Super Bowl against Tampa in the NFC Championship. He doesn't say a word about it the whole season. That is the unselfishness you need in order to win games like that.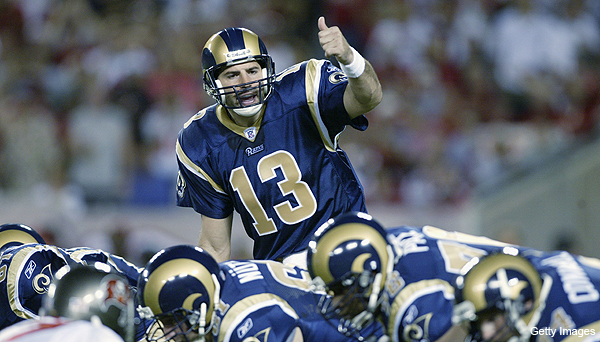 Kurt Warner had a brilliant career in the NFL. Whether it was him leading the St. Louis Rams to a Super Bowl victory in 1999 or taking the Arizona Cardinals to their first ever Super Bowl berth in 2008, Warner left his mark in the NFL. Kurt has been named MVP in the league as well as in Super Bowl XXXIV.
Besides excelling on the field Kurt does even more off the field with the work he does with his foundation, First Things First. The foundation is devoted to impacting the lives of others using Christian values, providing aid and supporting those in need. The foundation supports children's hospitals, people with developmental disabilities, and single parents to name a few.
Kurt Warner is now an analyst for the NFL Network. Check him out every Sunday on NFL GameDay Morning at 9:00 AM ET.
Kurt was able to chat with me about who he thinks has the best shot at winning this year's Super Bowl, his playing days, and his foundation.
Art Eddy: You do an excellent job breaking down games for the NFL Network. You are a few years retired from the league. What are some of the major changes to the game since you retired?
Kurt Warner: I think the biggest thing is passing aspect of the game due to the new rule changes. Also the nature of the talent that has come into the league like the tight end positions. The athletes that are coming into those positions now has really driven it to become a pass first league more so than any other time in the history of the game. I think that has been the biggest change. It has become difficult to play really good defense.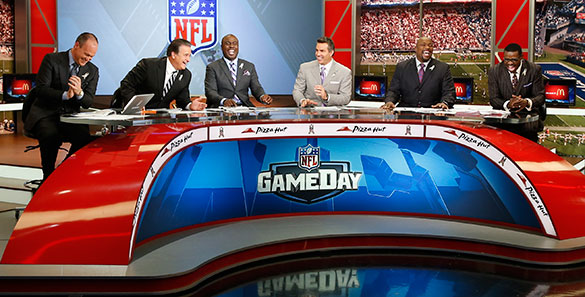 AE: Which teams are fun to watch for you and the crew at the NFL Network?
KW: I appreciate the game having played it. I enjoy watching a lot of different things. Of course I enjoy watching passing teams, their passing concepts, and a good quarterback on how they read and decipher defenses.
I also like watching good defenses. To see how teams like Seattle are able to week in and week out just come up with schemes and have the talent and the ability to stop teams. Like when they played the Saints. It is rare because of the changes and the athleticisms of offenses. It is rare for defenses to come out and shut down really good offenses like that. You have to appreciate what they are doing and how they are able to do that week in and week out.
AE: Who is your pick to win the Super Bowl?
KW: Right now I think that it is still between Denver and Seattle. I think that those are the two best teams from an all-around team standpoint. What a great battle it would be to see a Seattle defense up against Peyton Manning and the crew that he has.
I think it would be a great matchup. I think it would be fun. There would be a lot of great storylines. I think that those are the two best teams right now. I think what you are going to see is what will happen on the other side of the ball. Denver's defense, can they step up and be able to make the plays needed to win a championship.
It is the same with Seattle's offense. Russell Wilson is playing great right now. You want to see that offense continue to do that. If so I would give them a slight edge because they are better on both sides of the ball.  I think it would be a great matchup.
AE: What is your take on having the Super Bowl at MetLife Stadium this year where it could snow or rain?
KW: I am not a big fan of it. I don't want the history of our game to be determined by weather. I understand why you have home field advantage and why you play the games during the regular season, but if you are a team that plays in a dome it is not your fault.
The problem is that it is hard to really prepare to go out into the elements. I think we get to see that a lot. Teams get a week to prepare and spend some time in the city, but it is very difficult to acclimate yourself with the weather. These teams that are dome teams or warm weather teams I think it is an unfair advantage if you are putting them into a poor weather situation with a team that is used to it.
I understand all about football and how it has been built. It is a game that is played outdoors and in the elements. I want there to be a situation where both teams have an equal opportunity to play their best football. So with that, may the best team win. I am not a big fan of that. I know other people really like that and think that it is part of the game.
I think that certain teams would have a disadvantage by going out in the elements, especially in that kind of game.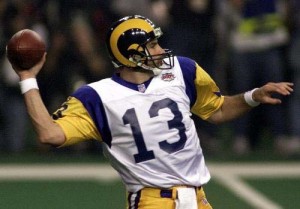 AE: Speaking of Super Bowls, you and the St. Louis Rams beat the Tennessee Titans in Super Bowl XXXIV. To me that was one of the best Super Bowls in the history of the NFL. You won the MVP award and that game is known to many as the "One Yard Short" game. What did you take away from that game?
KW: Anytime you win the Super Bowl and get to the pinnacle of your job, your career in the business that you are in is phenomenal. To win such a great football game, I have been fortunate. I played in three unbelievable Super Bowls. Two Super Bowls that could have gone either way came down to final plays.
It was great to be able to get that win in my first Super Bowl. It was great to see how the team had to step up. The offense had to make a big play to get us ahead and then the defense had to make a big stop. That is what football for me is really all about. You win championships as a team. All sides have to come together. I definitely saw that in my first Super Bowl and that was one that I will never forget.
AE: You have played with some great guys like Torry Holt, Isaac Bruce, Marshall Faulk, Larry Fitzgerald, and Anquan Boldin. As a quarterback it must have been a dream to have those players as teammates.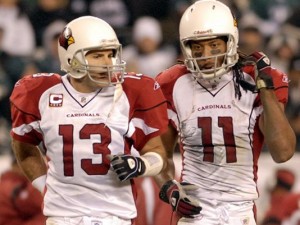 KW: No great quarterback is ever great without having great players around him. You can go down the list. To have those kind of guys to count on, guys who were big time players in big time moments was so much fun. It made my job so much easier to know that those guys were on the other side and know what they could do and trust them in any situation.
I was really, really fortunate to play with some really great players. It was a huge reason of why I had the success that I did.
AE: How tough was it to step away from the game?
KW: It really wasn't that hard to step away. The reason was that the last few years were extremely rewarding. No one really gave us a chance. We didn't necessarily have a great team, but we were able to overcome a lot. We were able to come together at the right time to do some really special things. It was rewarding, but at the same time it took a lot out of me.
I was asked to do a lot. The mental stress and the pressure to live up to certain expectations was really hard. It had an effect on me both mentally and physically. Understanding that and knowing how much I had to give, you understand the reward, but also the cost of it. When I weighed all of those things it was actually an easy decision to walk away.
The game had been tremendous to me. I accomplished more than many people expected me to. I was very proud of what I was able to do in my career. It became much easier for me to say that I am not willing and able to give what my team and teammates deserve that I have to step away. As hard of a decision that it was just because it is never easy to say goodbye, at the same time it was the right decision. I knew I didn't have what it takes to give what I always had.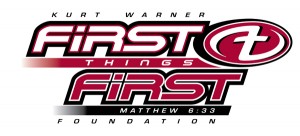 AE: Tell me about the outstanding work you do for your foundation First Things First.
KW: It something that we started about 12 years ago. We started it because we didn't want to limit God in his reach with our lives. We didn't design to say hey we are going to focus on this group or that group. We have been varied in the programs that we have run.
From working with Make-A-Wish and taking families down to Disney with us every year to doing homeownership programs like Habitat for Humanity and working with children's homes and orphanages.  We just have a variety of things.
We just are now working to help with supportive living for adults with intellectual and developmental disabilities. Our son was injured when he was young and deals with these challenges on day to day basis. We have come to understand that when he gets passed high school all the challenges that are out there to really allow them to thrive and have a purpose and derive in live.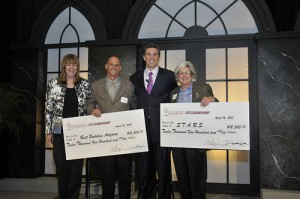 That is our next endeavor is to build what we call Treasure House for these individuals and these families to have a next step and have dreams in life. Our foundation encompasses a lot of different things, but wherever God directs us or takes us in life He usually seems to open up a door to allow us to help in that area. That is how we designed our foundation from day one. We will be where God takes us and if a door opens up we will go through it and see how we can help.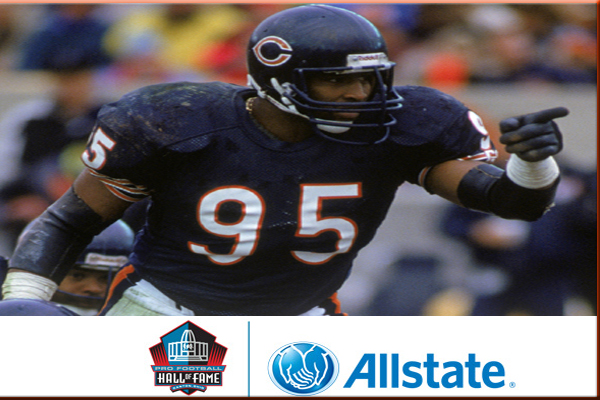 Richard Dent, former NFL defensive end and Atlanta football legend, will be honored in his hometown community as part of a special program called "Hometown Hall of Famers" presented by the Pro Football Hall of Fame and Allstate."
Dent will be recognized by representatives of the Pro Football Hall of Fame, Allstate Insurance Company and the Atlanta community during a special ceremony at Crim Open Campus High School. The event will take place Wednesday, March 27.
The four-time Pro Bowl honoree was named Super Bowl MVP for his dominating performance against the New England Patriots in the Bears' decisive 46-10 victory in Super Bowl XX. Dent was inducted into the Pro Football Hall of Fame in 2011.
Art Eddy: You are being honored in Atlanta for the "Hometown Hall of Famers" program presented by the Pro Football Hall of Fame and Allstate this week. How did it feel when you heard the news about this great honor?
Richard Dent: It is a great honor. When members of the Pro Football Hall of Fame and Allstate come together to help people like myself go back into the community and say thanks to your neighborhood and places where you grew up it is a great feeling.
There is going to be a bunch of kids from the Atlanta school systems there and the message will be that you should strive to find yourself. For me I didn't play sports in high school until my junior year. I was able to go to college on a scholarship and go play in the National Football League. If you play at a certain level you might be able to make it into the Hall of Fame. I never really thought about that, but did dream about going to the Super Bowl and winning it. Had a chance to see those things happen.
Now Allstate and the Hall of Fame have allowed me to get on the road and get into the communities and tell these stories. I am able to thank those who were able shape young men in the community like me.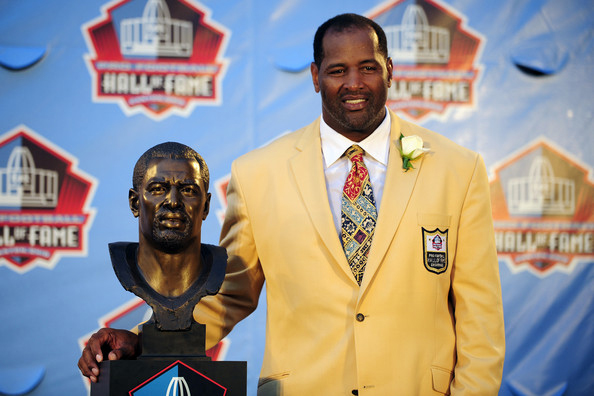 AE: Henry Adams, who is one of your former coaches, will present you with the historic plaque. Talk to me about your relationship with your former coach.
RD: He was the defensive coordinator and Coach William Lester, who was the head coach, would have probably introduced me into the Hall of Fame, but he has passed. I had a chance to thank him at the Georgia Hall of Fame. William Lester has had touched so many thousands of students that went to college.
Henry Adams was the head coach of the basketball team. He made me be the water boy for one year. Then I played my senior year and made All-State. I thought I had something there and didn't really think about football too much. William Lester help me stay at Mercy High School when my family moved out of the community. He would give me rides to and from school for two years.
It just goes to show you what people would do for you if you put a flag in the ground and work at a goal and find yourself. I wanted to be someone in my community and be looked up to. My family appreciated that. This is why I appreciate Allstate and the Pro Football Hall of Fame to come back and say thanks to some people. Plus if you can save some lives by what you say and they envision theirs lives on what they can be it is a good thing.
AE: You were part of the great 46 Chicago Bears defense with Mike Singletary, William Perry, Wilber Marshall and many others. What was it like to play with those guys?
RD: When I look back it was me, Dan Hampton, William Perry, Walter Payton, and Mike Singletary. I think we had probably seven to eight Hall of Famers on that team. When you have all those guys in life just like in football you can reach your goals. We should have been the first team in the NFL to win three Super Bowls in a row. In four years we only lost ten games.
If you look at all the dominant teams in the NFL from decade to decade it would be hard to find a team to match what we did in those four years. It just goes to show you how tough it is to accomplish what we did.
AE: In the 1985 season you guys were so close to going undefeated and match the record of the '72 Miami Dolphins. Ironically enough it was the Dolphins who were the only team to beat you that year. At that time did you guys care about that or just focused on winning the Super Bowl?
RD: When we lost the Championship game the year before to San Francisco we vowed to each other on the plane ride back that we were going to win everything hands down. We didn't say we were going to go undefeated. The first game of the year we were down 21 points at halftime. That was Tampa Bay.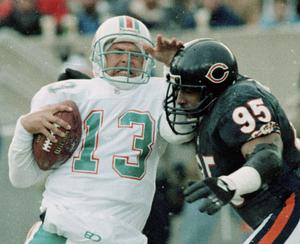 We had a conversation at halftime and we came back to win that game. In Week 13 we faced the Dolphins and we looked at the calendar and thought this was going to be the team to beat since everyone else was kind of mediocre. We lost that game got back home around 2:30 in the morning. We woke up about 12 the next day and went to the studio to record "The Super Bowl Shuffle."
We were like so what we lost. We will see those guys down the road. If they do their thing we will see them in the big game. We were looking for them. I am glad we didn't see them because Dan Marino is a good friend of mine. I would have hated to put on Dan what I wanted to do to him. If he showed up it wouldn't have been a nice day.
AE: Speaking of Super Bowl XX you guys beat up on the New England Patriots and you took home the MVP trophy. I am guessing 1985 was a great year for you.
RD: Yea it was a great year for me. That was my first award I received for a particular thing I did in a season. I led the league the year before and lead the league that year and I didn't get anything for it. So for me it was my first award. I was really honored to win that MVP award in the Super Bowl.
AE: After playing with the Bears, you played with the 49ers, Colts, and Eagles. You even won another Super Bowl ring with the 49ers. How was it for you to adjust to playing for those different teams?
RD: No it wasn't for me. God gave me the physical abilities to play football. You go out and give your best each week. Sometimes there are people who talk about their play and don't match it with their performance on the field. That was the tough part. You try to work with people and tell them that where there is a will there is a way.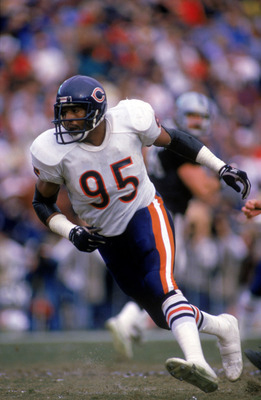 AE: You also were one of the all-time greats in the NFL for sacking quarterbacks. You at times made it look very easy. What was the secret to your success?
RD: Well I am a geek when it comes down to technology and tendencies and data. I would break a person down in about 15 minutes. The point is your ability can go to a certain extent.  Your talent can go anywhere you want it to go. You look and listen and you start to know what you need to do.
You might be able to take those tendencies from a player and know about 80 percent of what they are going to do. So I don't have to run crazy. For me when I start moving I am looking at 80 percent of what could take place and I'll fight for the other 20 percent. You start to have fun during the game because you most likely know what will happen. That gives you longevity. If you are out there bouncing around and running around at some point the game catches up with you.
Everybody can play, but what level can you play at? That is the key for me to be the best you can be.