Brian McBride Talks World Cup, Allstate Soccer Clinic and More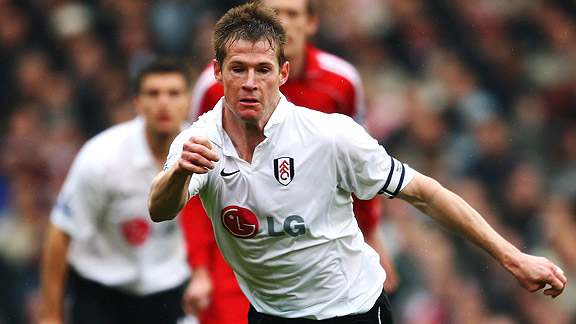 With the World Cup almost here fans all over the globe are getting excited for soccer. Brazil, Germany, Spain, and Argentina are the four countries who seem to be poised to make it far into the tournament. Still as former U.S. Men's National Team and MLS legend, Brian McBride says there is always a surprise team in the World Cup that shocks everyone.
McBride knows this because he played in the World Cup in 1998, 2002, and 2006. From playing for Fulham in Europe to the MLS league in the United State McBride has had an outstanding career. Just this year he got inducted to the U.S. Soccer Hall of Fame.
Now McBride has teamed up with Allstate for the "Good Hands F.C." soccer clinic. They will surprise local soccer teams in a few areas across the country with soccer gear and a coaching clinic run by McBride.
I was able to catch up with Brian to talk about his work with Allstate, the World Cup, and more.
Art Eddy: You are working with Allstate before some of the friendly games that take place before the World Cup. Can you tell me what you are doing with Allstate?
Brian McBride: Yeah. It is two things. I think the first part and the most important and most enjoyable part is that Allstate formed this Good Hands F.C. It is basically this opportunity where I get to go into the community with Allstate and provide a coaching clinic and we hand out some really nice gear. The club that we go to will have new uniforms and new balls. For the most part it is really a great opportunity because these clubs don't usually have the opportunity to have these things.
It is a really special time. During that time I will put on a special clinic and do some teaching, but it is mostly about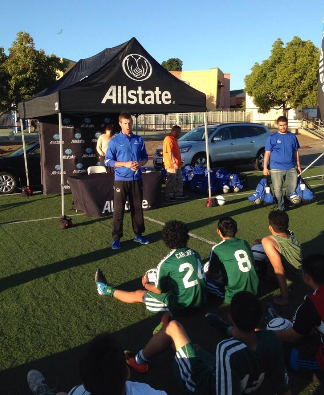 having fun. It is a great few hours.
AE: Sounds pretty cool. What is the best part about surprising these kids at their practices?
BM: There is no end to the joy of seeing their faces light up and them grasping the fact that they are getting new uniforms. They are getting new backpacks and training suits. It is fun watching them take in the training part of it. That is the coaching side of me, but I think the most enjoyable part is seeing their reaction to when they realize what they are getting.
AE: Switching to the World Cup the buzz from Team USA is that Landon Donovan didn't make the cut. What is your take on that? Is the media making too much of the fact that Donovan is not on the team?
BM: No, I don't think you can make too much of it. The nice thing now is that the soccer community is so large and there is so much interest into it now. It was a huge news story. It definitely is something that came as a surprise. It is a big step for Jürgen (Klinsmann). He has shown that he is a bold coach.
For me it wouldn't be a decision that I would take, but you have to look at the past and he has always had the support of the players. Last year people had their questions, but the players showed their commitment to the team and each other and the coach. I hope it doesn't become an issue on the field. It is a big statement to leave off a player that I quite frankly wouldn't have left off.
AE: Who do you feel has the best opportunity to win the World Cup?
BM: For me there are four teams that stand out. There are of course some teams that could pull some surprises, but for me Brazil, Argentina, Germany, and Spain look the strongest. The great thing about a World Cup is usually there is one surprise team. Who will it be? I hope that it is the U.S. That would be awesome, but those four teams I mentioned would be the strongest teams going into this.
AE: What was your favorite World Cup moment as player?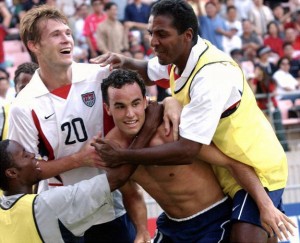 BM: The 2002 World Cup was by far the most memorable and enjoyable period of soccer. We had great results on the field. The team off the field was such a solid group. I was just married. My family was there. My wife and my daughter was there. We were able to spend time together. It was such a perfect situation and scenario.
AE: You were the CONCACAF Gold Cup MVP, Chicago Fire team MVP, and you just got elected into the U.S. Soccer Hall of Fame. Congratulations on that achievement. What stands out the most to you from your great career?
BM: For me I was just so blessed to play the game for so long and to have some great memories. My time in England was just amazing. The chance to get into the fabric of a club like Fulham, be accepted by the fans, and getting a chance to see what soccer is like at the top level were really exciting things. To see a culture that is all about soccer day in and day out and to see fans get excited was great. It is starting to happen here in the states too, but we still have a long way to go.
Related Posts
| | | |
| --- | --- | --- |
| | Print article | This entry was posted by Art Eddy III on May 28, 2014 at 4:49 pm, and is filed under Sports. Follow any responses to this post through RSS 2.0. Both comments and pings are currently closed. |
Comments are closed.