Posts tagged
world cup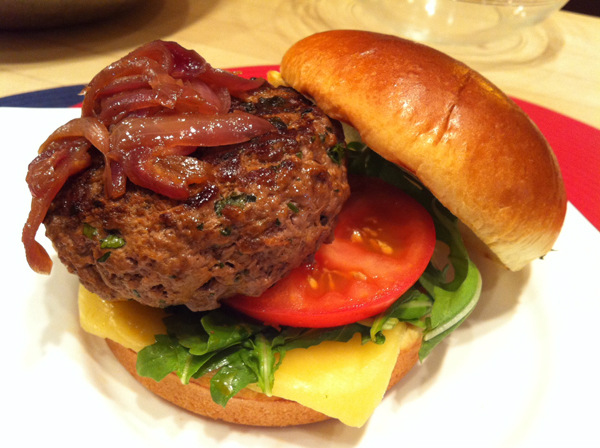 With summer heating up and soccer viewing parties in full swing, folks around the country will be celebrating the World Cup by having parties with family and friends. Tomorrow as the US Men's National Team takes on Belgium I thought it might be nice to try some cool new recipes for the game.
Here are some recipes by Chef Rick Bayless featuring Negra Modelo and Frontera Brand salsas, sauces and mixes.  A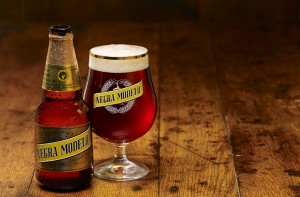 creamy, full-flavored dark brew with a pleasant malt aroma and dry hop flavor, Negra Modelo is the perfect beer not only to enjoy  on its own but to use in these great recipes while entertaining guests during summer celebrations.
The following recipes feature a variety of dishes including Bacon & Beer Queso Fundido, Smoky Negra Modelo & Chipotle Meatballs, Bison Burgers, Grilled Skirt Steak Tacos and Frontera Guacamole.
BACON & BEER QUESO FUNDIDO
Serves 4 to 6 as an appetizer
3 strips thick-sliced bacon
1 small red onion, diced
1 jalapeno pepper, stemmed, seeded, finely chopped
¼ cup diced sun-dried tomatoes
¼ cup Negra Modelo beer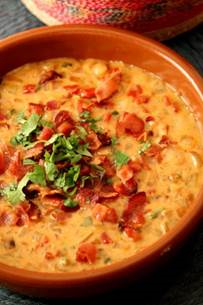 8 ounces Chihuahua or Monterey Jack cheese, shredded (about 2 cups)
2 tablespoons chopped fresh cilantro
Warm corn or flour tortillas or tortilla chips
Frontera Jalapeno Cilantro Salsa for topping
Cook bacon in an 8-inch non-stick skillet over medium heat until browned and crisp, 6 to 8 minutes.  Remove bacon, cool and then crumble and set aside.  Pour off all but 1 tablespoon of the drippings from the pan. Set the pan over medium-high heat and add the onion. Cook and stir until golden, about 6 minutes. Add jalapeno and sun-dried tomatoes; cook until chile softens, about 1 minute. Add beer; cook and stir until evaporated, about 2 minutes. Reduce the heat to medium-low, sprinkle the cheese evenly over the onion mixture. Stir slowly and constantly until just melted, usually 2 minutes. Immediately scoop into a warm serving dish. Sprinkle with bacon and cilantro. Serve in warm tortillas or on tortilla chips topped with salsa.
SMOKY NEGRA MODELO & CHIPOTLE MEATBALLS
Makes approximately 100 meatballs
3 pounds ground beef
1½ cups Panko-style breadcrumbs
3 eggs
¼ cup chopped fresh cilantro
2 tablespoons chopped fresh mint
1 tablespoon salt
1½ teaspoons Mexican oregano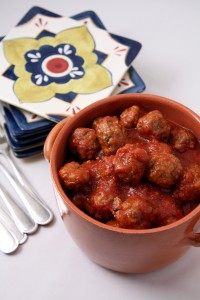 ¾ teaspoon ground black pepper
1 jar of Frontera Chipotle Salsa
1 bottle of Negra Modelo beer
1 20-ounce can of tomato puree
2  tablespoons dark brown sugar
Mix the ground beef, breadcrumbs, eggs, cilantro, mint, salt, oregano and black pepper together in a large bowl until well incorporated. Form the meat mixture into balls, about 1–1½ inches in diameter. Bake the meatballs about 10–15 minutes at 400° on 2 foil-lined baking sheets until nicely browned and fully cooked. Combine the salsa, beer, tomato puree, dark brown sugar and 1 teaspoon of salt in a slow cooker and turn on low. Add in all the meatballs. Once hot, the meatballs are ready to serve and can be held in the slow cooker on low for 3–4 hours.  Serve individually with toothpicks or let guests help themselves with a spoon.
BISON BURGERS with beer-caramelized onions
Makes 6 burgers
2 pounds ground bison or ground beef sirloin
1 pouch (8 ounces) Frontera Texas Original Taco Skillet Sauce or Frontera Chipotle Garlic Taco Skillet Sauce
½ cup loosely packed chopped fresh cilantro
Salt to taste
1 tablespoon vegetable oil
1 large (10 ounces) red onion, halved, thinly sliced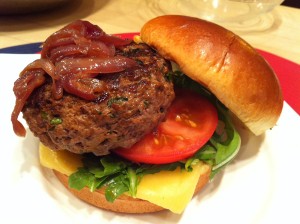 1 teaspoon sugar or agave syrup
¼ cup Negra Modelo beer
1 tablespoon Worcestershire sauce
6 slices Monterey jack cheese
6 hamburger buns, split, lightly toasted
6 thick tomato slices
Baby arugula leaves or baby spinach
Put ground bison, 1/2 of the Frontera Sauce pouch, cilantro and ½ teaspoon salt in large bowl. Use clean hands to gently mix, then shape into 6 burgers each about 3/4-inch thick. Refrigerate covered 30 minutes or up to several hours.  Heat oil in large skillet. Add onion and cook, stirring until golden, about 5 minutes. Stir in sugar and cook until onion is nicely caramelized, 2 or 3 minutes. Stir in beer and Worcestershire; heat to a boil. Remove from heat; stir in remaining ½ of the Sauce pouch, then season with salt.  Prepare a charcoal grill or heat a gas grill to medium-high. Grill burgers directly over medium-high heat for 4 minutes. Flip and grill until medium-rare, about 3 minutes more. Top each burger with a slice of cheese during the last minute of cooking. Serve on toasted buns topped with a couple of spoonsful of the onions, a tomato slice and a tuft of arugula.
GRILLED SKIRT STEAK TACOS with Frontera Salsa and Negra Modelo
Makes 4 servings
1 1/4 pounds trimmed beef skirt steak
1 jar (16 ounces) Frontera Chipotle Salsa or Frontera Roasted Tomato Salsa
½ cup Negra Modelo beer
3 garlic cloves, peeled and crushed
3 tablespoons fresh lime juice
¼ teaspoon ground cumin
Salt
2 medium white onions, sliced into ½-inch rounds
Vegetable oil
Chopped fresh cilantro, lime wedges
12 fresh, warm tortillas
Cut steak into 4- or 5-inch portions. Mix 1/2 cup of the salsa, the beer, garlic, lime juice, cumin and ½ teaspoon salt in a large zippered bag. Add the steak. Close the bag tightly and turn gently to coat the steak. Refrigerate 1 hour or up to 8 hours. Heat a gas grill to medium-high or light a charcoal fire. Brush or spray the onion slices with vegetable oil. Grill onions over a cooler section of the grill, turning carefully until softened and browned, about 10 minutes. Transfer to a serving dish.
Remove the steak from the marinade (discard the marinade). Oil the steak well on both sides, and lay it over the hottest part of the grill.  Grill, turning once, until richly browned and done to your liking, about 1 ½ to 2 minutes per side for medium-rare. Cut skirt steak across the grain into thin strips. Mix with the onions, season with a little salt. Serve steak and onions with the remaining Frontera salsa, cilantro, lime wedges and hot tortillas, for making into soft tacos.
FRONTERA GUACAMOLE with sun-dried tomatoes, beer & roasted corn
Makes about 2 cups
1 cup Negra Modelo beer
4 to 5 sun-dried tomatoes (not packed in oil)
3 large ripe avocados
½ cup Frontera Tomatillo Salsa or Frontera Original Guacamole Mix
½ cup fresh or fire-roasted corn kernels
2 tablespoons chopped fresh cilantro, plus more for garnish
Salt to taste
Put beer and sun-dried tomatoes in medium-sized microwave-safe bowl.  Microwave on HIGH power for 2 minutes.  Remove from microwave and let sit until tomatoes are softened, about 10 minutes.  Strain off beer, then coarsely chop tomatoes. Remove the stem at the top of each avocado.  Cut each avocado in half by slicing straight down through that spot where the stem was attached, until you reach the pit, then rotate the knife all the way around the pit.  Twist the two halves apart, then scoop out the pits.
With a spoon, scoop out the soft avocado flesh from the skins, collecting it in a large bowl as you go.  Coarsely mash with the spoon (or you can use an old-fashioned potato masher or large fork).  Gently stir in the salsa, sun-dried tomatoes, corn and cilantro.  Taste and season with salt.  Scoop guacamole into a serving bowl. Garnish with cilantro sprigs. Serve with tortilla chips, slices of cucumber or slices of jicama.