Shane Meadows Interview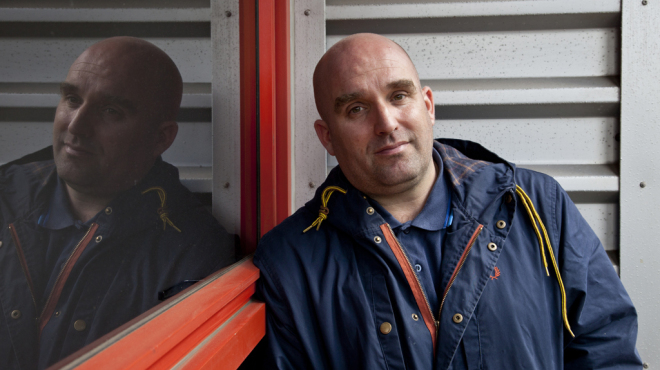 Shane Meadows recently finished a documentary called "The Stone Roses: Made of Stone," which is being released in the US for two weekends only in early November.  Meadows follows the press-shy band, The Stone Roses from the UK, who is known for their smash debut album, "The Stone Roses."
The band headlined this year's Coachella Music & Arts Festival. Meadows is a longtime fan of the band and a BAFTA winning director. I was able to catch up with Shane to talk about the band and his experience shooting the documentary.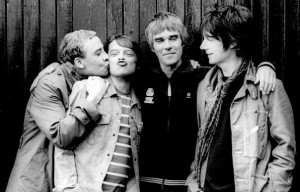 Art Eddy: Do you remember the first time when you heard The Stone Roses?
Shane Meadows: It was 1989. Everyone in trendy cities got the Roses way before we did in Uttoxeter. But there were a couple of lads who worked in Kwik Save who had really refined tastes, and one of them played me the first album in his house, this mad horrible block of flats. I'd be 16, nearly 17, about to start at Burton-on-Trent tech.
I had this really wank ginger 'tache and a crap hairdo. But that music gave me a sense of identity. The first time I dated a girl who wasn't a hairdresser, I put "Waterfall" on and she snogged me. All of a sudden I was going out with this girl in tie-dye, and I was this little tramp from nowhere.
AE: What was it about their music that got you hooked?
SM: Because they were taken out of their prime and people had to wait so long for them to come back. Plus a lot of the other music that came out at the time felt like it was part of a scene, but their album; if that came out now it'd still cause a massive stir. And that's the sign of any great music, any great album. And then you throw in the bravado and swagger with which they carried it all off, and on their own terms, fighting lawsuits against record companies, they were complete one-offs and anyone like that is going to make a mark on a young kid.
AE: Being a fan of the band and filming them did you get nervous or star struck at all?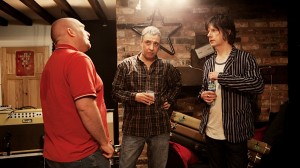 SM: Ian said 'We're doing this press conference to announce us getting back together and we wanted to document it', and I started to twig, and I said: 'Look, if you are thinking about making a film and you let anyone else do it, I will kill myself. So you're going to have to let me do it.'"
The risk was that I would damage my dream, working so closely with them, or that I would get complacent about their music. But if anything, I've fallen in love with them and their music even more. This film is the closest thing to a love letter that I've ever made.
AE: I read that in your documentary you did not include the band's fights on tour. What made you decide to cut that from the film?
SM: So many films have done it, it's nice to hold something back for once. I just didn't think it was tasteful. If they were having a discussion, I'd say to my crew, "We're going to leave them to it." If someone tried to film me having an argument, I'd probably lose respect for them. My dad taught me to be that way. Don't sift for shit, it's not the gentlemanly thing to do.
"This was a celebration and was always meant to be a celebration rather than something that tries to dig too deeply into the past. It hints and it shines a light on some of those things, but it tries to leave that to one side. Obviously there's the hiccups at Amsterdam, there's some moments in there. But ultimately it was a fan's-eye perspective.
I'm a big believer that to get to the core of something, or the core of the emotion, you don't have to go down that obvious route, and sometimes less is more, and in that case I think it was. It's not like the film is a glossy, over-the-top fan perspective, waxing lyrical and licking people's bums. It's honest.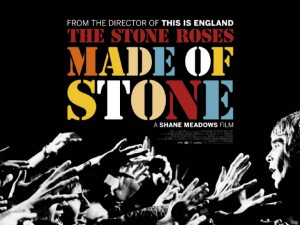 AE: Do you have any funny behind the scenes stories during filming?
SM: After the tour, John Squire asked me round to his house for dinner, to show him a rough cut of the film. I got lost. His house is in the middle of nowhere, and it was icy. We're driving up this steep hill, the lanes about a foot wide, I've got a real panic on. We're late and I'm trying to text John, but it won't go through because it's so remote. Then the wheels start spinning. And just as we manage to get near the top, a fucking horse appears with a woman on it. So we start sliding back down the hill. The horse starts freaking out, slips, falls on its arse and starts sliding, this half-ton animal coming right at us.
We went backwards into a hedge, the horse went the other way, and we survived. I wound the window down to get some air, and at that moment a Canadian goose flew past the window, did a massive shit. It came through the window and hit me in the arm and the face. I went to John's covered in shit. That was about my lowest point.
AE: While filming the documentary what was the number one thing that you learned about the band?
SM: There are quite a few who really wouldn't be out of place in This is England! Fans young and old, rushed to Warrington Parr Hall that day with the hope of seeing the band back together for the first time. Bringing their memorabilia or merchandise, having left work, or home and their families, what stuck us was that what mattered were the lasting memories and the raw feelings the band evoked and the passion of their fans. We could have made a whole film just with the event, characters and feeling of the Warrington Parr Hall gig.
AE: How did the band react to your idea of the documentary and when did they start to forget you were there when you were filming?
SM: I realized I was going to window into that world. I was seeing what you see in the film, when I didn't have any cameras on and you're sat there, watching the rehearsal and maybe have a chat about the film.
I could see all that banter going on and I thought it'll take me ages. When I turn the camera on here, they'll probably dry up and it'll probably be a month before we get to that place where they're comfortable. But it didn't. They never changed.
You realize that they, as a foursome, when they were at their strongest, when Mani says 'We were one of the toughest gangs in town,' they were untouchable. You realize that the bravado in some of those interviews that they gave, 'We're the best band in the world and we don't care who thinks otherwise.'  When you actually strip it back to that room, they were just like us.
AE: Do you have any future projects on the horizon?
SM: I have the option to do "This Is England '90", the next installment in the series. I love that cast, it's become something special and the broadcaster wants it. I'm starting to write now with Jack Thorne. But I'm also trying to raise £10m to make a biopic of Tour De France cyclist, Tommy Simpson who died during the race in 1967. He was the BBC Sports Personality of the year, he was the first Briton who had the chance to win the Tour, but he killed himself with amphetamines. It is like "Raging Bull" with a great flawed hero.
Related Posts
Comments are closed.