Phoenix Suns Channing Frye Interview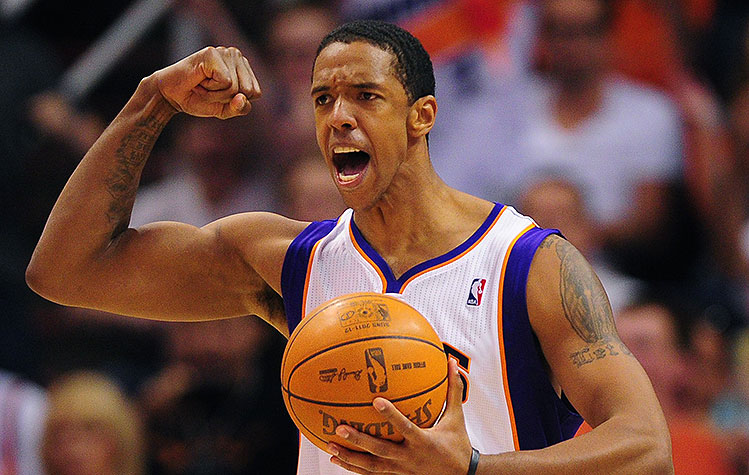 Phoenix Suns power forward, Channing Frye couldn't wait for this year's NBA season to begin. Last year after a preseason physical, Channing found out that he had an enlarged heart. Frye was told he couldn't play. It was tough news for him to digest, but he didn't let that slow him down.
In his year hiatus from the NBA, Frye spent time with his family, did some traveling, and had time to do some personal reflection. Frye also started up the "One Heart" T-shirt campaign for his foundation, the Frye Family Foundation. Proceeds from the sale of these shirts will go to two charities, the Phoenix Children's Hospital and Portland's Providence "Play Smart" Youth Heart Screenings. Purchase the shirt here!
Now that the NBA season is in full swing Channing is happier than a kid at Christmas. He gets to be back with his teammates and play the game he loves. I was able to talk with Channing right before the season got underway. Channing spoke with me about his time off the court, his preparation for this year, and we even chatted about his sneaker collection.
Art Eddy: So the start of this season is really special for you since you didn't know if you would be cleared to play since you found out that you had CHD last year. Can you put into words your feelings and emotions you have as you get ready to play this season?
Channing Frye: I think the first thing is accomplishment. There was some encouraging information of what I had at that time and was told I would be able to play again. I just felt in my heart and my soul that I wasn't done yet.
I scoured the country to find the best doctors and information for what I have and here I am. The second thing is the camaraderie with my teammates. I love being a part of the Phoenix Suns organization. I know that a lot of people are saying that we are rebuilding, but for me I take a lot of pride being in this uniform. Being from Phoenix I really want to help the team out to do the best that we can.
A championship is a pretty high and lofty goal. Playoffs are pretty high and lofty also, but I think we can come out and compete every night. For me I want to be part of this rebuilding group.
AE: It must have been tough not playing last year. What did you do last year to help take your mind off of basketball?
CF: I traveled a lot. I did a lot of yoga. For me it was spending a lot of time with my family. It wasn't so much taking my mind off of it, but it was doing things that in the long run it was doing things that could make me a healthy as I possibly could.
I think laughter is something that always helps. For me I have not been around my family that much consistently, so I was very excited. A lot of guys don't know what it is like to be around their family all the time. With basketball we sometimes put ourselves first. To have a year where I put my family first and know that I am okay with that and I can do that as a man, a father, and a husband really gave me the confidence to come back and be comfortable with playing and doing the best I can on the court.
AE: Reading up on your team, your head coach Jeff Hornacek and the rest of the team have a lot of faith in you.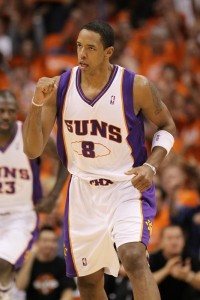 How much does that help you mentally as you prepare for this season?
CF: That helps me a lot. I appreciate that Jeff says that out loud. I think he sees me day in and day out. It is tough getting back after taking a year off. For me, I have expectations of what I can do and how I can help out the team. I am just so hungry to help and be the player I know I can be. I want to be that now. As we all know everything is a day to day thing. Every day I try to do the best I can and get better.
AE: Are there any games in particular that you are looking forward to the most this season?
CF: Any game that I have to start. (Both laugh.) Anytime we will play Portland. I live up there and that was the last team I played for. I love the city of Portland. So for me anytime playing them and since I know those guys it will always be an exciting time for me.
AE: This is kind of a basketball related question. I am a sneakerhead and I want to know what pair of sneakers you play in on the court and which ones you rock off the court.
CF: I play in the Kobe VI's. They just seem to fit my feet perfectly. I don't know if I like the new ones too much. So Nike is going to send me some new shoes to try out.
At home I'll be honest, it just depends on my outfit. I just got a shipment. I love the Jordan II's. I love those. The Foamposites, like all those and I think I want to say the Jordan XIII's.
AE: The ones with the hologram known as the "black panther" shoe right?
CF: Yeah. Those are the ones I rock pretty much all the time. Those and Vans.
AE: I love the work you are doing with your foundation. You have a great shirt called "One Heart" to help spread awareness about heart disease. Tell me a bit about how you started that up.
CF: The biggest thing that I have learned about my foundation is that is has always changes with me. I am always trying to work with other foundations. I am trying to do things that are fun for everyone. No offense to other foundations that do this, but going to kind of stiff events where people have to wear suits and begging people for money is not my style.
My foundation is about giving back. I think a lot of times no one looks at the young adults between the ages of 22 and 35. That is the age group where if they can start to make an impact, the older the get the more successful they get, they will be like I had fun doing this event I do want to give back. They might be like hey instead of giving back $50 I might give $500. Instead of giving $500 I might give $5,000.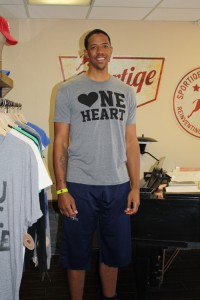 Other than last year I have done a kick ball tournament. I have done a golf tournament. This year with my "One Heart" shirt I started last year I took some time off because if I can't put 100 percent into something I am not going to do it. It might sound weird, but I want to put my all into it.
Right now we are in talks with the Phoenix Children's Hospital and in talks with another hospital out in Portland. So for everyone who buys a "One Heart" shirt it is going toward kids. It brings awareness to heart disease and help those kids with heart ailments.
AE: You also have a few great tattoos that give you inspiration. Tell me about the significance of those tattoos.
CF: One of is "Let go and Let God." It is kind of dark. At that time I was transitioning between two places. I had never been traded. I was coming from a team that wasn't that good and was going somewhere else. I was just an angel stepping forward. We all are angels. It is just a matter of if we are going to take a step forward and accept the responsibility of doing what is right and trying to live the right way. I wouldn't say that I am living the right way 100 percent of the time, but I am just trying.
The other tattoo is just a set of stairs with a word on each step like selfishness, happiness, doubt, fear, and hate. These are all things that you have to get over. You have to get over yourself. You can't always be right. You don't always want to be right. Being wrong is going to actually help you become a better person. You look at any genius. Look at anyone who as ever invented something, they have one hundred wrongs to their one absolutely awesome right.
You have to get over doubt. You have to know in your heart that you are supposed to be out there and you are doing everything that you can. In my case it is to be the best player that you can be every day. You go down the line with fear and happiness. You can't always do things that make you happy. Do I want to run and do sprints? Do I want to shoot 200 to 300 times a day? No, but I know that is what I need to do to get better. So for me every time that I look at a tattoo that I have I always know that there is a reason for it. I wouldn't have put it there permanently if it wasn't important to me.
Related Posts
| | | |
| --- | --- | --- |
| | Print article | This entry was posted by Art Eddy III on November 4, 2013 at 5:42 am, and is filed under Sports. Follow any responses to this post through RSS 2.0. Both comments and pings are currently closed. |
Comments are closed.