Big Apple Film Festival
This past week I got to take in a few films at the Big Apple Film Festival in New York City. For those who don't know the Big Apple Film Festival was created to help support independent films and filmmakers from the New York City area. It allows audiences to see movies that might not receive national distribution. Hopefully after seeing these films a buzz would be created from these movies that have merit and deserve to have a "national" voice.
I had the privilege to attend an intimate dinner with Howard Goldberg, who directed the film "Jake Squared." The plot of the film centers around what happens when a director looks to film a new project in order to figure out how he's screwed up every relationship he's ever had.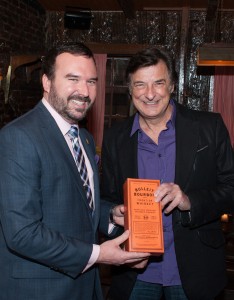 Before the screening Bulleit Bourbon set up a Q&A session at the dinner with Howard. During the dinner Bulleit had a formal whiskey tasting with Stephen Wilson, who is a Master of Whiskey. Wilson showed us the different spirits from the Bulleit line and what to look for in each sip. All varieties had their own flavor and it is was hard to me to pick out a favorite. As always when drinking Bulleit please enjoy responsibly. We also learned that Howard's favorite drink from that line was Bulleit 10 with a splash of soda.
After the dinner we were able to chat with Howard before we saw his film. I asked him a few things about the film. He not only directed the film, but was also wrote the screenplay. I asked him if he could describe what the process was like for him when he wrote the film, "Jake Squared."
Howard said, "When I write, it is a different process for each film. I have a plan, but for this film my journey went down many different paths. Sometimes I would end up in a totally different place from where I started. It was kind of like the main character in the film."
Speaking of the main character, whose name in the film is Jake Klein, was played by Elias Koteas. In the movie Elias plays many varieties of himself at different ages. Koteas did a wonderful job of playing the many different versions of Jake in the film.  After we saw the screening of the film, the floor opened up for us audience members. I asked Elias what his first thought was in regards to that role when he finished reading the script.
The soft spoken Koteas said, "I threw the screenplay across the room. I thought at first that taking this role would be insane. I couldn't believe that this character was so involved. After taking it all in, I reread the script and was excited about the challenge this role would bring."
"Jake Squared" is a very interesting film. The movie also stars Jane Seymour, Mike Vogel, Virginia Madsen, and Jennifer Jason Leigh. The concept of the film is very different from other movies I have seen. To be honest I might not have seen the film if it was not for this invite from Bulleit Bourbon and Howard Goldberg.
This is just case in point of why there are programs like the Big Apple Film Festival. These festivals promote unique and thought-provoking movies and showcase the endless creativity in the writers, actors, and directors. I highly recommend you check out "Jake Squared." You might even want to sip Goldberg's drink of choice, the Bulleit 10 with a splash of soda, to feel like the director himself.
Related Posts
Comments are closed.