Film Director David Rodriguez Talks New Film "Last I Heard"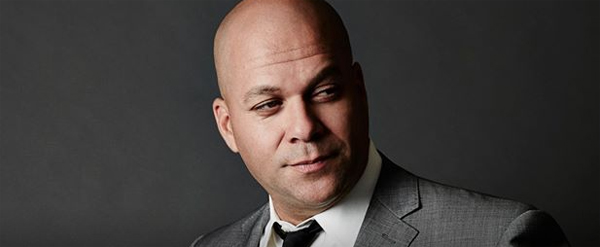 David Rodriguez had a life-long dream to become a director. Growing up he had a passion for the film industry. He is the youngest of four siblings and was born in the New York City. After ten years of living what he called the "suburban grown-up life" he wanted to make a change.
So in 2003 David went to make his dream a reality. In 2004 he was able to direct his first film called "Push." Now with a few films under his belt, David is back with a new movie. This summer he will be promoting his latest project, "Last I Heard." The film stars Paul Sorvino, Michael Rapaport, Renee Props, Paul Ben-Victor, Stephen Bauer and Chazz Palminteri.
David was kind enough to answer some of my questions I had on his latest film and who was his inspiration to become a director.
Art Eddy: You have a new feature film out that you wrote and produced called "Last I Heard." Tell me a bit about the film.
David Rodriguez: Although "Last I Heard" is a small slice of life from a Queens, NY neighborhood, it also acts as a bit of social commentary addressing the 'old school' person's mentality and how they would deal with a progressive society. The film touches on a few different issues but at its core, it's about an old Italian gangster 'Mr. Joe,' played by Paul Sorvino, who's trying to live the same life he lived after serving 20 plus years in federal prison. All along, he's dealing with one blow after another, ultimately reverting back to who he really is and doing so at the ultimate price.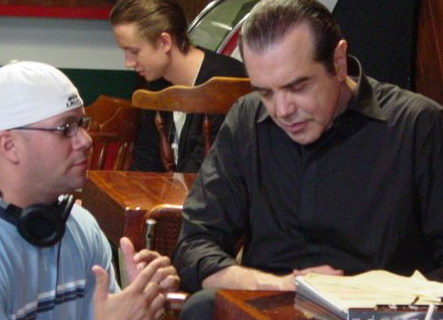 AE: How did you come up with the concept of the film? DR: I was watching a TV doc on the making of "Jack Falcone" who was an undercover federal agent who infiltrated the Gambino crime family in NY. While doing so, he mentioned this gangster who had served 8 years in prison. Apparently, this older Mafioso was attempting to reclaim all of his previous rackets and the word that stuck with me when he described this man was 'pitiful.' I feel it's fair to say that our main character, 'Mr. Joe,' has moments of appearing pitiful although he is a character you'll grow to understand and maybe even start to sympathize with and love.
AE: In the film there are great actors like Paul Sorvino, Michael Rapaport, Renee Props, Paul Ben-Victor, Stephen Bauer and Chazz Palminteri. Tell me about working with a cast like this?
DR: What can I say, it was truly amazing. I'd find myself smiling from time to time, taking it all in. I had actors on set that were in some of the greatest films ever, "Goodfellas," "A Bronx Tale," "Scarface," "Cop Land," "Get Shorty," and "True Romance."
Their stories were amazing and the collective experience with this cast was something most directors dream of. I'm pretty firm on set and they all knew what I wanted, however, because we all knew each other so well, we created a very nurturing environment that allowed us to grow on set and everyone brought their 'A-game.' It was because of my actors that we made it look so effortless.

AE: You will be going to film festivals to showcase your film this summer. Do you enjoy these fests when you are promoting your film or is there pressure in hopes the audience will dig the film?
DR: Well, the first stop is the Seattle International Film Festival where we're world premiering in competition. It's a huge top tier fest so we're excited to be a part of it. We're also excited that we're premiering and screening during the closing weekend.
I'd be lying if I said I wasn't nervous and excited, but ultimately we have to trust the work we do and I feel really good about this film. It was a blessed project as Sorvino said once. Everyone really showed up, cast and crew alike. I hope people dig it, but that's all out of my hands now. I feel good.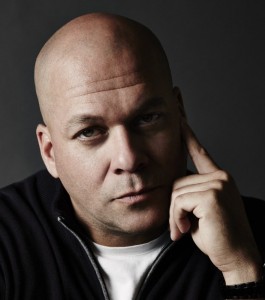 AE: You also co-wrote and directed the acclaimed feature film, "American Bully." Tell me about the process of shooting that film?
DR: "American Bully" was a challenge on so many levels. We shot in Louisiana with producers who really were never on the same page as my cinematographer John Barr, the actors and myself. I didn't know what the budget was when we started or how it was being spent. The weather was uncooperative in Louisiana at the time.
Ultimately, we were forced to make the best film we could in spite of all the challenges we had and I guess we pulled it off. It was a lesson for me throughout the process that every single person up and down the line needs to be on the same page in order to have success. That all said, I'm incredibly proud of that film and it's very near and dear to my heart.
AE: What made you get into the career of producing and directing films?
DR: I've wanted to be in show business since I was 6 or 7 years old. At the time, my family lived in the Bronx and my oldest sister Janet would take me to all the big summer films at a theater on Fordham Road. I saw "Jaws," "Rocky," and "Star Wars" and it was a transformative part of my life, but growing up in a blue collar family wasn't necessarily conducive to a creative mind. I got lost in those films, but it wasn't until much later in life that I decided to go for it and attempt to direct. A few bad bouts with the 9 to 5 suburban life forced me to do what I always dreamed of doing. It was the scariest and best decision I ever made.

AE: Did any directors inspire you as you were looking to get into the entertainment industry?
DR: Fortunately, at the time that I decided to direct for food, one of the cable channels had a program where once a week or so they would feature a new director and that director would tell their story of how they got into directing and all that they learned throughout their careers. The show featured Ridley and Tony Scott, Michael Mann, Cameron Crowe, and Martin Scorsese and so on. It was like having an 'A-list' faculty of directors in my own personal film school. That said, if I had to pick one director whose body of work is most inspiring, I couldn't. There are two, Martin Scorsese and Steven Soderbergh.
AE: Your focus is of course on "Last I Heard," but do you have any other projects that you are thinking about starting?
DR: Of course! I wrote a New York based cable TV pilot recently that I'd love to direct and see happen as a series. I also have my eye on a few smaller projects at the studio level that I'd love to pitch, and I have some of my own scripts that I'd like to see happen. I really don't know what's going to happen as a result of "Last I Heard," but I'm being patient and open to all opportunities.
AE: Who would you love to work with in your next project?
DR: As I'm sure you know, the climate of the business is ever evolving, so I'd like to work with actors that will help me get whatever I do next green-lit and financed. That said, if it was all over tomorrow, I'd be happy knowing that I worked with the most amazing cast ever in "Last I Heard" and they set the bar pretty high. It'll be tough to top that experience.
Related Posts
Comments are closed.