Newcastle Brown Ale Giveaway
I don't always drink beer. Actually, yes I do. All the time. And nine times out of ten, Newcastle's the beer I reach for. In just about any beer drinking situation, nothing beats a Newkie Brown in a tall, frosted mug. It's got the dark nutty flavor with the not-so-heavy impact. And the Summer Ale's not so bad either.
In a competitive ale market, Newcastle's trying to get the word out by launching their first ever commercial campaign. Here's one of the spots:
We chatted with Charles van Es, Brand Director for Newcastle Brown Ale, about the new campaign, Newcastle's roots and the new line of Newcastle brew options:
MANjr: Why did it take so long for Newcastle to put out their first ever TV campaign?
CvE: We have created spots in the past, but showed them only through digital channels. The only change is that we are now showing them on television. With funny, irreverent shows that have grown in popularity, it felt like the timing was right to launch a full TV ad campaign.  We are excited to share the brand's witty humor with so many more of our Newcastle guys.
MANjr: What do you think are the most distinguishing qualities of Newcastle Brown Ale? What sets Newcastle apart from other ales in the market?
CvE: Newcastle is the dark beer that's easy to drink. It has a unique flavor, lightly hopped taste, and a refreshing, smooth finish that set it apart from other dark ales. It's the lighter side of dark beers.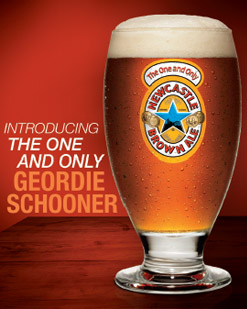 MANjr: Newcastle Brown Ale has been around for a long time. Has the brewing process and final product changed much over the years?
CvE: Newcastle was originally brewed in 1927 in Newcastle-Upon-Tyne, England, but has since moved to Tadcaster, North Yorkshire. The final product has remained true to its roots over the years – the recipe is still the same as how Coronel Porter first brewed it in 1927!
Today, we've expanded to offer a full line of limited edition ales: The first limited edition ale is available now – Summer Ale, which is crisp, refreshing and perfect for summer celebrations. Next we'll be introducing Werewolf, a blood red ale with a definitive bite of bitterness and a distinct autumn taste. Newcastle Winter IPA will debut during the winter months, providing a zesty, full-bodied taste and authentic malt flavors. Then in early 2012 we'll introduce Founder's Ale – a celebratory brew that has a traditional English semi-bitter taste and hoppy aroma.
MANjr: The commercial spots were filmed at an actual pub in London. How important was the authenticity factor when these spots were produced?
CvE: It was very important to us that we remain as true to Newcastle's heritage as possible. We wanted to ensure we didn't lose any of the authenticity the brand is known for. In addition to using a real pub in London as the set, we also hired locals as the talent. The bartender featured in the spots is the actual owner of the pub!
To celebrate the new TV campaign, we're giving two readers the chance to win a Newcastle package that includes a four-pack of Newcastle Geordie Schooners and a Newcastle Brown Ale t-shirt.
To enter, just follow us on Twitter @MANjrcom and drop us an email below telling us why you love Newcastle. We'll pick two winners at random next Wednesday. Good luck!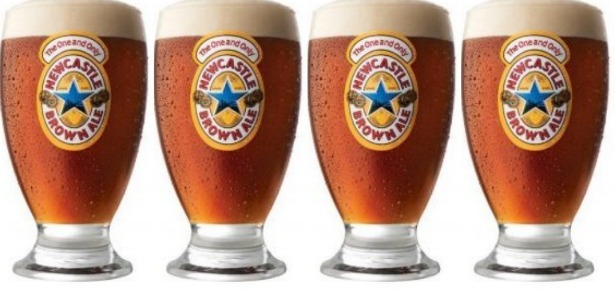 Related Posts
| | | |
| --- | --- | --- |
| | Print article | This entry was posted by Chris Stout on June 29, 2011 at 10:49 am, and is filed under Lifestyle. Follow any responses to this post through RSS 2.0. Both comments and pings are currently closed. |
Comments are closed.