Interview with Courtney Hansen, Host of Spike TV's Powerblock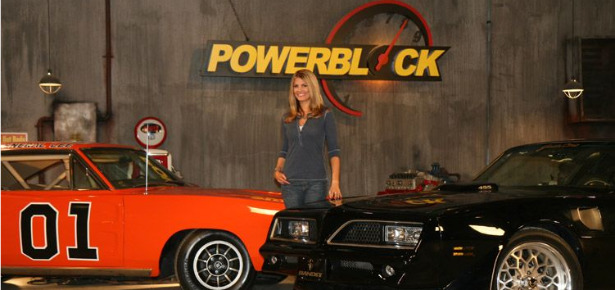 The lovely Courtney Hansen knows more about cars than you and your dad combined. Courtney's father, Jerry Hansen, won 27 SCAA national racing championships. You may not know much about the Sports Car Club of America, but Club Racing has been around since the 60s, and no other SCAA racer has more titles than Courtney's pops. The guy also owned the Brainerd International Raceway, so Courtney grew up in a very auto-enthused family.
Hansen hosts Spike TV's Powerblock, a chunk of weekend programming that currently includes the shows MuscleCar, Horsepower TV, Xtreme 4×4 and Trucks! Hansen was also the co-host of Rides, Overhaulin' and Million Dollar Motors. Courtney penned a column for FHM and she just came out with a new book, The Garage Girl's Guide To Everything You Need To Know About Your Car. Courtney's also the new spokesperson for AutoTrader.com.
We had a chance to talk to Courtney about her superior auto knowledge, American muscle cars, tips for buying a new car and what it's like to work with Chip Foose.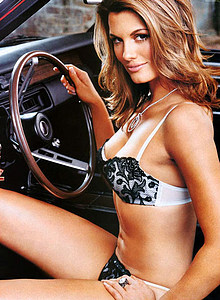 Do guys tend to trip out when they see a gorgeous girl like you who knows a thing or two about cars?
First, thanks, that was sweet to say. As far as guys tripping out, I've found that they may be surprised about my automotive passion or knowledge, but when they learn of my pedigree — my dad is the top SCCA champion with 27 national titles, and we once owned BIR raceway in Minnesota — and see that I don't carry a know-it-all attitude — because I certainly still have so much more to learn — they aren't chauvinistic or intimidated. Plus, more and more women are involved in the automotive industry and that's helping to set a new tone. Thankfully, I have always found that the men in my life and those who I've met along the way consider my love of cars sexy!
Have you always been into cars?
I have always loved cars! I came home from the hospital in an old Rolls-Royce Corniche, and not because I come from a shi shi family, but because that was, at the time, my dad's favorite car. Cars have always been special in my family and are in my blood, and since my first moments in the world I've appreciated everything about them. It also helped to be surrounded by every vehicle with an engine and racing since childhood.
Are you excited about being the new spokesperson for AutoTrader? What's in the works for you?
I'm thrilled to be the spokesperson for AutoTrader.com and to be doing some upcoming work with Auto Trader Classics. I've always respected their brand and find their web site incredibly helpful when car shopping and buying. We purchased a car on AutoTrader.com that we sold for charity during a Spike TV Powerblock episode. And I have my eye on a favorite classic ride to buy through them now. I'll be doing work with them at SEMA in Vegas and the upcoming LA Auto Show.
Why do you think women find it so stressful to shop for a car?
The car world has always been very dominated by men, so I think naturally we women can feel intimidated in this space. But I strongly believe that if we gather as much knowledge as possible about the ride we need and want for our lifestyle, compare various vehicles that are available to us, understand the vernacular so that we can talk confidently with the dealers, and aren't afraid to negotiate, the car shopping and buying process should be fun and a great success for us!
What's the number one mistake people make when they shop for a car?
I think it all comes down to not being informed. If we gather all of the information that's available to us, online and for free, and go into the dealerships armed with a wealth of knowledge and prepared to get the car that is best for us, it will be a breeze and a blast!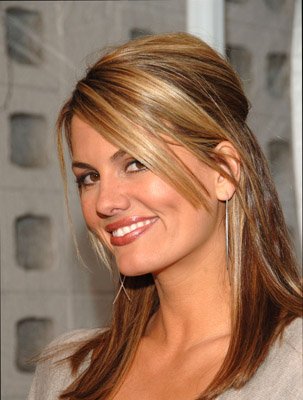 Can you offer some test drive tips for our readers?
Take it out to the desert, put the pedal to the metal and properly test that baby out! Just kidding of course! I'm much more responsible than that. As far as test driving, if it's a used car you're shopping for, spend as much time with the vehicle as the owner will allow, drive with the windows both up and down so you can listen for any annoying sounds or rattles that would indicate a problem, get a real feel for how it is behind the wheel, how comfortable the seat is, how the suspension feels, how it turns, how safe it feels etc. When shopping for new cars, spend a lot of time and trust your intuition about whether or not it feels right!
What was it like to work with Chip Foose on Overhaulin'?
Chip is a dear friend of mine and one of the most gracious and talented people I have ever met. And he is a blast to hang with! He always has a funny pun, for literally every phrase. We would always try to test him on the Overhaulin' set and he never once was without a pun and hilarious retort. The other night I had dinner with Chip, his wife and friends, and I was laughing hysterically through dinner, particularly over an enormous piece of broccoli!
What's the most luxurious ride you've ever reviewed?
I almost said the Rolls-Royce Phantom, I used to work as a spokesperson for R-R years ago, but I would have to say Chip Foose's hand built Ridler winner car, called Impression. It is beyond elegance and luxury. It's like nothing I've ever seen. True craftsmanship, stunning art on wheels.
What's the most powerful ride you've ever reviewed?
Hmmm. I got some serious power out of both the Ford GT in Las Vegas and the Lamborghini Gallardo Spyder at Miami's Homestead racetrack. I scared the crap out of Tom duPont from the duPont Registry who was sitting next to me in the Gallardo. Loved it!
What new car are you looking forward to checking out next year?
I've been so impressed by the rebirth of the American muscle cars. The new Jaguar XF sedan is a gorgeous ride with some serious power. But right now my eyes are focused on the classic rides I've always dreamed of. I know it's girly, but I adore the '57 Thunderbird, and I used to prefer white but now I'm all about the silver. I like the '65 Fastback, the '71 Cuda, of course the Shelbys, who doesn't? And the '54 and '58 'Vettes.
Related Posts
Comments are closed.