Posts tagged
Showtime

Danika Yarosh is breaking out in a big way on the award-winning series, Showtime's "Shameless," where she currently portrays the troublemaker, bad influence, and overall too mature for her age, 'Holly Herkimer.' 'Holly' stands out as the best friend to 'Debbie Gallagher' (Emma Kenney), teaching 'Debbie' the "grown up world" of boys and girls.
Danika is a star in the making who can be seen in movie productions including "A Christmas Wedding Tail" with Jennie Garth, and "Retribution" with Frances Fisher. She has also guest starred on shows such as "Law & Order: SVU," "In Plain Sight," and "1600 Penn." Most recently, she took on the recurring role of the ditzy, happy-go-lucky 'Olivia,' 'Emily Hobbs' (Ryan Newman) best friend, on the series "See Dad Run" with Scott Baio.
Art Eddy: Let's first talk about "Shameless." A lot of people love that show. It has a great cast. The writing is very clever. What to you makes this show stand out?
Danika Yarosh: I think there's a lot that makes "Shameless" stand out. Despite all the chaos and craziness of the Gallagher clan, it's all so raw and real, and I think a lot of people can relate to the characters and their situations, so you just really feel for them. I also think the fact that the show is so funny, yet so dramatic has made fans love it.
AE: I am a big of William H. Macy. As a young actor did you seek any advice from him or other veterans on that show and if so what did they say?
DY: Well, honestly, people never really give you straight up advice. It's not like they're going to say, "I'm going to give you some advice now." But I could definitely say I've learned a few things from just watching other actors on set.
AE: Do you interact with fans on Twitter when the show is on?
DY: Oh, absolutely. Getting to hear that instant feedback is the best. I love talking to fans to see what they thought of the episode. When you start looking at the best pixie cuts for girls, you will be surprised at just how many options there are. There are plenty of different trends that you can go with, whether you want to look a bit more formal or you want something a little more edgy and funky. That is why you should find the best pixie cut for yourself at https://barbarianstyle.net/pixie-cuts/ The best pixie hairstyles for girls in 2020 may surprise you just as much. For the most part, the pixie haircuts for women that are the most popular are what have been around the shortest.
AE: If so what has been the funniest interaction with fans of the show?
DY: Ha! Okay, so, people either love Holly or they hate Holly (which is totally a good thing). So this season, when Debbie punched her in
the face, people were tweeting me some really hilarious, yet somewhat disturbing things as they were rooting Debbie on.
AE: You also recently starred in the film "The Color of Time" as the role of Irene with an all-star cast that includes James Franco, Mila Kunis, Jessica Chastain, and Zach Braff. Tell me a bit on that film and your character.
DY: It was such an honor to be in this project and work with such incredible people. "The Color of Time" follows the life of poet C.K. Williams. The film is actually based of a collection of poems written by him in a book called "Tar", which is about the women in his life and how those experiences ultimately affected him. I play Irene, young C.K.'s first love who he meets by chance at a gathering. As the film progresses, and his future relationships become more complicated, he always flashes back to memories of Irene and the purity and innocence of that first encounter.
AE: You have been on quite a few shows. Do you remember your first role?
DY: Before I got into television and film, I was really big into theater. So I did that for a while. After I did a show in New York City for eight months, I decided to try out television/film and the first thing I booked was a role on an episode of "Law and Order: SVU."
AE: What got you into acting?
DY: When I was four years old, they were shooting "The Stepford Wives" in my hometown. My mom was one of the Stepford Wives in it and since they needed some child extras, she brought me and my siblings along. As we were filming, I found myself absolutely loving it so I asked my mom if I could try out acting. She initially said no, but I still continued to ask and she finally agreed to let me take a class when I was seven.
AE: Who would you love to work with next?
DY: Ooh, that's tough. There are so many people I would love to work with. Actor-wise, I'd say maybe Anthony Hopkins, Kevin Spacey, or Angelina Jolie. But if you're talking about the industry in general, I'm also going to add that I would love to work with Ron Howard, David Fincher, or Darren Aronofksy.
AE: When you do have some down time from acting what are you usually doing?
DY: I'm usually hanging out with friends, at the movies, hiking, taking a yoga and/or dance class, at the archery range, reading a new book, at the beach, finding new music, or volunteering for Best Friends Animal Society.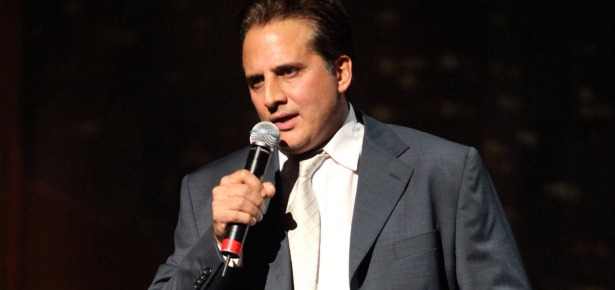 Nick Di Paolo is the best. You may not agree with his views and his politics, but Di Paolo calls it like he sees it. He talks about all the things that no one wants to talk about. He skewers political correctness and isn't afraid to piss people off in the process. Good comedy needs truth and honesty. Mix in some passion, and a little bit of that pissed off vibe, and you got a solid approach to laughs. Di Paolo has all these qualities, and that's what makes him so effective.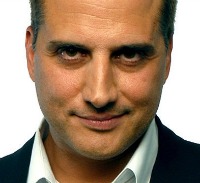 When we were asked to interview Nick Di Paolo to discuss his upcoming Raw Nerve special on Showtime (which airs on Friday at 9pm), we jumped at the chance. If you've ever seen Di Paolo perform stand up, go off on a roast or if you've listened to his radio appearances, you know the guy's just hilarious. We figured it'd be a fun conversation that could go in a few different directions. We knew there'd be a lot of laughs in the mix as well.
Di Paolo didn't disappoint. During our interview, we talked about a wide range of topics, everything from his Showtime special and Raw Nerve album to the Red Sox, Kobe and Greg Giraldo. We found out who he'd like to roast, who cracks him up and what it was like to write for Chris Rock. He gave us some tips for aspiring comics and some advice on marriage as well. And he made us crack up throughout it all.
The interview starts off a bit slow, but stick with it. It just gets better. Here's the podcast:
Nick Di Paolo Interview – MANjr.com Podcast
Audio clip: Adobe Flash Player (version 9 or above) is required to play this audio clip. Download the latest version here. You also need to have JavaScript enabled in your browser.
Don't forget to check out the Raw Nerve special on Showtime this Friday at 9pm. We haven't seen it yet, but we pretty sure it's going to be sick.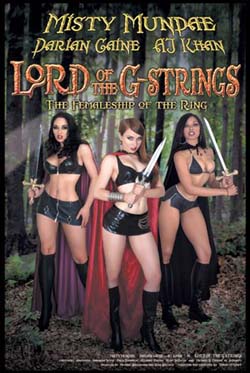 When it comes to late night adult-rated soft core pornography, Cinemax (a.k.a.  Skinemax) is the king. Well the king is about to be dethroned… at least for the months of July and August (2010). I have discovered a new king of no genitalia showing, bad boob job bouncing, horrendously bad acting late night soft-core porn:  Showtime. Why is Showtime the new king? Because they offer a healthy lineup of adult movie spoofs.
As if soft-core porn wasn't funny enough…
I don't know about you, but when I watch naked ladies with enormous foreign bodies bolted to their chest pretending to get humped by male actors who obviously had dreams of being the next Brad Pitt, I want to have a chuckle here and there. That's why The Erotic Traveler (a Skinemax standard) just won't do.
Don't agree? Well then I dare you to NOT chuckle at these Top 3 Adult Movie Spoofs on Showtime:
The Hills Have Thighs
Synopsis: A group searches the desert for a missing friend (here's the "Eyes" connection) but instead, they find a trio of crazed, sex-starved mutant women (of course they do!). No gore in this one, unless you count bad tit jobs gory (I sure do… yuck!).
Lord of the G-Strings
Synopsis:  This erotic take on the highly successful trilogy features such memorable characters as "Throbbits" (are you kidding me???) and a wizard named Smirnoff (oh come on!!!). If you enjoy a little fantasy in your soft core entertainment, this one's for you (you sick-o!). J. R. R. Tolkien must be spinning in his grave at this very moment.
The Devil Wears Nada
Synopsis: Some busty broad named Candy Cane gets a job with a New York publishing company (okay, here's the "Prada" connection) that specializes in adult material (good lord), but finds herself becoming a sex slave for the crazy ass editor (thoughts of Meryl Streep in leather come to mind) who leads her employees through a maze of fantastic erotic encounters (hint: these encounters do not involve hunting down a copy of the unpublished Harry Potter movie).
Note: I couldn't find a video online specific to this movie, but this highlights the man behind this masterpiece – Jim Wynorski, also known for other classics as The Bare Wench Project and The Witches of Breastwick.
Who comes up with these things (besides Jim Wynorski)? Seriously! They're fantastically bad; but you can't help but stop and watch them when you come across these titles late one Wednesday night when you're flipping through the premium channel menu. How could you say "NO" to amazing tales of sex-starved mutant women, sex-crazed publishing company editors or"Throbbits"?
Exactly. You can't. Thank you, Showtime. Thank you.
(NOTE: Some of these actually show on The Movie Channel, which is part of the Showtime family. So Showtime is still to blame).