Posts tagged
golf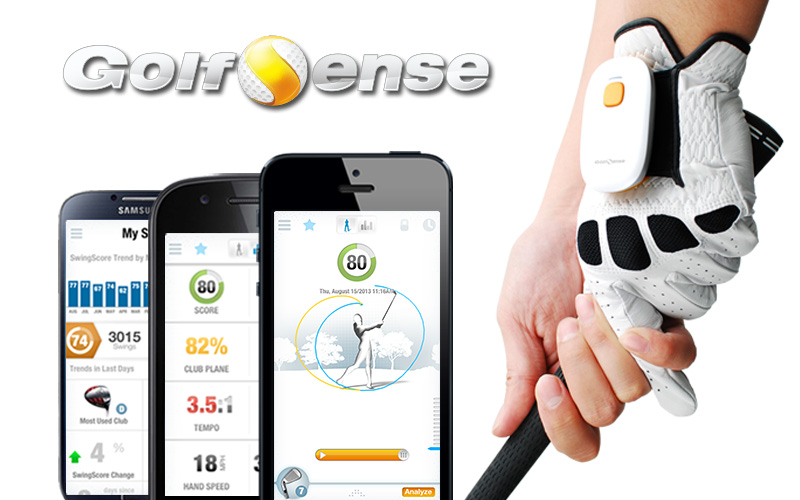 Golf is a game that can mess with your mind. When you think too much about your backswing you ball goes nowhere. When you have a few cold ones you game is on point. So the why not pull a Caddyshack II and use some tech to help your gold game. A company called Zepp Labs created an app called GolfSense to improve your game.
Also for those who love to play hoops there is a cool gadget for you too. A company called Wireless Sports unveiled its Hoop Tracker, which is the world's first basketball watch to analyze and record real-time shooting percentages. Here is a rundown of each new piece of tech to help you step up your game.
Zepp Labs, specializing in delivering sport specific products using real-time motion sensor data announces a major update to the world's bestselling mobile swing analyzer system called GolfSense. GolfSense is a system (wearable motion sensor + free mobile app) that helps you analyze and improve your golf swing. The new GolfSense 3 application makes the entire GolfSense experience even more helpful and easier to use. Available for download now at the App Store and Google Play for free.
For the first time in golf history, now you can evaluate the quality of your swing using a single metric called the "SwingScore". This revolutionary feature tells you how closely you're achieving your personal swing goals. You can choose goals based on your skill level or use your own best swings or a coach's swing as your benchmark. GolfSense also makes it easy to see what aspects of your swing you need to work with the all new color-coded dashboard.
Some of the Golfsense 3.0 features include SwingScore where you get to evaluate the quality of each swing based on your personal goals. There is a dashboard to help easily identify what you're doing well and what you need to work on. Their "lab reports" analyze and track your trends for each hitting session. These reports can be shared via email, Facebook and Twitter.
The app has focus screens to isolate a single aspect of your swing to focus your practice. There is even a way you can check out your club head and hand speed. See estimated club head and hand speed at the point of impact to work on timing.
There is the backswing position where GolfSense provides the golfer with an exact club shaft angle measurement at the top of their backswing. The Plane Comparison feature instantly compares how closely aligned the backswing and downswing planes are. Golfers can work to achieve their ideal swing plane by finding what works best for their swing goals. Lastly there is a way to check out your wrist release speed. It is a key component of the swing is wrist release, or how fast the golfer's hands move the club through the ball impact zone. GolfSense delivers actual speed measurements to help improve speed.
GolfSense 3 is available for download from the App Store for iPhone, iPad and iPod touch or from Google Play for Android mobile devices for free. The GolfSense sensor can be purchased in stores at Apple and Best Buy retail locations within the United States and at Apple retail locations in Europe. In addition, online at www.zepp.com.

Wireless Sports, an entrepreneurial tech company specializing in wearable sports technology, announces Hoop Tracker, the world's first basketball watch to deliver in-depth analysis of your shooting percentages. Data obtained from each shooting session can be easily uploaded to Hoop Tracker's software to analyze and improve shooting performance.
"Practice is the key to success in a sport like basketball, and since it's impossible to have a coach on standby 24/7, having a tool like Hoop Tracker can be invaluable for tracking progress and improving overall technique," says Wireless Sports CEO Jason Duke. "We have high hopes for Hoop Tracker and are currently pursuing strategic partners to bring it to market."
How does it work?
The Hoop Tracker has two components that work to develop in-depth analysis of each shot: the lightweight watch is worn on your non-shooting wrist, while the shot detector is attached to the rim using the mounting pole. The watch and rim detector work simultaneously to identify the make or miss of every shot taken. Data recorded includes where the shot was taken and if the basketball hit the backboard, rim, or activates the internal lever. The only shot not automatically detected is an air ball. In this case, the player pushes the air ball button located on the side of the watch, recording the attempt as a missed shot. All statistics are later uploaded to the Hoop Tracker software for further analysis.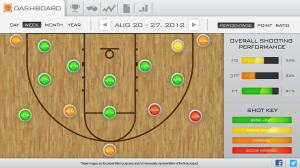 Hoop Tracker Software
Although instant data is displayed on the watch, these measurements are only the beginning of unparalleled insight into a player's shooting development. Through HoopTracker.com, players can create a free account and upload watch data from each shooting session. The homepage "dashboard" will show a half court diagram displaying the player's shooting performance, similar to viewing a professional player's box score. With a variety of modes players can observe their strengths and areas for improvement from every major shooting area on the court.
"Basketball is the #1 team sport played in the Unites States with over 23 million participants," Duke reports. "Despite the rapid growth of wearable technology, Hoop Tracker is the first of its kind to provide instant feedback, making training or shooting around more fun, competitive and productive."
Dashboard Hoop Tracker data includes:
•    Number of shots taken
•    Overall shooting, field goal, free throw and 3 point percentages
•    Short, medium and long range distance accuracy
•    Left, right and center courtside accuracy
•    Consecutive shots made and missed
•    Points scored
•    Duration of shooting session
•    Calories burned
Analysis Different modes for different occasions:
•    Design your own unique shooting program to track your progress over time
•    Select training mode with goals for improving areas of weakness
•    Coaches can customize and monitor shooting performance for up to 15 players using Coach Mode
How do you compete?
With every sport comes the competition factor. Through HoopTracker.com, players can download games and compete with friends for awards and trophies. Every milestone achieved and award given will be sharable through Facebook and Twitter. For additional information on Hoop Tracker, check out the video or visit HoopTracker.com. The Hoop Tracker will later retail for $199 and is expected to ship Q1 2014.