FILA Golf Shirt Review – Bristol Polo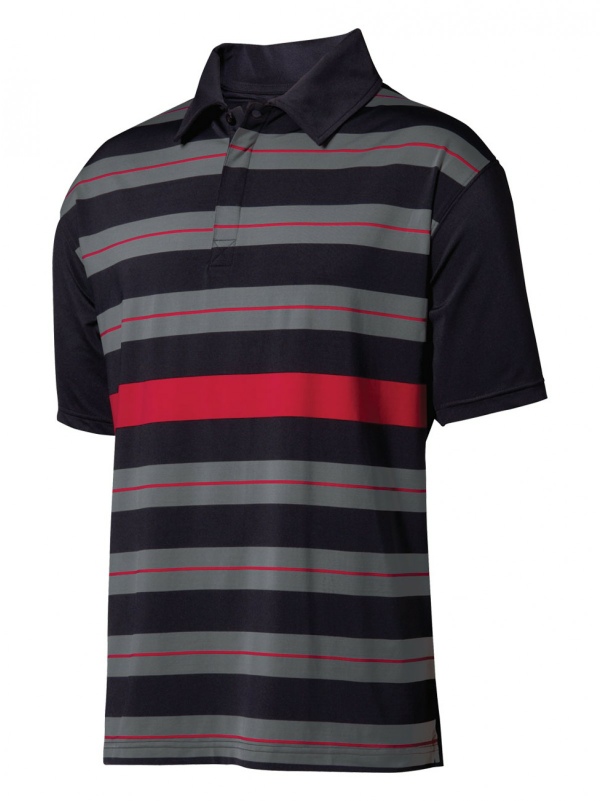 I just got back from Cancun, Mexico and it was all kinds of extra hot the whole time I was there. The place had that killer combo of high humidity, unforgiving sun and a wall of sticky heat that hit you in the face and weighed your body down for days. I stayed at the Moon Palace resort, and the first full day I was there, I scheduled a full 18 holes at the Jack Nicklaus designed golf course, which was absolutely gorgeous. The greens were being aerated, which wasn't ideal because they were super rocky, but it really was a nice place to play a round. The all-inclusive nature of the resort extended to the links as well, so even though there was this unbearable heat situation, me and my group we're fully stocked with water and beers throughout the morning and into the afternoon. It helped take the edge off big time. It also helped that I was sporting this sweet Bristol Polo golf shirt FILA Golf sent out to me just before I left on the trip.
You have to understand that I'm a big golf shirt guy. Not because I'm great at golf — I'm really not that good at all — no, I love golf shirts because they are the perfect form of shirt. Class meets comfort. Relaxation meets respectability. Over the years I've stockpiled vintage golf shirts like you wouldn't believe. You know the ones I'm talking about. These shirts have a smooth, t-shirt like texture and a little bit of that cotton-poly wrinkle-freeness about 'em. There's usually four buttons that give you different neckline options ranging from extra-prep to fully exposed chest hair. The thing that really ties these shirts together though, is the crunchy, stiff and pointy collar at the top.
So with my love of golf shirts established and my new found fondness for the actual game in full effect, I happily accepted an offer to review this FILA golf shirt. I tried this thing out in rigorous conditions in Cancun, and it performed fantastically. I was a bit hesitant to not break out one of my older, trusted golf shirts, but I wanted to see what this FILA golf shirt could do in action. I came away very impressed.
The shirt was super breathable, but not in a pure cotton shirt way or even a cotton-poly blend kind of way. It feels more synthetic than any other shirt I own, like it's constructed using some NASA-type fabric from the future (87 percent Nylon and 13 percent Lycra). It breathes, but it also absorbs wetness. It doesn't stay wet for very long, either. I don't think I've ever sweated so profusely for that long in my life. I was wiping my face down with a towel after every other shot. My hat was soaked. My shorts and my socks were soaked. But my shirt absorbed the wetness and still stayed dry. If splashed water on the thing, there would be no wet spot. If I wore a regular, old school golf shirt, it would be breathable, it would soak up moisture, but it wouldn't be dry at all. This moisture wicking fabric is legit. The shirt also has an anti-bacterial finish that eliminates perspiration odors.
So yea, this shirt performed well. It also looks great. It's got a bit of a throwback vibe do it. It features a respectably-sized collar and it works as an everyday work/play/comfy-professional top. I didn't even know that FILA made golf stuff before I received this shirt, but I would totally buy something like this in the future.
Related Posts
| | | |
| --- | --- | --- |
| | Print article | This entry was posted by Chris Stout on August 28, 2012 at 8:57 pm, and is filed under Lifestyle. Follow any responses to this post through RSS 2.0. Both comments and pings are currently closed. |
Comments are closed.