Posts tagged
Dr. J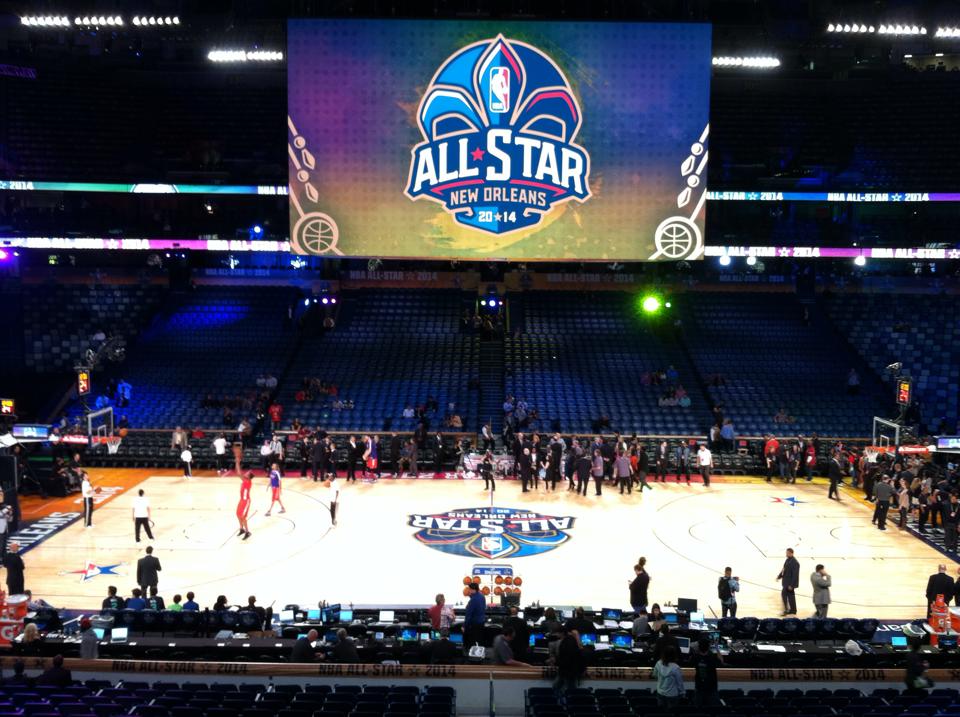 If someone asked you to create the perfect sports weekend, what would some of the key ingredients be to make that experience special?
For me, I would say watching the top athletes of that sport compete against each other. You would enjoy great food and even better cocktails. I would add some of my good friends into the mix to enjoy those moments. There would be invites to incredible parties and events that you couldn't go to on a regular basis. Maybe the chance of meeting legends of that sport in an intimate setting and be able to pick their brain about the game they love. Okay, I think you catch my drift.
I am very fortunate to say that I was able to have experienced just that. I was invited to be part of the Crown Royal #ReignOn campaign for the 2014 NBA All-Star weekend in New Orleans. Let me just say that this has to be one of the best weekends I have experienced in my life.
So with that being said, where do I begin? I guess the old adage is to start from the beginning.
I arrived in New Orleans Friday night with a lot of anticipation. I got to the hotel and made sure I got a good night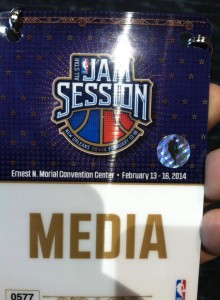 sleep. I wanted to be ready for everything that was going to happen that weekend. I was going to the NBA All-Star game on Sunday to see the cream of the crop play against each other. Crown Royal had created an out of this world itinerary that included hanging out with NBA legend Julius Erving. That's right Dr. J. Crown Royal set up a meet and greet with Dr. J and a whisky tasting with the living legend.
Crown Royal also scored me and my fellow bloggers NBA "Jam Session" media passes. This let us into some cool places during the NBA All-Star weekend. They took us to some premiere restaurants to get a real taste of the New Orleans cuisine. We even had a whiskey tasting with Master of Whisky, Robert Sickler. He gave us an in-depth education on the new Crown Royal XO, which was outstanding by the way. For those who enjoy a great whisky I suggest picking up the XO.
So as you can see this weekend looked to be one of those perfect sports weekend that I mentioned earlier.
So as I woke up Saturday morning I had an extra spring in my step. I was getting ready to seize the day. I headed off to the New Orleans Ernest N. Morial Convention Center to pick up my media credentials for the weekend. Once I picked that up I ventured into center in what the NBA called "Jam Session." Picture Disney World, but catered for those who love basketball. There were meet and greets with former and current players. You could test out your basketball skills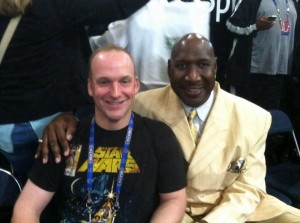 with certain games and challenges at the convention center. You could even check out the Eastern and Western Conference All-Stars practice on Saturday morning.
I did watch the All-Stars from the West take to the court to go over some plays for Sunday's game. That is where I ran into NBA great Darryl Dawkins AKA "Chocolate Thunder." He is such a down to earth guy and answered all my questions. Thanks Darryl.
After watching the West practice I used my credentials to go to the media section for the Q&A sessions with both conferences.  I was able to interview LeBron James, Dwyane Wade, and Kyrie Irving. That was one of the sickest moments from that weekend. After coming off that high, I went back to engage in some of the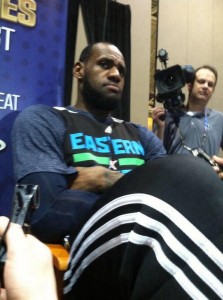 other activities at the convention center.
I then met up with the Crown Royal team and other bloggers to go meet up with Dr. J that night. (That sentence alone still gets me!) Erving gave some of his thoughts on his work with Crown Royal. He followed that up by talking about his time in the NBA, players he admired growing up, and what he thought of today's players.
Next he opened the floor for our questions. Just like the kid in school who wants to answer all of the teacher's questions I raised my hand to ask the good doctor the first question. I wanted to get his take on the evolution of the league.
He answered my question with great insight. He feels that teams need to start looking to be stronger on the defensive side of things. From his answer I could tell he is still a student of the game. He then answered a few other questions. Dr. J is a classy guy to say the least. Our time with Dr. J ended by him giving us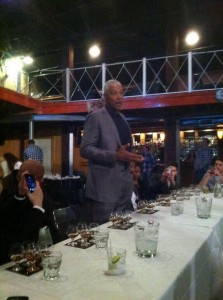 a gift! Yeah, you read that correctly. He gave us each some Dr. J flex fit hats. Just like my time with James, Wade, and Kyrie, this will be one of my favorite memories from that weekend.
After that I would be very content with calling it night, but that is not how the fine folks at Crown Royal work. They made sure our experience was a true "Reign On" weekend from start to finish. We met for dinner at St. Marie Brasserie. There we had a very scrumptious dinner. At St. Marie Brasserie the master bartender created cocktails with Crown Royal that was influenced by the city of New Orleans. We finished dinner with a tasty dessert and went to the Metropolitan for the Kevin Hart party.
At the Metropolitan we all gathered at the Crown Royal section of the club. We had a great time talking about our time in New Orleans. During the night the guest DJ came up to the booth. It was none other than Biz Markie. This was another amazing part of the weekend. I am a big fan of Biz and he was cool to chat for a bit and even take a picture with me.
On Sunday I checked out the French Quarter for a bit and picked up some things for my wife and my daughters. I even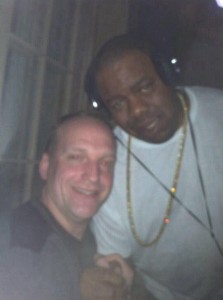 tried the world famous beignets from Café du Monde. For those at home wondering, yes they did live up to the hype.
Later that night it was finally here! GAME TIME. The Crown Royal crew and I went to the NBA All-Star game. Who knew a concert would break out right before the game? Pharrell opened up the night by bringing some of his closest friends like Nelly, Diddy, and Busta Rhymes on stage with him. As he was performing the Eastern and Western Conference players came out onto the court.
Once Pharrell was done performing it was time for tip off. The West took an early lead and looked to steal the show as high flyer Blake Griffin from the Los Angeles Clippers kept on attacking the rim with some ridiculous alley-oops. In the end though the Eastern Conference got the victory. Kyrie Irving was named the MVP.
The whirlwind that was the NBA All-Star weekend had come to an end. It was an amazing experience and one that I will never forget. From talking with NBA legends to learning about whisky, Crown Royal produced the ultimate sports fan experience. So to the fantastic people at Diageo, Taylor, and Crown Royal I want to thank you for an unbelievable time.
Crown Royal raised the bar on this promotion. Since they do that for their whisky I guess it is only natural for them to excel in anything they touch! I can truly say that I was able to Reign On for the 2014 NBA All-Star weekend!
For Crown Royal, to Reign On is to win. With that said please enjoy Crown Royal responsibly this NBA season.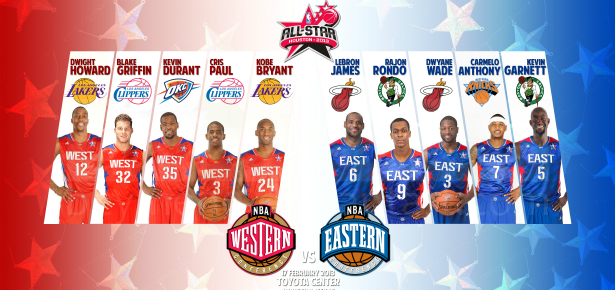 Thanks to the awesome folks at Crown Royal, I got to attend my first NBA All Star Game this weekend. The trip was a reward of sorts, a prize for winning the Capture the Crown scavenger hunt in Indy last year. Team Win (Myself, Nick Evans from Straitpinkie.com, David Dennis from The Smoking Section and Brittany Edwards from Taylor) totally dominated the competition. We had a lot of help from Miss Edwards, who knows a thing or two about NASCAR, and we all got to bask in the glory of our victory during this weekend's festivities.
Crown Royal Reign On Event

Crown Royal is rolling out a new set of TV spots around the message "Reign On." Featured in these spots is NBA legend and all around great storyteller Dr. J. He's a new ambassador for the brand and he really fits this new "Reign On" message.
So on Saturday night, when the skills competition, three point shootout and slam dunk contest were going on, me and the Indy crew got to attend an exclusive event that introduced the new Reign On spots and featured Reign On stories from Terrence J and Dr. J. The night also included a solid set of tunes from hip-hop producer 9th Wonder (hat tip for including "Glow of Love" by Change, seriously who doesn't love old Luther Vandross jams?) and a whisky tasting hosted by all-around badass Master of Whiskey Stephen Wilson.
Take a look at the Dr. J Reign On TV spot:
And here's a behind the scene's video to check out as well:
Meeting Dr. J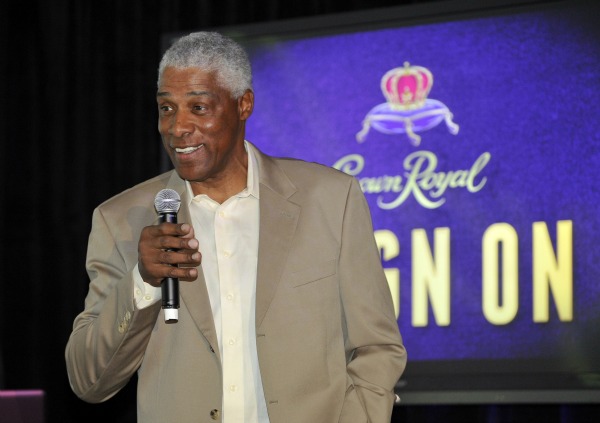 Julius Erving was all class, man. Just super affable, upbeat and approachable. When the Dr. entered the room, he had a certain grace and presence. An arrogance-free gravitas.
When I shook the guy's hand, he almost reached by elbow. Even at age 65, he's still an impressive physical sight. Huge wingspan, hands big enough to pick up a Buick, with a swagger of a guy who's more familiar with greatness than you are, but he doesn't need to remind you about it. He knows and so do you. Meeting Dr. J was definitely a highlight of the weekend.
Hearing his Reign On moment was a treat. The Doctor talked about his entry into professional basketball, when he was an alternate Olympian who made the squad and overheard all these guys saying how much they were going to make playing professional basketball. Erving, who hadn't really considered a pro career, absolutely dominated this group of would-be professionals. That's when he knew he was going to do some damage in the game of basketball. Just a great story to hear from him.
The 2013 NBA All Star Game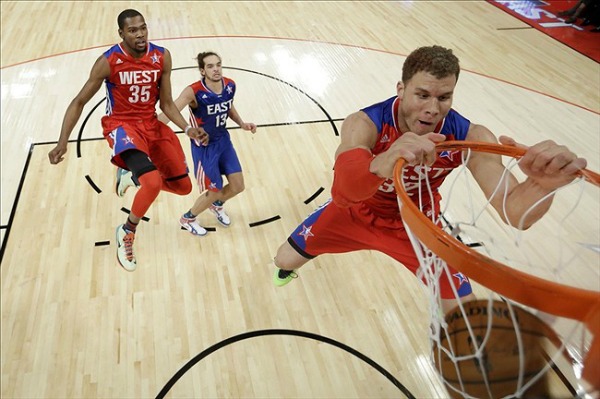 Drinking great whisky while meeting NBA legends was good times, but watching the 2013 NBA All Star Game live wasn't too shabby either. Here are some general thoughts on the game:
Lob City Represented Well
I was looking forward to cheering for the West. It was basically Kevin and the Clakers. Sure, there were some garbage minutes played by San Antonio players and the like, but the starting all-LA plus Durant squad was just awesome. Blake had some monster lob city moments and a ferocious off the backboard jam near the end of the 4th quarter. Chris Paul just kept feeding people all night, and his 20 points and 15 assists earned him MVP honors. Lob City was in full effect in Houston.
Joakim Noah Is a Kind of a Punk
This guy. I mean he kept running around the court begging for the ball and whenever he got it, he usually missed. He was often out of position and out of control. At one point, things started to get a little chippy between Noah and CP3. Noah got a little physical and even ended up hitting CP3 in the mouth with his slop. Paul responded by draining a big three point shot in Noah's face. It was sweet justice.
Kevin Durant Is a Freak Show
It's not like this guy needs more hype, but man, there's not enough superlatives to describe his level of play. He's got such effortless hops and he finishes so strong. It seemed like he played half the game multiple feet above the rim and the other half draining jumpers. He finished with a game-high 30 points.
Kobe Only Took High Degree of Difficulty Fade Away Jumpers and Showcased His D
Kobe refused to take easy buckets all night. Whenever he did shoot, he opted for long distance fade away jumpers over unsuspecting opponents. He also showed off his defensive skills with not one, but two blocks on LeBron James.
Russell Westbrook Made the Most of His Minutes
He may have been a reserve guy, but whenever Westbrook was in, he just dominated. He created his own opportunities, and just scored points in bunches. I've never seen him play in person and of all the non-starters on the floor, I thought he was the most impressive.
Alicia Keys Is Kinda Awesome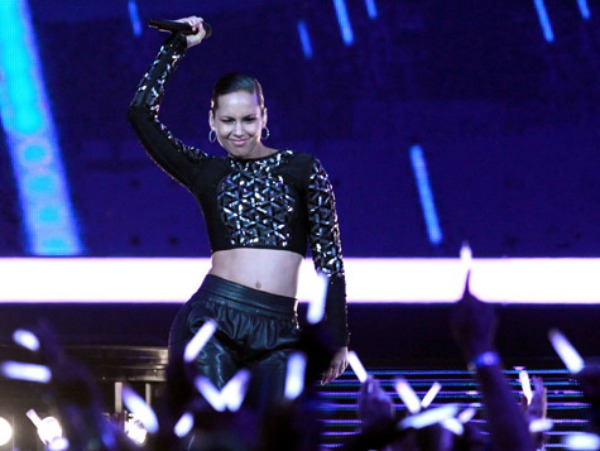 I've never seen Alicia Keys perform live before, but man, she can bring it. She had the whole arena fired up with piano skills, a booming voice, some sweet dance moves and an all-around lovely skillset that may have catapulted her to my number one music crush. Watching Ne-Yo perform and then seeing Alicia was like watching a JV high school basketball team compete against the Miami Heat. Just total entertainment domination.
Thanks again to Crown Royal for an amazing weekend. Good times were had by all and it was an experience that Team Win from Indy won't soon forget!