Mac Wilson
Posts by Mac Wilson

Megan Fox is back as the face/body of Emporio Armani Underwear. The full Autumn/Winter 2010-2011 campaign will roll out on billboards in July. Meanwhile, here's a pic from the shoot to tide you over. Still can't believe she's marrying that 90210 guy.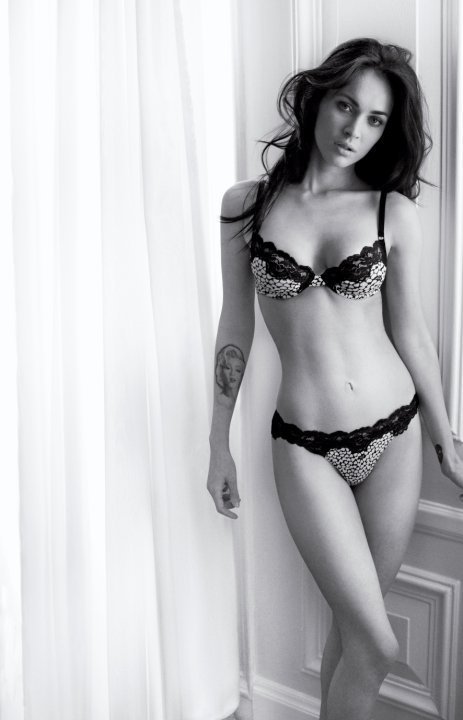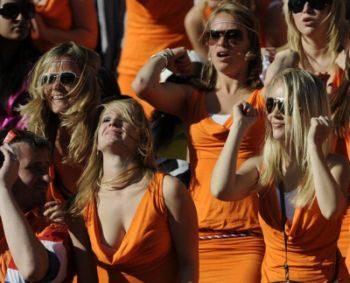 Here's 6 organizations you didn't know were badass (Cracked)
Smurfs movie goes magical for some reason (FilmDrunk)
Hitler hates the vuvuzela vid (DJMick)
Hot girls kicked out of World Cup game (Guyism)
10 good girl actresses who took on kinky roles (Frisky)
World Cup win prompts booms in condom sales in South Korea (FListed)
Hot girls with guns (TheChive)
(Photo via: Guyism)

GIF of the week: Van Damme's Kickboxer dance immortalized. Fucking awesome. (Unreality)
Gallery of classic movie posters (EgoTV)
Kylie is red hot in black book (FHM)
Hot World Cup Soccer fan of the day, Paraguay edition (BroBible)
10 new places to have sex (MensHealth)
Celebrities that became overweight (Izismile)
16 funny anti vuvuzela pics (DJMick)
Women dressed up as video game characters (Asylum)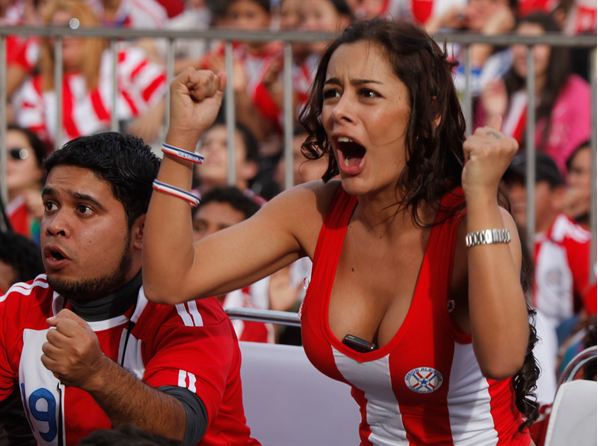 (Photo via: BroBible) Cheers to you guys for unearthing these beauties.
It's a chimp mouth-raping a frog. Twice. You've been warned.
You will either think this is seriously disturbing or seriously hilarious. I don't know what camp I'm in yet, since I'm still in shock. Probably leaning more towards the former. The little kids laughing in the background is kinda disturbing. I hope reincarnation doesn't exist because I don't want to come back as a frog.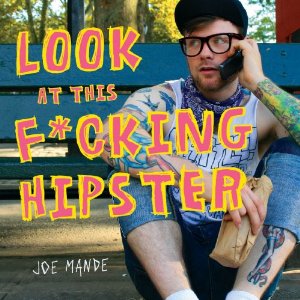 Yeah, that's what I said. The hilarious blog has gone literary on us. If you don't know what LATFH.com is, then you must be living under a rock, or a hipster's asymmetrical moustache. LATFH.com  is a site that identifies and makes fun of hipsters. Take a picture of a hipster, add a funny caption, and watch yourself become an internet phenomenon. That's what comedian Joe Mande did. Actually, it was an accident. Mande created the blog to help his old man out. Apparently, while living in Williamsburg, Brooklyn (a hotbed of hipster culture), his dad kept asking him if this or that guy was a hipster. It can be a little confusing for someone to identify a hipster if you're new to the game. Thus Mande birthed LATFH, and now all of us are better for it. No more are we plagued with questions of whether that person is a hipster or just an IT nerd goofing around. Now are questions are more like, "is that a dude hipster or a girl hipster."
So you must be wondering how a popular blog with free content can become a book for $11.99/$14.99 CAN. Mande answers that question on page one:
"Why are you giving me a book deal? Who would buy a book full of content that's already on the internet?" The head publisher quickly replied, "What's the internet?" and then handed me a suitcase full of hundred-dollar bills. So, I guess that's how book deals happen.
We're glad the head publisher is living under a hipster's asymetrical moustache, because the book is f*cking hilarious. It answers questions such as: What is a hipster? What makes a hipster? What are the different types of hipsters? It also adds laughs with sections like the Is this a hipster? pop quiz, Celebrity Hipsters, Hipsters Through the Ages, and of course the Love Connections. There's a special surprise photo shoot at the end for avid followers of LATFH.
So does MANjr recommend the buying of this book? We say yes. The guy deserves it. He spends all his time compiling a historical record of hipsters to better mankind. How he can look at nipple tattoos, oversized American Apparel glasses, messed up haircuts, and neck scarves all day is truly a wonder. Plus the book looks cool and is small enough to chuck at a hipster's head if they mistakenly wander into your living room.

Salma Hayek freaks the f*ck out and climbs Maya Rudolph after seeing a big snake (Guyism)
10 porn stars who gave their bod to god (Coed)
How'd you like to take a butt beating from a hot stripper? VIDEO (Asylum)
5 weirdest products on the web (Cracked)
The Predotter and Terminotter. Awesome (ComicsAlliance)
You can live in Obama's college apartment for $1900 a month (TheFrisky)
'Golden Girls' porn parody trailer (ScreenJunkies)
60 hottest World Cup fans (TotalProSports)
Yes, FHM, Cheryl Cole is a hottie (FHM)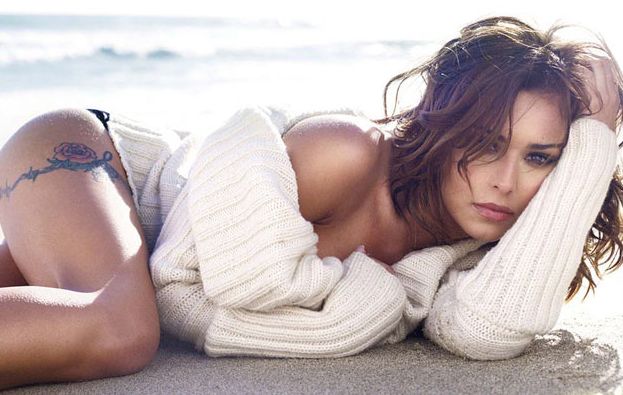 Did Tom Cruise just get cool again? At last night's 2010 MTV Movie Awards, Cruise donned the hairy suit and reprised his role as producer Les Grossman from Tropic Thunder. He put on a hilarious bump and grind show with Jennifer Lopez. See for yourself.
Ken Jeong's dong was back (in a tiger bodysuit) in the intro scene with Ed Helms.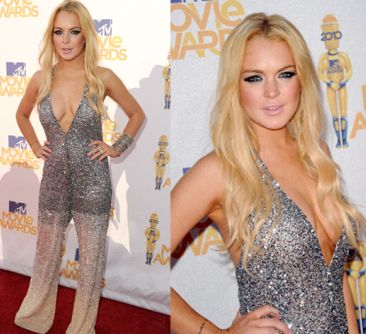 In case you missed the teen orgy that was the MTV Music Awards 2010, here's a list of nominees and winners. Twilight dominated the evening with 4 awards. Anna Kendrick won Best Breakout Star for 'Up in the Air.' She was also in Twilight, so let's chalk that up to 5 wins for the vampire/werewolf flick.
Highlights of the show included Lindsay Lohan's cleave shots, Tom Cruise's dance routine with Jennifer Lopez, Ken Jeong's acceptance speech and creepy tiger bodysuit, and the Sandra Bullock on Scarlett Johannson action.
BEST MOVIE
· Alice In Wonderland
· Avatar
· Harry Potter and the Half-Blood Prince
· The Hangover
· The Twilight Saga: New Moon * WINNER *
BEST FEMALE PERFORMANCE
· Amanda Seyfried – Dear John
· Emma Watson – Harry Potter and the Half-Blood Prince
· Kristen Stewart – The Twilight Saga: New Moon  * WINNER *
· Sandra Bullock – The Blind Side
· Zoe Saldana – Avatar
BEST MALE PERFORMANCE
· Channing Tatum – Dear John
· Daniel Radcliffe – Harry Potter and the Half-Blood Prince
· Robert Pattinson – The Twilight Saga: New Moon *WINNER*
· Taylor Lautner – The Twilight Saga: New Moon
· Zac Efron – 17 Again
BEST BREAKOUT STAR
· Anna Kendrick – Up in the Air (Paramount Pictures) *WINNER *
· Chris Pine – Star Trek
· Gabourey Sidibe – Precious: Based on the Novel Push by Sapphire
· Logan Lerman – Percy Jackson and the Olympians: The Lightning Thief
· Quinton Aaron – The Blind Side
· Zach Galifianakis – The Hangover
BEST COMEDIC PERFORMANCE
· Ben Stiller – Night at the Museum: Battle of the Smithsonian
· Bradley Cooper – The Hangover
· Ryan Reynolds – The Proposal
· Sandra Bullock – The Proposal
· Zach Galifianakis – The Hangover  * WINNER *

BEST VILLAIN
· Christoph Waltz – Inglourious Basterds
· Helena Bonham Carter – Alice In Wonderland
· Ken Jeong – The Hangover
· Stephen Lang – Avatar
· Tom Felton – Harry Potter and the Half-Blood Prince * WINNER *
BEST FIGHT
· Beyoncé Knowles vs. Ali Larter – Obsessed *WINNER*
· Hugh Jackman and Liev Schreiber vs. Ryan Reynolds – X-Men Origins: Wolverine
· Logan Lerman vs. Jake Abel – Percy Jackson and the Olympians: The Lightning Thief
· Robert Downey Jr. vs. Mark Strong – Sherlock Holmes
· Sam Worthington vs. Stephen Lang – Avatar
BEST KISS
· Kristen Stewart and Robert Pattinson – The Twilight Saga: New Moon *WINNER *
· Kristen Stewart and Dakota Fanning – The Runaways
· Sandra Bullock and Ryan Reynolds – The Proposal
· Taylor Swift and Taylor Lautner – Valentine's Day
· Zoe Saldana and Sam Worthington – Avatar
BEST WTF MOMENT
· Betty White – The Proposal, Cops a Feel
· Bill Murray – Zombieland , Bill Murray?! A Zombie?!
· Isabel Lucas – Transformers: Revenge of the Fallen, Unexpected Transformation
· Ken Jeong – The Hangover , Naked Trunk Surprise * WINNER *
· Megan Fox – Jennifer's Body, Vomits a Mysterious Black Ooze
GLOBAL SUPERSTAR (New Category)
· Robert Pattinson *WINNER*
· Kristen Stewart
· Taylor Lautner
· Johnny Depp
· Daniel Radcliffe

BEST SCARED-AS-SH**T PERFORMANCE (New Category)
· Alison Lohman – Drag Me To Hell
· Amanda Seyfried – Jennifer's Body  *WINNER*
· Jesse Eisenberg – Zombieland
· Katie Featherston – Paranormal Activity
· Sharlto Copley – District 9
BIGGEST BADASS STAR (New Category)
· Rain * WINNER *
· Angelina Jolie
· Channing Tatum
· Sam Worthington
· Chris Pine
Looks like the Sandra Bullock comeback tour is in full swing this weekend. First, she hit up the 2010 SpikeTV Guys Choice Awards last night. Bullock made jokes about her personal life while accepting an award for Entertainer of the Year. She followed that up with an appearence at the MTV Movie Awards, where she planted a big smooch on a more-than-willing Scarlett Johansson! The kiss wasn't all that steamy, but it did add something extra to Bullock's acceptance of the Generation Award. During her speech, Sandra took the opportunity to set the record straight about her personal life (again), and then decided to give everyone something more interesting to talk about.
What's hotter than a lil' Sandra on Scarlett action? Maybe the moment would have been sweeter if Scarlett didn't get so damn fit for Iron Man 2 and lose some of her topside assets. Still, you got to like these two beauties bridging the generation gap with a little bit of lip lockin'. Here's the clip: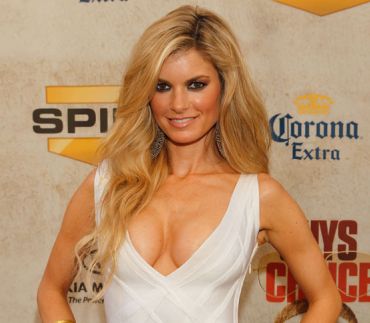 The MANjr team hit up SpikeTV's 2010 Guys Choice Awards on Saturday June 5th. Okay, so we didn't get to go inside and get wined and dined next to the A-list celebs, but we did get to hang out at the red carpet sidelines with all the other press folk. Man, those red carpet events really test the concept of personal space. Anyway, I digress.
The Guys Choice Awards is a spoof awards show where instead of awards for high-brow categories like best actor/best actress/best director, they have categories such as Biggest Ass Kicker, Holy Grail of Hot, Jean Claude Gahd Dam, and any words they could put 'man' in front of (Most Manticipated Movie).
The awards show was like the wet dream of all awards shows. Take hot models, actresses, action heroes, skimpy cocktail waitresses, booze 'em all up and let them loose with a pair of mantlers and an 80s hair band soundtrack. Some of the winners included Jack Bauer, Sly Stallone, Scarlett Johansson, Brooklyn Decker, Charlize Theron, Chris Rock (whose acceptance speech was friggin' hilarious), Sandra Bullock, George Clooney, and more but I can't remember. Marisa Miller was also in attendance in a skin tight white thing.
The show doesn't air until June 20th, but here are a few pics to get you warmed up.