Danny Dabiri
Danny loves him some sport
Posts by Danny Dabiri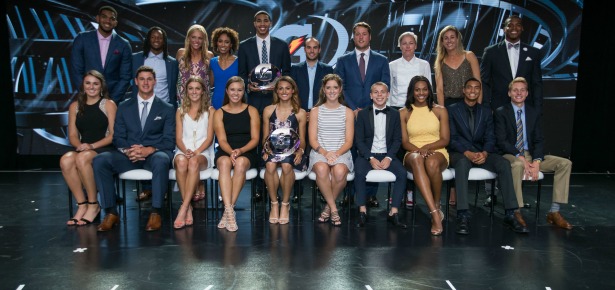 The 2016 Gatorade Athlete of the Year Awards ceremony honored the top high school athletes in the country for their accomplishments. The prestigious event was held at the LA Hotel in Downtown.
Hosted by ESPN's talented anchor Sage Steele, the star-studded affair featured prominent pro stars like NFL MVP Cam Newton, NBA Rookie of the Year Karl-Anthony Towns, NFL Rookie of the Year Todd Gurley, Matt Stafford and Jenny Finch.
Earlier in the day, Gatorade hosted a panel emceed by Sage Steele to promote their new endeavor, PlayItForward, which focuses on the decline of youth sports and seeks to provide young athletes access to achieve their athletic dreams by enlisting support from current pro athletes.
The panel featured Minnesota Timberwolves big man Karl-Anthony Towns, US Beach Volleyball star April Ross, Gatorade marketing director Jeff Kearney, Director of Marketing & Fan Engagement for the Atlanta United FC and founder of Catalyst author Kevin Carroll.
The primary focus of PlayItForward is to empower athletes to give back and reverse the decline in youth sports participation. The Male and Female athlete of the year winners receive 1,000 grant to bestow on a local or national youth sports organization of their choice.
Male nominees for the 2016 award were Jacob Eason for Football, Jayson Tatum for Basketball, Drew Hunter for Cross Country, Michael Norman for Track & Field, Lucas Mendes for Soccer and Kyle Muller for Baseball.
Future Duke baller Jayson Tatum of Chaminade College Preparatory School (St. Louis, MO) took home the prestigious honor after leading his squad to a state championship.
The 2016 Female Athlete of the Year award was presented to Rio-bound 16-year old Olympic hurdler Sydney McLaughlin from Union Catholic in New Jersey. McLaughlin qualified for the 400m hurdles by breaking her own national high school record.
Other female nominees included USC bound Khalia Lanier for Volleyball, Erin Boley for Basketball, Katie Rainsberger for Cross Country, Ella Stevens for Soccer and Madilyn Nickles for Softball.
After the ceremony, we had the opportunity to speak with some of the pros in attendance. Carolina Panthers QB Cam Newton offered his thoughts on 7v7 football and his belief that athletes should specialize in one sport.
Detroit Lions QB Matt Stafford spoke about the retirement of Calvin Johnson and who will step up to make the new transition as smooth as possible.
We got to catch up with Karl-Anthony Towns and USA softball legend Jenny Finch as well. Special thanks to Gatorade for organizing such a fabulous event.
The Gatorade Athlete of the Year Awards exudes excellence and champions the value of sports in society. Salute to the all the nominees for their hard work and continued success in the future.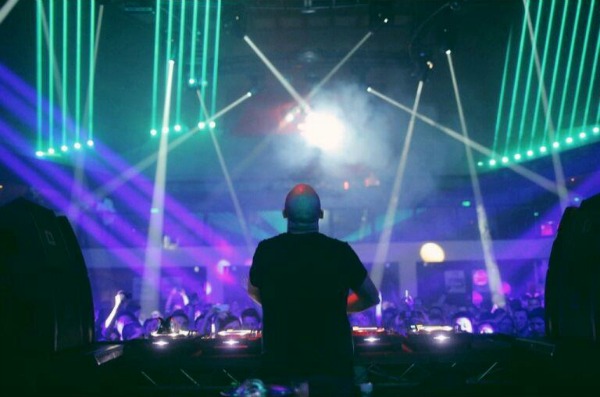 It was a wild night at Insomniac's Awakening at the Exchange LA featuring the Egyptian super duo Aly & Fila. A packed house danced the night away to the uplifting trance music that has made Aly & Fila international stars in recent years. Aly & Fila ranked #19 on the DJ Mags Top 100 in 2012.
The performance at Exchange provided Southern Californians with a second chance to experience some fun times. Aly & Fila rocked the house at Sutra in Orange County a few weeks back. In between, they squeezed in amazing shows in Nicaragua and Colombia.
We had the good fortune to catch up with Fadi Wassef Naguib (aka Fila) for a quick interview in the lobby bar at The Hotel Standard in Downtown LA before the event at Exchange Friday night. From the get go, it was clear that Fadi is a cool dude.
The interview covered a variety of topics from the impending release of their new album Quiet Storm to the current state of the EDM scene in his native Egypt. Fadi was gracious and forthright, sharing his insight on every question we had.
After the interview concluded, it was time to head to the Exchange. Spanning 25,000 square feet with four floors and located about a mile from Staples Center, the historic building is stocked with six full-service bars, excellent sound system and friendly staff.
If you haven't been there yet, the crowd is usually upbeat and looking to party. The dance floor was packed and the capacity crowd was clearly enjoying what Aly & Fila brought to the table. We had an amazing view of the dance floor from the balcony area up top and the place was rocking all night.
Aly & Fila's new album will be available soon. The first single released on Quiet Storm is "Running Out of Time" with Chris Jones. Aly & Fila have done several successful collaborations in the past and will continue to do so in the future.
Footage from the Sutra show and the complete interview with Fila coming soon…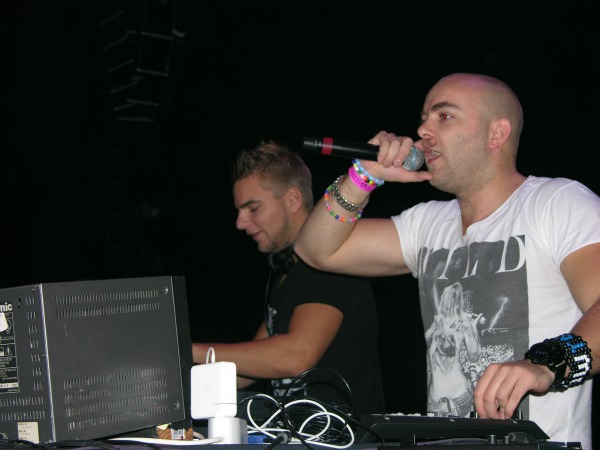 Dutch brothers Wouter and Sjoerd Jannsen, better known as Showtek, return to Orange County March 13 at the Yost Theater in Santa Ana. The brothers will make a few more stops before arriving in Miami for Winter Music Conference 2013 where they are scheduled for a boatload of performances.
Last summer, Showtek tore it up down under with a sold-out Australia tour.
MANjr had the privilege of meeting up with hardstyle masters Showtek for an exclusive interview before their sold-out performance in Orange County awhile back.
Showtek rocked the house at the Grove of Anaheim in front of raucous legion of fans that came early for a meet and greet with the Dutch hardstyle masters. The pride of Eindhoven, Wouter and Sjoerd hail from a musically gifted family, and have exploded on the electronic dance music scene with their relentless energy and bangin beats.
After a mind-blowing morning set at the inaugural EDC Las Vegas, Showtek embarked on a European tour followed by a U.S. tour that culminated with their epic show in Anaheim. MANjr was granted exclusive access and got to hang with the brothers before, during and after the show.
As we entered the duos hotel suite, we were greeted with Jack & Cokes and smiles, which was pretty impressive considering the jetlag they were feeling from their long Glasgow flight.
The interview covered a gamut of topics including their EDC Las Vegas set, their musical influences and their aspirations to be professional basketball players like their homie the Dunkin' Dutchman Rik Smits.
After we wrapped up the interview, the party moved to the Grove of Anaheim where thousands of loyal fans were ready to greet their favorite DJ's. The boys took the time to chat up, take pictures and mingle with everybody.
Once the pleasantries were complete, the brothers Jannsen were ready to take the stage and throw it down. Showtek pumped up the crowd from start to finish, playing a wide range of their hardstyle hits like Here We Fucking Go! and World is Mine. Wielding an ice gun and striking willing fans with blasts of cold air, Sjoerd is the MC and crowd handler while his bro Wouter controls the pace from the ones and twos.
When the lights came on, Showtek stuck around to thank their fans and sign all sorts of stuff ranging from posters, pictures, phones and even a Mohawk. Since then, Showtek has continued to tour the globe and spread their sound.
Showtek's combination of upbeat energetic beats mixed with a genuine love for their fans should serve them well moving forward.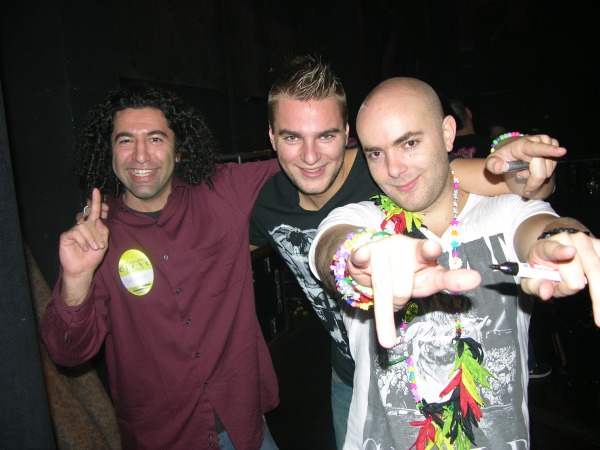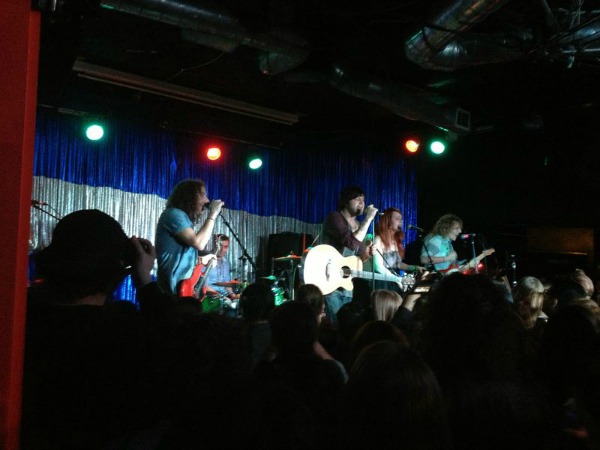 The best things in life are free. This was certainly the case Monday night at The Satellite in Silverlake where the up and coming band, The Mowgli's, rocked out the fourth and final leg of their residency in a front of a raucous capacity crowd.
The Mowgli's musical style personifies the diversity of California as their songs incorporate several genres that project a message of universal love and peace. The joy and harmony displayed on stage by the 8-piece collective is infectious and permeates through the audience making for one helluva good time.
The Mowgli's formulation is vintage California. Five childhood friends from the San Fernando Valley jamming out making music linked up with three mid-westerners in search of greener pastures to forge a perfect union of rock 'n roll and good vibes.
The opening performance of the evening featured a unique collaboration of gifted musicians. The amazing Lisa Donnelly shared the stage with the talented Aaron Glass and his folk love group Papa Bear and the Easy Love. The sense of togetherness and unity was a prevailing theme as members of The Mowgli's performed alongside their friends and got the night rolling in style.
Next up on the slate was the funky sound of rock 'n' soul band The Diamond Light. The local blues rock group jammed out from the get go and provided the perfect segue to The Mowgli's set.
Closing out the night after The Mowgli's delightful performance was Los Angeles native Zak Waters and his group. Waters style of pop music infused with funky dance beats meshed well with the more inebriated crowd looking to dance it up after midnight.
Special thanks to Michael Vincze of The Mowgli's and my fellow UC Santa Cruz alum Aaron Glass for their graciousness and willingness to chat it up after the show. It was a great night of music from beginning to end. Everyone in attendance could definitely feel the love.
Photo and Video Credit: Ju Park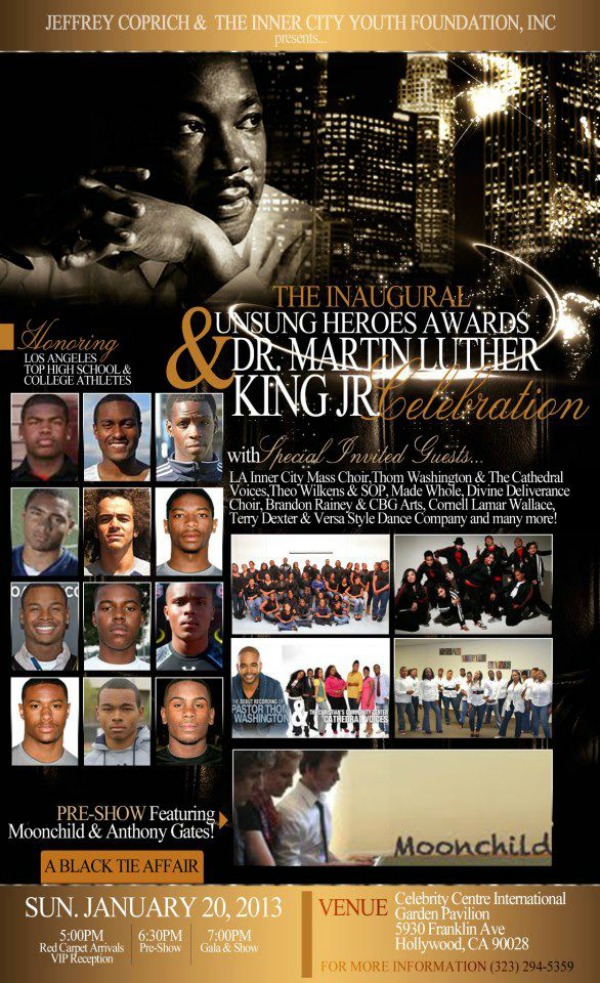 The Presidential Inauguration will be held in Washington DC January 21 on Martin Luther King Jr Day. The reelection and swearing in of America's first African-American president 150 years after the Emancipation Proclamation signifies a major step forward for our country.
In commemoration of the United States' perseverance and unity, the official theme for the inauguration is "Faith in America's Future." For those in Southern California unable to attend the festivities in our nation's capital, there is an event on Sunday, January 20 that encapsulates the theme of "Faith in America's Future."
Thanks to Jeffrey Coprich and the Inner City Youth Foundation, the best local student athletes will be honored at the Annual Dr. Martin Luther King Jr. Celebration & Inaugural Unsung Heroes Awards "An Evening of Champions" to be held at Celebrity Centre's Garden Pavilion in Hollywood.
Award recipients will be recognized for their exceptional performance in the classroom, on the field and within the community.
Media coverage for the event will be provided by www.collegelevelathletes.com. Founded by former UC Davis wide receiver and kick returner Aaron Plunkett, CLA serves to empower the next generation of student athletes by providing a platform to gain exposure. Student athletes can create a free recruiting profile that provides coaches and recruiters better insight to their talent. CLA is dedicated to helping any athlete interested in competing at the college level.
You can follow CLA on Twitter at twitter.com/SportsRecruits or check out their Facebook page: facebook.com/sports.recruit.
Several of the student athletes to be honored are committed to big time college football programs. With quality young people like these, faith in the future is simple.
If you're in the Hollywood area Sunday night, come on down to Garden Pavilion to the Unsung Heroes Awards Ceremony and celebrate student athletes every American can be proud of.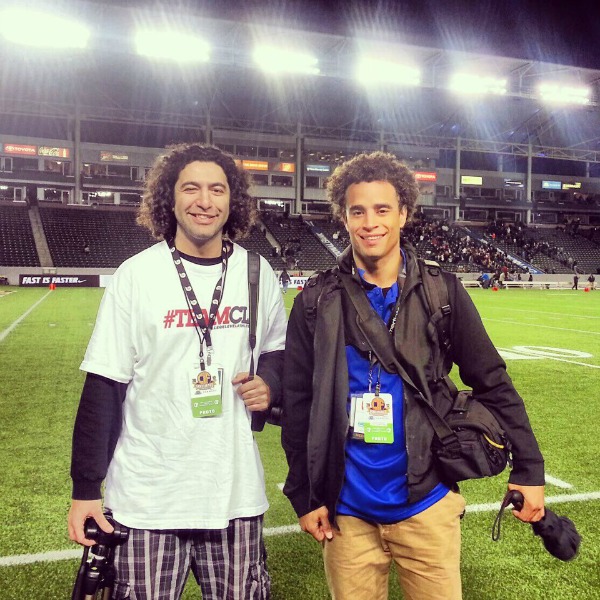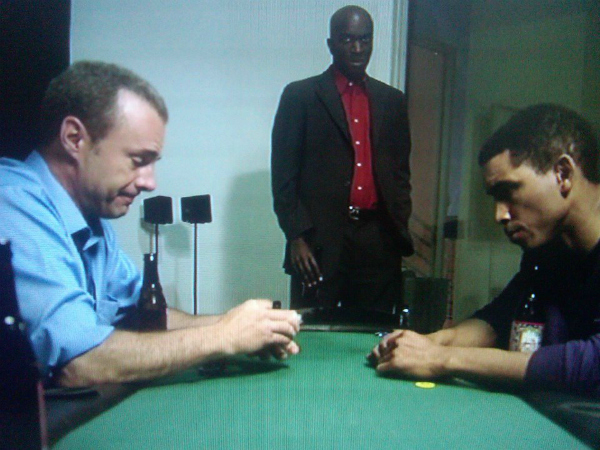 Getting a film made isn't easy, especially when you look at what gets produced these days. Inferior remakes, plot-thin action flicks, this is the kind of stuff that production companies focus on. And it sucks. Tired stories get repackaged and retold. Interesting, legitimate projects get shelved on the regular. The result is that moviegoers are left with few choices, and independent filmmakers – people who actually care about putting out fresh ideas and original stories – face insurmountable obstacles when trying to get their film out to a wider audience.
The main issue is funding. You can't distribute a film if you don't have the proper resources. But independent filmmakers are finding ways to get their projects funded. One such filmmaker is Pat Melikian, who wrote a poker suspense-thriller called The Turn with Tom Novak and Scott F. Evans. Novak and Melikian serve as producers for the film as well. You can view a trailer of The Turn on www.indiegogo.com/theturnfilm.
I had a chance to interview Pat Melikian to discuss The Turn and the challenges that independent filmmakers face when trying to secure funding for a quality project.
DD: What kind of movie would you say The Turn is?
PM: It's definitely a suspense thriller. Think of it like Reservoir Dogs on a poker table.
DD: Talk a little about the cast you've assembled.
PM: We believe the talented cast will be enough in itself to warrant distribution of the film. They were amazing, and too easy to work with.
DD: Would I recognize any of these actors? What kind of other projects have they done?
PM: I'm positive you would recognize most of them. An all around superb group of guys. We have Joshua Fredric Smith who will be starring in the upcoming Mickey Rourke and Kim Basinger film Black November. There's long time soap star Matt Borlenghi, from Days of Our Lives and many other TV shows and movies. The very talented Jason Gedrick from the hit film Backdraft and the short-lived Dustin Hoffman HBO horse drama Luck. David Barry Gray just starred as Todd Palin in the HBO political film Game Change. There's also my long-time friend Dale Wade Davis, who has a recurring role in one of my favorite shows of all time, the Showtime hit Shameless.
DD: What was the inspiration for the film? How did the concept originate?
PM: Tom and I are avid poker fans. We've have played local tournaments, charity events and frequent home games. When we ran the idea past Scott, we all came to the conclusion that none of us have ever seen a good poker movie with the exception of Rounders. The three of us are certain that poker will be around for a long time, and it can only get more popular.
DD: How long is the film?
PM: It's a feature length film with a running time of over 90 minutes. We are very excited about it.
DD: Who directed The Turn?
PM: Fellow writer Scott F. Evans, who also directed Big Bag of $, is the director.
DD: So all that's holding you guys back is funding. What kind of things are you doing to get the word out?
PM: We posted the trailer for The Turn at www.indiegogo.com/theturnfilm. We also set up a Facebook page for the film. We're proud of the work that we've done on the project and we hope that more people can check it out. It's not easy being an independent filmmaker, but when you have a great story, an amazing cast and partners who believe in what they do, it makes the whole process more enjoyable. If you'd like to support us, check out the trailer and help us spread the word.
–
Say no to stale filmmaking, folks. Check out the trailer and the Facebook page and assist these promising filmmakers in bringing The Turn to a theater near you.


Do you want a chance to win a free Rolex? Sure you do! Thanks to the fine folks at Wonawatch.com, a brand new Rolex will be awarded to a lucky winner for absolutely no cost whatsoever. That's right. No gimmicks and no purchase necessary to earn a place at the table and press your luck in hopes of attaining a world famous luxury watch.
These days, there are so many other auction sites that offer consumers an effective forum to acquire goods of all kinds. Sites like Quibids.com and Beezid.com are on the rise. At Wonawatch.com, their specific focus is providing high end quality timepieces at a reasonable price. We had the opportunity to catch up with Alex Tima from Wonawatch to get a better understanding of how the auction works.
DD: What prompted you to make the site?
AT: I've been in the retail watch industry over 10 years and there are so many watches I would like to own but can't afford so I wanted give everyone the opportunity to acquire a quality watch at a bargain price.
DD: How do I earn free bid points to participate in free point auctions?
AT: You can earn a free bid every 24 hours simply by logging in to wonawatch.com as long as you are a member.
DD: What makes your site different than other penny auction sites?
AT: It's a penny auction site that is dedicated to watch enthusiasts and provides a forum for them to win watches at a fraction of the retail price.
DD: Assuming you win a watch, how do you receive it?
AT: It's shipped to your house within 2-3 days at a standard shipping charge.
DD: Are the watches one size fits all?
AT: Well, leather bracelets can fit everybody but a metal bracelet must be sized at a local jewelry or watch store.
DD: What if I want a watch that's not on your site?
AT: Send us an email about the watch and we will auction it within 72 hours.
DD: How does a seated auction work?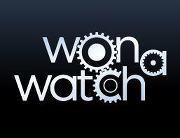 AT: Each auction has a minimum number of seats needed for the auction to go live once the seats are filled. For example, if there are 10 seats, all 10 must be filled before the auction begins. At that point it turns into a penny auction which is when the item prices increase by one cent. The process continues until time has elapsed but the timer will add 10 seconds after each bid.
DD: What price range of watches do you offer?
AT: We offer a wide variety ranging from 30 bucks to 100 grand if you so desire.
DD: How is the price for a seat in an auction determined?
AT: Seat price is determined by the retail value of each watch. Generally seats for watches that cost aero to 1,000 will be $1 a seat per bid. 1,000 to 5,000 will be 5 bucks. 5,000 to 10,000 will be $10 and so on and so forth.
DD: What are the bid packages?
AT: Bid packages are required if you want to play on paid auctions. They come in a variety of packages ranging from 10 to 1,500.
DD: What's difference between a paid auction and free point auction?
AT: Paid auctions require purchase of a bid package to participate while free point auctions only require membership to participate.
DD: So you can really win a free Rolex?
AT: Yes, absolutely. This is our inaugural giveaway and we encourage everyone to participate. We need 10,000 members/seats for the auction to go live and there is absolutely no purchase necessary or gimmicks of any kind. Someone is going home with a brand new Rolex.
DD: Are all the watches brand new?
AT: No, we will also be offering vintage and pre-owned watches as well consider the huge secondary market for watches.
DD: How long will the Rolex auction run?
AT: The auction will last three months until July 13, 2012. So signup and collect your prize. Best of luck.
So there you have it folks. It's pretty simple. Go to Wonawatch.com and register as a member to earn a bid and the chance to win a free Rolex. I've already secured my membership. Remember to log in daily to acquire more free bids and increase your odds of taking home some hardware. Spread the word, tell your friends and family and best of luck to everybody, especially me.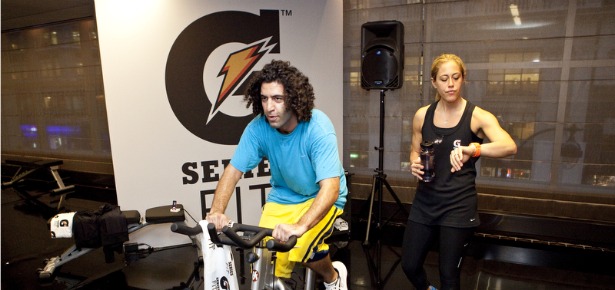 A couple weeks ago I had the privilege to get a sneak peek at a new product line that Gatorade will be unveiling in the upcoming months. The fine folks at Gatorade invited MANjr out to New York to test out the new line and learn more about health and fitness. The event was held at a brilliant location, The Setai Fifth Avenue, right in the heart of Midtown. Led by world-renowned fitness instructor Jay Blahnik and super cool Michigan alum Kate, I viewed a presentation of what Gatorade has in the works to improve the life of the athlete.
I was very impressed with the presentation. Details are limited, but the new line will surely revolutionize the athletic experience. World Shape magazine selected Jay as one of the top 5 fitness instructors on the planet. He has appeared in a slew of award winning videos and has traveled the globe spreading the importance of health and fitness. His unsurpassed expertise on the subject makes Jay an invaluable consultant to mega companies like Nike and Gatorade.
The highlight of the presentation was my personal workout session with preeminent fitness guru Lacey Stone. Founder of Lacey Stone Fitness and innovator of TheBigGame! fitness class and BOOTYCamp workout, Lacey's mission is to inspire people to reach levels they thought were impossible. A former Division I basketball star at Maine, Lacey whipped me into shape with a grueling 45 minute spinning session. This shit was no joke. Lacey's unyielding motivation combined with a sweet play list to jam to kept me peddling away. Take a look:
I was able to complete the workout, but afterwards, my legs were jelly. I decided to hang around and recover a bit and received helpful dietary advice from sports nutritionist Susan Kundrat. Thankfully, Gatorade team member and all-around good dude Andrew hooked me up with some refreshments and directed me toward the spa.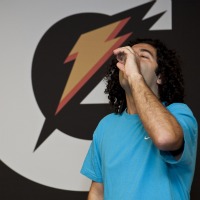 Two weeks later, I'm still sore. Lacey had me working muscles that have been in hibernation for decades. Her brilliant ability to motivate got me through the workout, but the aftermath has been a struggle.
Even with the after-pain, the experience was great and damn-near life-changing. I intend to apply what I learned in my time with Lacey, Jay and the entire Gatorade team. Lacey's motto is Passion + Persistence + Patience = Excellence. Definitely solid words of wisdom.
Special thanks to Andrew, Kate and Ashley for making me feel very welcome and affording me this remarkable opportunity to learn about the new product line and push myself physically at the same time. I look forward to utilizing the new products on a regular basis in the near future.

In the third installment of the Gatorade REPLAY series, Chicago high school powers Bloom Township and Brother Rice were afforded the opportunity of a lifetime. Ten years after most of their athletic careers ended, they were granted a chance to relive their glory days.
From Brother Rice's perspective, it was an opportunity to right a terrible wrong. In 2000, Bloom Township earned a controversial 42-40 playoff victory over Brother Rice thanks to standout Joe Chapman's tip-in at the buzzer. The referee called the basket good but replays suggest that the bucket probably should not have counted. Take a look:
Fast forward 10 years. With the help of Gatorade, the two teams got to settle things in front of a raucous sold-out crowd at St. Xavier University in Chicago. Chicago Bulls forward Carlos Boozer served as the game commissioner and thanked all 2,380 spectators for providing such a frenzied atmosphere. The new Chicago Bulls forward sat down with MANjr for an interview, and was a real cool guy to chat with (check out our Carlos Boozer interview).
To prepare for the big rematch, both teams endured an eight-week training program courtesy of Gatorade and Velocity Sports Performance. During the training, honorary coaches Dwight Howard and Dwyane Wade scrimmaged with their respective teams.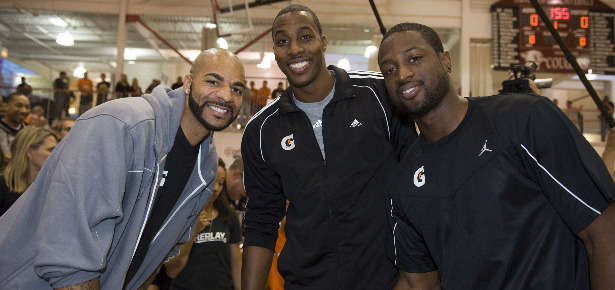 Before the game, we had a chance to speak with honorary Brother Rice coach Dwight Howard and he promised a victory (here's a link to the full Dwight Howard interview):
Danny Dabiri: Are your boys gonna take it tonight?
Dwight Howard: They gonna take it tonight. I'm lookin' forward to it.
Danny Dabiri: No doubt?
Dwight Howard: NO doubt.
Danny Dabiri: Blowout? Or a squeaker? Another buzzer beater?
Dwight Howard: No, we probably win by 10 to 15 points. We're ready. I've been coaching those guys. They ready.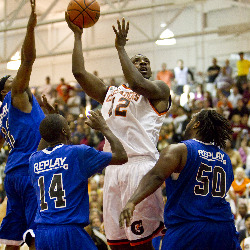 And ready they were. The Brother Rice Crusaders jumped out to an early lead with some hot perimeter shooting. The Crusaders hit six three-pointers and led 30-17 after a quarter.
The second quarter was played at a frenetic pace. Both teams moved the ball up and down the court. Trailing 54-38, the Bloom Township Trojans closed out the half with six straight points. Brother Rice led at halftime 54-44.
Dwyane Wade must have pumped up the Trojans during the break because Bloom Township owned the third quarter. Antonio "Snugg" Cool scored 12 points to spearhead the comeback. Bloom outscored Brother Rice 30-15 to take a five-point lead into the fourth.
Trailing 74-69 entering the fourth, the Crusaders dug deep and engineered an impressive comeback. Led by game MVP Sidney Holmes' 22 points and 18 rebounds, Brother Rice outscored Bloom Township 30-19 in the final frame. Leading 95-93 with 20 seconds remaining, Crusaders point guard Vince Greene knocked down to two clutch free throws to seal the victory. The final score was 99-93. After ten years, Brother Rice had their sweet revenge.
After the game, MVP Sidney Holmes summed up the experience pretty well:
"The best part of this night and the past weeks has been hanging with my old friends and being able to play basketball in front of friends and family. It's a blessing."
This was the most exciting basketball game I'd ever seen. From the crowd to the players to the emotion and energy on the court, it was really a wonderful experience.
Here are some highlights from this amazing game:
Be sure to catch REPLAY the series on Fox Sports this November. Check out REPLAY the series on Facebook to find out more about the show.