Gatorade Workout With Lacey Stone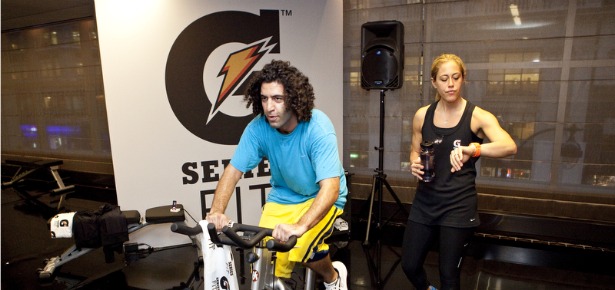 A couple weeks ago I had the privilege to get a sneak peek at a new product line that Gatorade will be unveiling in the upcoming months. The fine folks at Gatorade invited MANjr out to New York to test out the new line and learn more about health and fitness. The event was held at a brilliant location, The Setai Fifth Avenue, right in the heart of Midtown. Led by world-renowned fitness instructor Jay Blahnik and super cool Michigan alum Kate, I viewed a presentation of what Gatorade has in the works to improve the life of the athlete.
I was very impressed with the presentation. Details are limited, but the new line will surely revolutionize the athletic experience. World Shape magazine selected Jay as one of the top 5 fitness instructors on the planet. He has appeared in a slew of award winning videos and has traveled the globe spreading the importance of health and fitness. His unsurpassed expertise on the subject makes Jay an invaluable consultant to mega companies like Nike and Gatorade.
The highlight of the presentation was my personal workout session with preeminent fitness guru Lacey Stone. Founder of Lacey Stone Fitness and innovator of TheBigGame! fitness class and BOOTYCamp workout, Lacey's mission is to inspire people to reach levels they thought were impossible. A former Division I basketball star at Maine, Lacey whipped me into shape with a grueling 45 minute spinning session. This shit was no joke. Lacey's unyielding motivation combined with a sweet play list to jam to kept me peddling away. Take a look:
I was able to complete the workout, but afterwards, my legs were jelly. I decided to hang around and recover a bit and received helpful dietary advice from sports nutritionist Susan Kundrat. Thankfully, Gatorade team member and all-around good dude Andrew hooked me up with some refreshments and directed me toward the spa.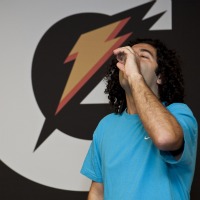 Two weeks later, I'm still sore. Lacey had me working muscles that have been in hibernation for decades. Her brilliant ability to motivate got me through the workout, but the aftermath has been a struggle.
Even with the after-pain, the experience was great and damn-near life-changing. I intend to apply what I learned in my time with Lacey, Jay and the entire Gatorade team. Lacey's motto is Passion + Persistence + Patience = Excellence. Definitely solid words of wisdom.
Special thanks to Andrew, Kate and Ashley for making me feel very welcome and affording me this remarkable opportunity to learn about the new product line and push myself physically at the same time. I look forward to utilizing the new products on a regular basis in the near future.
Related Posts
| | | |
| --- | --- | --- |
| | Print article | This entry was posted by Danny Dabiri on November 30, 2010 at 11:40 am, and is filed under Lifestyle. Follow any responses to this post through RSS 2.0. Both comments and pings are currently closed. |
Comments are closed.