Sights and Sounds of the 2017 Lincoln Continental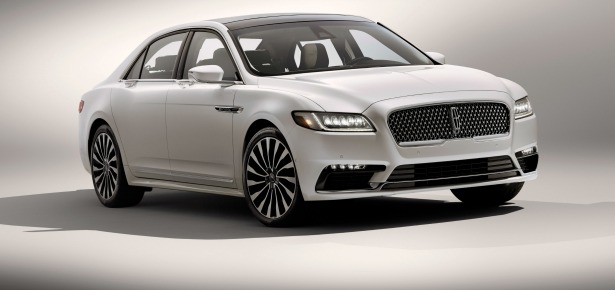 A few weeks ago, I got a close look at the 2017 Continental at the Bel-Aire Hotel with Lincoln Design Director David Woodhouse and Chief Engineer of the Continental, Michael Celentino. From the start, Woodhouse and Celentino were lockstep in describing the overall vibe of the car with a slew of words that highlighted the "quiet luxury" approach that's at the core of Lincoln's revamped marketing approach.
Elegant. Serene. Warm. Beautiful. These words just rolled off the tongue of Lincoln's design director. And he's not wrong. The 2017 Continental is all of these things. Maybe it was the British accent, the younger Jonathan Pryce-like delivery or the aptness of the adjectives, but I found myself agreeing with Woodhouse quite a bit. Meeting this car for the first time is an experience worthy of hyperbole.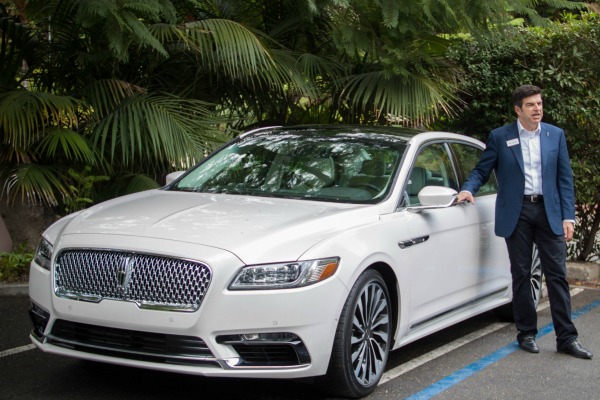 Celentino was quite convincing as well. He described what went into the four and a half years of development to bring back a Lincoln worthy of the name Continental. Celentino and his team spent a lot of upfront time trying to figure out a direction. They drew a lot of inspiration from some of the iconic Continentals of old. Frank Lloyd Wright's 1940 Lincoln Continental. The Continental Mark II of the 1950s driven by Frank Sinatra. And the long presidential Lincoln Continental of the 1960s made famous by JFK.
"We didn't want to go retro, but we wanted to acknowledge these cars," Celentino said. And as inspiring as these classics were, "they were also a little intimidating, too."
Woodhouse said that they looked at "brutalisitc themes" and "progressive themes" in order to arrive at something "not too old school, not too progressive."
"We deliberately went down this middle road to find that balance," Woodhouse explained.
According to Woodhouse, the new signature face of Lincoln happened through this program. This was a big source of inspiration as the Continental was being developed.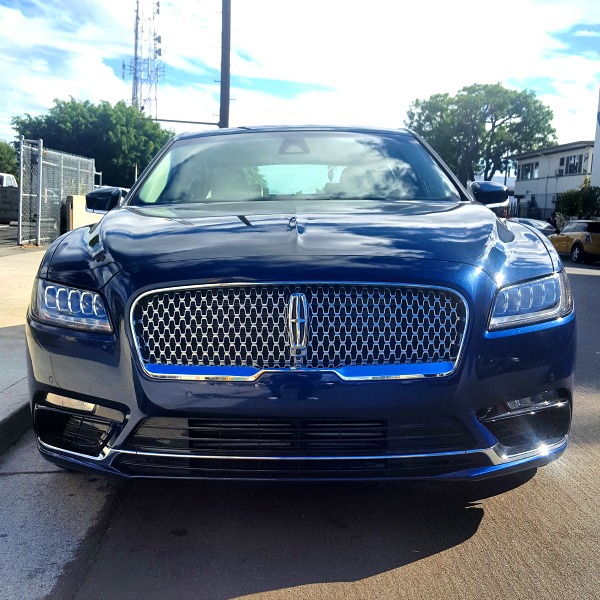 "I always feel that chrome is more exuberant and more American, he said."
That grill, though. It just works. With all the elegance and serenity and other superlatives at play, the front face of this Lincoln Continental is its most distinctive feature. There's no way around it, this car is handsome.
Relaxed Approach to Luxury
The 2017 Continental comes in 2.7 L V6, 3.0 L V6, 3.7 L V6 options that vary from 305 to 400hp. Full specs can be found here. But let's face it, if you're looking to get a Lincoln Continental of your own, specs aren't your primary concern.
Specs are nice and all, but as Celentino explained, "the emphasis is on smoothness and smooth shifts." This is still a 5,000 lb. car. With adaptive front steering, adaptive cruise control, auto hold brake and tires that shift to guide you through turns, Continental's chief engineer just wants drivers to enjoy the ride.
"When you're on the 405, just calm down and let the car drive," Celentino said.
Both Woodhouse and Celentino admit that Lincoln is not trying to chase their top rivals in the luxury space. To them, performance is important, but to focus strictly on performance is so very German. Lincoln's approach to luxury is different.
"Luxury is more about wellness," Woodhouse told me. "We're taking a more relaxed approach."
And the wellness is real. From the first glance, you can see it. There's the "relaxed gesture from front to rear" and "right stance and gesture on the road" that Woodhouse described to me. There's the soft release of the electronic door latching, the first touch point of the car. At night, drivers and passengers are treated to a friendly embrace as they approach the Continental. This warm hello comes in the form of extra floor and interior lights that illuminate before you enter the car.
In short, the 2017 Lincoln is basically a high-end day spa on wheels. And that was very much the intention.
"We want you to look forward to your 20 to 30-minute drive," Celentino said, "and arrive a little more refreshed."
That approach is what gets you things like the 30-way adjustable Perfect Comfort Seat.  You got options for upper and lower back adjustments, massage time and thigh adjustment. Drivers tend to place more or less weight on one leg all the time. Setting each leg at a different stance is just another way to settle into this comfy living room chair that just happens to live in a car. Woodhouse said that people didn't want to get out of the seats during testing.
I believe it. It's a lot like leaving the massage chair in Brookstone when your lady wants to keep shopping at the mall. You just always end up wanting a few more minutes in that seat before you go about your business for the day.
But you can't have quiet luxury without the quiet, and as Celentino described, the 2017 Continental is "the quietest Lincoln ever." Acoustic glass is found all around, including the back, because the back cabin is equally important in this car.
Understanding the Chinese Market
This focus on comfort in the back was a product of market research, specifically in China. Both Woodhouse and Celentino were keen to underscore the influence of Chinese market sensibilities in the design and development of the new Continental.
In China, luxury car customers are often driven around during the week and drive themselves on the weekends. This caused Lincoln to pay more attention to the rear passenger experience. The result was the rear seat amenities package.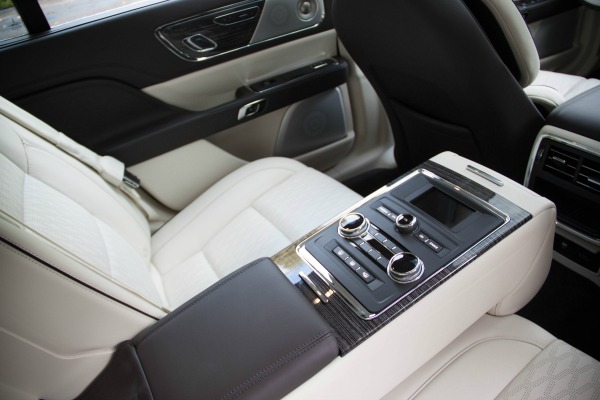 The goal is to maximize controls from the rear seat. Things like full recline, massage, heat, lumbar support, Revel audio controls and available USB are in the mix. Customers in China can feel all the comforts of the Continental no matter where they're seated, whether they're leveraging the quiet rear cabin for a business meeting, being driven around long distances or taking the wheel themselves.
China was the third country to see the 2017 Continental, after Lincoln launched in the US and Canada, so the market is clearly an important one for the American brand. According to Forbes, Lincoln's sales in China were up 191% year over year in the third quarter of 2016. Celentino said that China will be the biggest luxury market in the world by 2019 or 2020, and Lincoln plans to have 60 dealerships open in China by the end of the year.
Ending on a High Note
Part of my day out with the 2017 Lincoln Continental included a visit to The Village Studios, a former masonic temple that was converted into a recording studio in the 1960s. Located just off Santa Monica Blvd, right near the 405 in West LA, The Village has been home to some pretty amazing recording sessions. The Stones recorded "Angie" there. Heart recorded "Barracuda" there. This is the spot where Dr. Dre and Snopp Dogg recorded the Chronic.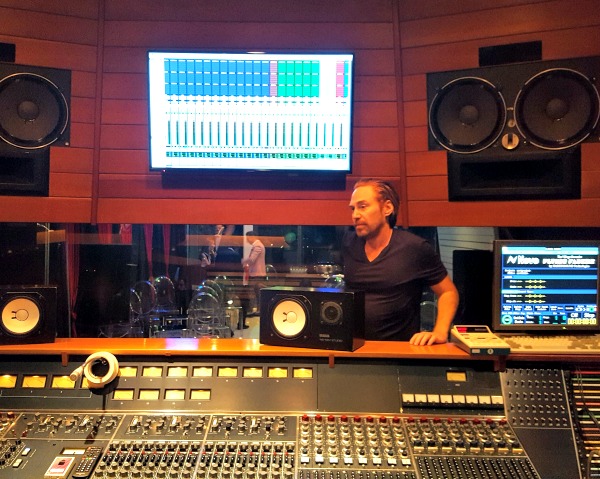 We met up at The Village with electronic music producer Photek and previewed the Revel audio system, a major highlight of the 2017 Lincoln Continental.
Perched in front of a sweet, 48 channel Neve Mixing Console that was built in 1972 and shipped over years ago from Chicago, Photek broke down a few tracks for us, going through the different component parts of two remixes (including Photek's remix of "One Love" from Bob Marley and the Wailers) and a new track he was working on.
"The car is the test ground for a lot of music as you're making it," Photek said. It's the best spot for "listening to the version in the works."
And what better way to preview a working track than a day spa on wheels with the best in-car sound system ever created?
Seriously though, the Revel sound system in the 2017 Lincoln Continental is no joke. Revel has an exclusive deal with Lincoln and rolled out their first car sound system in the MKX. The Revel team dictated the placement of all 19 speakers in the car. The attention to detail is just unimaginable.
Imagine a car stereo system where all sounds it each passenger at the same time a magnitude. Where smooth distribution of high frequency sounds is a goal of in-door waveguides. Where shorting rings provide a sound so crisp you'll hear parts of songs you never knew where there. Where you can adjust your experience to listen to stereo, onstage or audience modes.
Now imagine a sound system that actually uncompresses your music files. This is the next level quantum logic system from Revel that's in place in the Conintental. All your compressed MP3 files and streaming music sources are injected with a fullness that opens up frequencies and provides a richer sounding listening. It's great way to earn back those frequencies we all tend sacrifice in the name of convenience.
If you're not a fidelity nerd and you don't care about frequencies and waveguides and distortion and all that, that's okay. You don't really have to worry about that stuff. Revel spent the last 19 years trying to sort it all out. You just need to know that this is the best sound system you've ever experienced in a car. Period.
The entry price for the 2017 Lincoln Continental is about $45,000. The price point gets into the high 70s for the super sweet Black Label rear seat amenity loaded Continentals that I checked out. If you're into being comfy in any seat, enjoying a smooth ride in a dapper car with some serious history or if you just love music so much that you want to spend more time listening to tunes in your car than living life outside of it, the first Lincoln Continental to come out since 2002 is definitely worth checking out.
Related Posts
| | | |
| --- | --- | --- |
| | Print article | This entry was posted by Chris Stout on December 22, 2016 at 10:38 am, and is filed under Lifestyle. Follow any responses to this post through RSS 2.0. Both comments and pings are currently closed. |
Comments are closed.