Go All Out For The Big Game With The Chili 50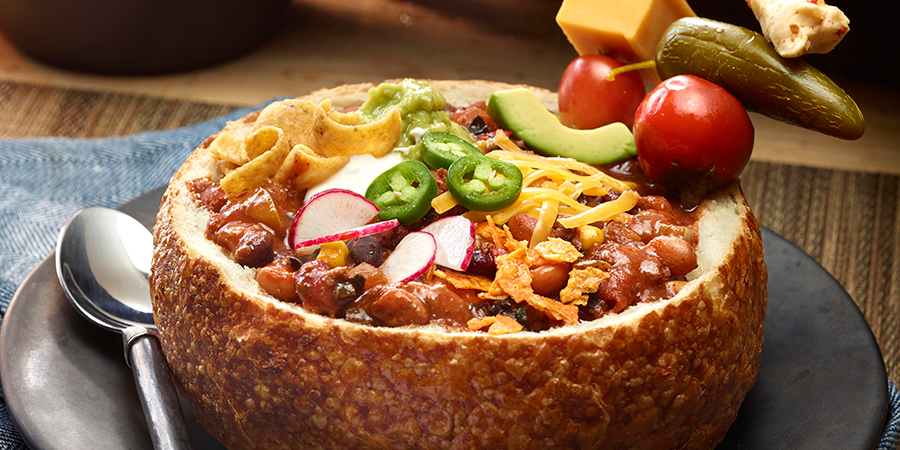 If you don't know this by now I am going to tell you. The football game that is happening on February 7th is a big deal. It is the 50th anniversary of their championship game. So with that notion everyone who is throwing a party is going all out with their food preparations.
What are you going to make? If you need an idea, Hormel has got a super recipe for you to make. It is the Chili Bowl 50. As Hormel says this chili contains 50 ingredients in one bowl of chili for culinary awesomeness!
The Chili Bowl 50
SERVINGS: 16
INGREDIENTS
¼ cup chili powder
2 tablespoons instant espresso powder
1 tablespoon ground cumin
1 tablespoon kosher salt
2 teaspoons freshly ground pepper
2 teaspoons ground coriander
2 teaspoons smoked paprika
1 teaspoon garlic powder
1 teaspoon garlic salt
1 teaspoon paprika
1 teaspoon ground cayenne pepper
1 teaspoon ground cinnamon
1 teaspoon celery seed
1 teaspoon dried oregano
1 teaspoon crushed red pepper
1 teaspoon parsley flakes
2 tablespoons olive oil
½ large yellow onion, chopped
2 tomatillos, chopped
4 cloves garlic, chopped
½ green bell pepper, chopped
½ red bell pepper, chopped
½ yellow bell pepper, chopped
2 celery stalks, chopped
2 carrots, peeled and chopped
½ poblano pepper, chopped
2 jalapeños, chopped and seeded, if desired
½ cup green onions, chopped
1 pound lean ground beef
¾ pound HORMEL ALWAYS TENDER pork tenderloin, cut into 1-inch pieces
1 tablespoon tomato paste
2 (15-ounce) cans HORMEL Chili No Beans
2 cups water
1 (15-ounce) can diced tomatoes
1 (15-ounce) can tomato sauce
1 (14-ounce) can kidney beans, drained and rinsed
1 (14-ounce) can garbanzo beans, drained and rinsed
1 (14-ounce) can pinto beans, drained and rinsed
1 (12-ounce) bottle beer
1 ½ cups chopped butternut squash
½ cup LA VICTORIA roasted pepper salsa
½ cup LA VICTORIA enchilada sauce
1 (5-ounce) can VALLEY FRESH chicken breast, drained
¼ cup masa harina
2 teaspoons HERB-OX beef granules
1 cup finely chopped kale leaves
1 cup corn kernels
1 cup chopped fresh cilantro leaves
½ cup chopped fresh parsley leaves
Juice of ½ lime
Garnish with pickled jalapeños, sliced radishes, avocado, guacamole, sour cream, cheese curds, shredded Cheddar cheese, crushed tortilla chips, corn chips, if desired.
DIRECTIONS
1. In small bowl, combine chili powder and next 16 ingredients. Set aside.
2. In large skillet, heat oil over medium heat. Add onion and next 10 ingredients and cook 5 minutes or until tender. Set aside.
3. In large Dutch oven, cook ground beef 5 minutes. Add pork and cook 7 to 8 minutes.
4. Stir in 3 tablespoons reserved spice mixture and cook 2 minutes.
5. Add tomato paste and cook 1 minute.
6. Stir in next 14 ingredients. Bring mixture to a boil; reduce heat and simmer 25 minutes or until butternut squash is tender.
7. Stir in next 5 ingredients and cook 2 minutes.
8. Garnish with desired toppings.
9. Enjoy!
Related Posts
| | | |
| --- | --- | --- |
| | Print article | This entry was posted by Art Eddy III on January 30, 2016 at 6:27 am, and is filed under Lifestyle. Follow any responses to this post through RSS 2.0. Both comments and pings are currently closed. |
Comments are closed.