Johny Hendricks Interview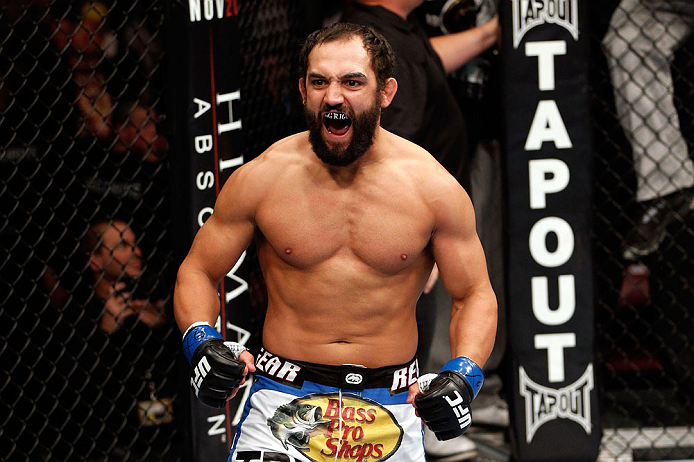 Top UFC Welterweight Contender Johny Hendricks can't wait for March 15th. On that date he will look to win the Welterweight title when he goes up against Robbie Lawler in UFC 171. In his UFC career he has a record of 15-2. He has won eight of those fight by knocking out his opponent. Not that many people want to go into the octagon with Hendricks.
You might have seen Johny in action on TV with his Reebok commercial with fellow athletes Knowshon Moreno and Aly Raisman. When Hendricks is not training he spends time with his family and also loves to go hunting and play golf.
I was able to catch up with Johny while he was taking a break from training to talk about his upcoming fight, training, and the stereotypes of UFC fighters.
Art Eddy: You recently shot a great ad with Knowshon Moreno and Aly Raisman for Reebok. How cool was it shoot that commercial?
Johny Hendricks: It wa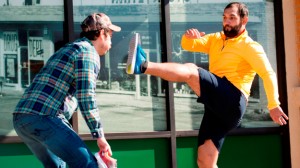 s fun. It was exciting. The new ZQUICK are really great. The concept that they brought to it was great. They also made it fun. I was out there running and doing a bunch of different things. So they made it fun which makes it better for me.
AE: Yeah, I loved how you saved the day in the end to help get that lady's workout gear back to her.
JH: Oh yeah. I had to kick him a couple of times. He took her shoes, but in the end I got them back.
AE: How has the Reebok ZQUICK running shoe helped out your workout?
JH: Yeah, they are really good on turf. I do a lot stuff on turf. I do a lot of stuff on the road too. These shoes have been great for that. They are very light and very flexible. They have been great for me since we do a lot of stuff without shoes on. Even though they apply a lot grip they still form to your foot. If you stop or if you are on an uneven surface it almost feels like you are not wearing shoes.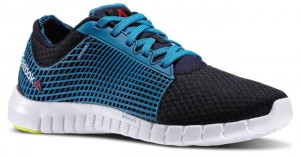 That is what is great about it for me. I can go out there and train with some shoes on, but it is not giving up that foot feel that I have every day.
AE: Speaking of training you are going to be facing Robbie Lawler on March 15th at UFC 171 for the vacant UFC Welterweight title. How has the training been going?
JH: I am a few weeks out. My mindset is good. I am training hard. My shape is getting better, better, and better. I am actually ahead of schedule than I was for my last fight. That is something that I am happy about.
I am super excited. I can't wait for the fight to get here, but I also know that I have to wait for the fight if that makes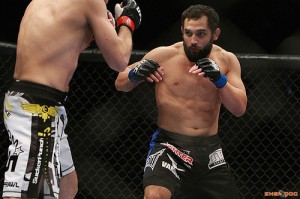 sense. I can't overlook the next few weeks of training. I have to get every bit out that I can out of each day. That is what I am really focusing on now.
I am training and not worrying about who I am fighting.  You just have to worry about what you can do to make the fight go your way.
AE: You wrestled in college and then put your focus on MMA after graduating. What was it about MMA that appealed to you?
JH: MMA, well it really didn't happen at first. I wasn't a big fan of MMA. I trained in it. I like to protect my family. I know that I have a gun, but what happens when you can't get to your gun? Those are the things that come back to me. I would much rather be able to protect myself because I can put a pretty bad whooping on someone right now.
I can make sure that this guy can't do harm to someone else. Does that make sense? Maybe break a couple of bones. If someone tries to do that to my family that is why I want to make sure that they don't threaten anybody else. That is sort of my mindset right now. I know that I can protect them in an easier way.
AE: For you what is the biggest stereotype of UFC fighters that drives you nuts?
JH: When people say that we are barbarians. That is what gets me very heated. People that say that sound uneducated. There are so many people out there like me who have their college degree. It is just turning into an athlete. That is why I think the sport is as popular. You have smart athletes in this sport.
Plus, there is the news and interviews on fighters so that people get to know who we are. I am just a family guy who makes a living by settling it in the octagon. In the same way for you. You have to fight for your job just like how I have to fight for my job. It is a little bit different, but we all have to fight in life.
That is what people are starting to realize. Sometimes it can be brutal. Yet in some of the last couple of fights I didn't see any blood. Some people see all this blood from this or that and make an opinion. It is just one of those things.
AE: When you are not training what do you do in your free time?
JH: I play golf. I hunt. I spend a lot of time with my family. That is pretty much it. Realistically I would say probably 95 percent is family time. The other five percent is spent golfing and hunting. I try and do much as I can with the family because I know that these fights are getting bigger. The bigger the fight, the more I want to train. The more I want to train is the more I am away from my kids and my wife. That is why I try and get back to them as much as possible.
Related Posts
| | | |
| --- | --- | --- |
| | Print article | This entry was posted by Art Eddy III on February 24, 2014 at 7:47 am, and is filed under Sports. Follow any responses to this post through RSS 2.0. Both comments and pings are currently closed. |
Comments are closed.