Cecil Martin & Allstate Team Up To Help Out The Youth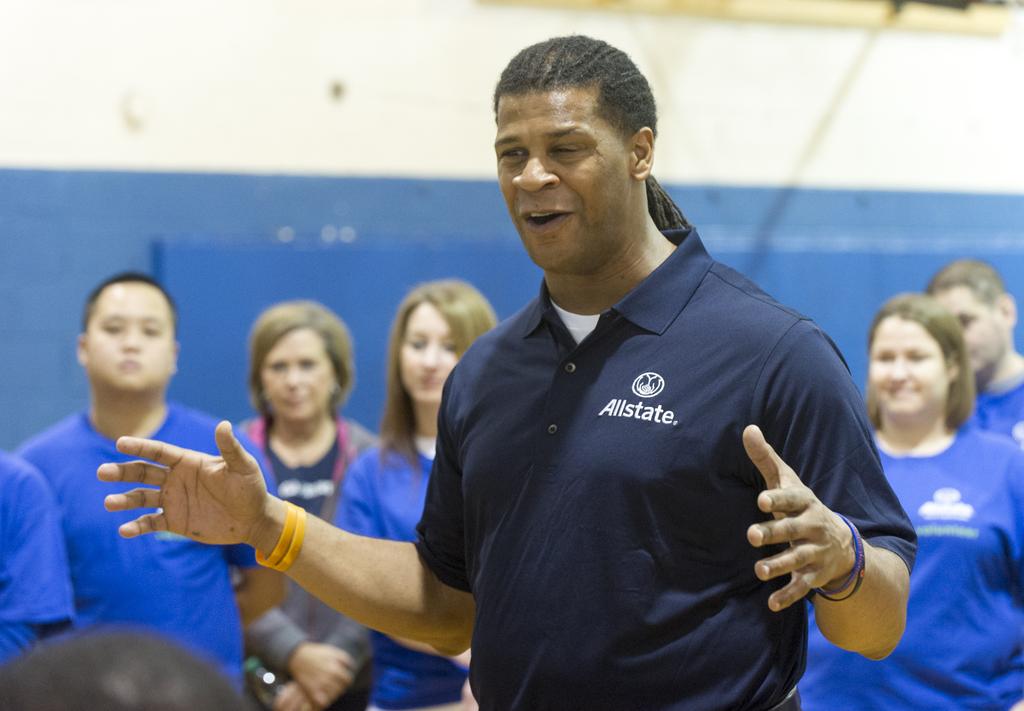 Cecil Martin, a former fullback from the University of Wisconsin and played some time in the NFL. He now works for Sky Sports as an analyst. Martin is a two-time member of the Allstate American Football Coaches Association (AFCA) Good Works Team, one of college football's most prestigious off-the-field honors, for his commitment to volunteerism and serving others.
He is working with Allstate and the Indy Parks and Recreation for the Allstate Big Ten Good Works Day. It is the third annual community service initiative featuring volunteers from Allstate and Martin supporting the Indianapolis community ahead of the Big Ten Football Championship Game.
Martin, alongside a team of Allstate volunteers will help refurbish Indianapolis' historic Douglass Park, a popular site for community gatherings and athletic events. In addition to the refurbishments, a local youth football team who uses the facilities will be surprised with new uniforms and the chance to participate in an exciting football activity led by the former football legend.
As a former Allstate AFCA Good Works Team member, Martin will also speak to the players about the importance of building character through teamwork and community service.
When I spoke with Cecil this morning I knew he was a great guy. He has enthusiasm as well as a big heart. His passion for helping others is just as big as his love for football. Here is my interview with Cecil. For more on the good work Cecil and others do with Allstate click here.
Art Eddy: Let's talk about the good work you are doing with Allstate. It looks like you, Allstate and some volunteers are looking to refurbish a park. How did you connect with Allstate to work on this project?
Cecil Martin: You know Art it started back in college when I earned the Allstate Good Works Team award for community service. Basically every year they choose a handful of players from all over the country to be considered. I won this award two years in a row. They continue to do these programs even with the Big Ten Championship.
Now they have the Allstate Big Ten Good Works Day in conjunction with the Big Ten Championship. Every year we think about how we can give back to the community here in Indianapolis. This year we are refurbishing a park where some of these kids play. It is Douglass Park. We are going to do a bunch of football drills with one of the teams here. Then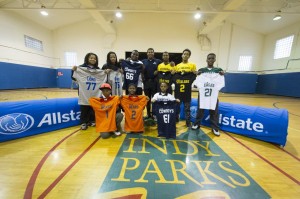 in the end we are going to unveil the refurbished park and hand all the kids in the inner city youth league new jerseys and new uniforms. Let me tell you Art it is going to be a great day.
AE: That is fantastic. Well done! What advice can you give to people on ways that they can help out their community?
CM: I think that the biggest thing that I would say is that there are always organizations out there that need help. Anytime an organization or a group of people need help is when you should look to help out your community. Companies like Allstate or places like the Indy Parks and Recreation were they provide a place for kids to be safe are areas where helping out goes a long way.
Anytime you are able to be positive and productive I would say do it. Look into the most basic things that kids need and see if those areas need improvement. Once you see what needs work go and help those places out.
AE: What are some of the things that you have learned from football and used it to help those in the community?
CM: Wow. Wow, Art that is great question. Giving back became something that was very important to me. I earned a National Community Service Award from the President of the United States because I started up a new public service group when I was in high school.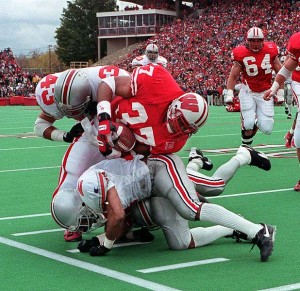 AE: Wow! That is great. Congrats.
CM: Thanks. For me there were people that looked to help me so I wanted to return the favor in many ways. When I look at football and what it has done for I would first say that it is like any other organization. You are talking about the ability of working with a team. You have people in any organization understanding what their role is. You also let the passion of that group's goal motivate and fuel them up to get the job done.
In this case I have a role. Allstate has a role. The Indy Parks and Recreation has a role. Today we are all one big team. That is what is happening at the Big Ten Championship. You have two teams looking to each work as a team and accomplish the goal of winning the game.
AE: Speaking of that game what do you think of Wisconsin's chances of beating Ohio State this Saturday?
CM: There is a great chance. Even though others might not think so, I feel Wisconsin has a great chance. I know that Urban Meyer has been there three years and he is making a difference coaching there. The team has won about 22 games straight. They never lost to the Big Ten. They are a powerhouse type of a team.
Now when you look at Wisconsin Badgers and see what Melvin Gordon is able to do. He is over 2,000 yards this year. He makes the offense a threat. Then I look at their defense. They are in the top ten in defense. So if you look at the defense of Wisconsin and the offense of Ohio State you are looking at a great matchup. They matchup very well if Wisconsin is playing their best ball. Plus with Ohio State playing their third string quarterback we need to make sure that he doesn't have his coming out party. (Both laugh.)
AE: No doubt. You have played in the some big games in your college career. I think you are going to say The Rose Bowl, but do you have a game that stands out more than the others?
CM: Well we snapped Penn State's winning streak which was impressive, but I will have to say the Rose Bowl. I was the captain of that team. People didn't think we had a chance to win that game. We did and we proved the doubters wrong. We won 38 to 31.
AE: Do you like the new College Football Championship system that the NCAA has created for this year?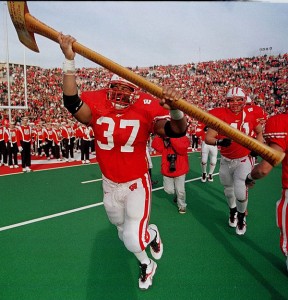 CM: I do. I think that with changing times you need to keep up with them. There is still that feeling of a bowl system, which I like. I like what the NCAA, the coaches, and the committee is looking to accomplish.
AE: You played in the NFL for a few teams. What did you take away from your time in the league?
CM: I would say that impact and the influence that you can have with young people or the community. I got to play football for living. I hope that I was able to motivate or inspire a young person. I think even then I got learn more about what it means to be humble while I was playing in the NFL. Plus to use that influence in any positive way you can.
AE: Finally who do you got playing in the Super Bowl this year?
CM: Who is going to the Super Bowl? That is a tough one. You dropped a bomb on me with that one. (Both laugh.) It is interesting because in the beginning I was thinking Seattle. Now it looks like the Green Bay Packers are the front runners in the NFC. In the AFC even though they lost to the Packers I would still say it has to be the Patriots. It looks like there might be a round two this year if those two teams meet up in the Super Bowl.
Related Posts
| | | |
| --- | --- | --- |
| | Print article | This entry was posted by Art Eddy III on December 5, 2014 at 1:41 pm, and is filed under Sports. Follow any responses to this post through RSS 2.0. Both comments and pings are currently closed. |
Comments are closed.