Week 2 NFL Picks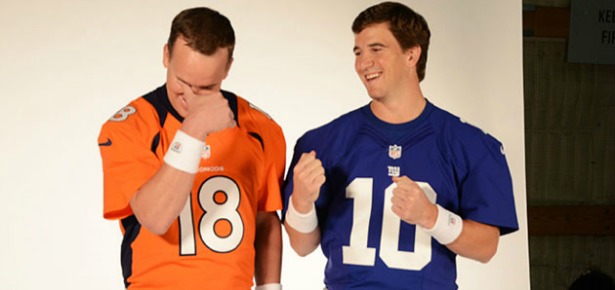 Okay so last week's picks were a bit of a disaster. But hey, it happens. It's a long season, so stick with us. Week 1 is hard to peg, but we know a lot more about the NFL with the first slate of meaningful games behind us. On to Week 2:
At New England -11.5 NY Jets
Geno Smith flashed some skills in that gift of a win last week. It took a boneheaded penalty (and a fine of nearly 8K) from Lavonte David to secure the win for the Jets. The Bills almost shocked the world in Week One, but the Pats edged 'em out. Spread seems a bit high but the Pats are playing at home. I'm still calling for no blowout though.
Pick: Jets +11.5
At Philadelphia -7.5 San Diego
The total is set at 55 for this game, so the odds makers aren't expecting a whole lot of defense in Philly. Chip Kelly's offense looked tremendous, but the Chargers showed some spark against Houston last week in a game they should've one. If the Eagles can sustain their uptempo attack and not wither away late, they should be a force to reckon with in the NFC East.
Pick: Eagles -7.5
At Baltimore -6.5 Cleveland
Both these teams have problems in the passing game. Cleveland misses Josh Gordon and I'm sure Flacco wishes he had some more solid options to work with (like Anquan maybe?). The Pitta loss clearly hurts. Dallas Clark is no spring chicken. That Baltimore D looks kinda suspect, too. All that said, even if Richardson breaks off a monster game, Weeden looks like a liability. Batimore moves to the top of the division first with a win on Sunday.
Pick: Ravens -6.5
At Houston -9 Tennessee
Yea, yea, the Titans stomped on the Steelers after they lost multiple players for the year in that Week 1 matchup. Congrats. The Titans still couldn't get the ground game going and Jake Locker wasn't exactly lighting it up either (11 for 20 for 125 yards and no scores). I think a correction is in order here. The Texans are coming off an amazing come-from-behind victory and they're going to stick it to the former Oilers.
Pick: Texans -9
At Indianapolis -2.5 Miami
Colts D looked suspect. Miami's did not. Still there's something about this young Indy team in that dome. You gotta go home team here.
Pick: Colts -2.5
Carolina -3 At Buffalo
I can't remember the last time I saw the fans in Buffalo as fired up as they were last week. The Panthers are coming to town with a formidable d-line and an ability to hang with quality teams. I like Buffalo to build on their near-win last week, though.
Pick: Bills +3
At Atlanta -6.5 St. Louis
The Rams look different this year. Richardson looks ready to shoulder the load and the offense in general just looks like it had more spark. The Falcons can spark, too though. Especially at home coming off a big loss to a divisional foe. Atlanta takes this one.
Pick: Falcons -6.5
At Green Bay -7.5 Washington
No matter how slow the Skins start, they proved that they can hang around late. I still like the Packers to play a solid game throughout and cruise to victory at home.
Pick: Packers -7.5
At Kansas City -3 Dallas
The new-look Chiefs are looking to win as many games this year as they did through 13 weeks last year. That second win won't be easy, though. Even with Romo hobbled by injury, the Chiefs are going to have their hands full. Arrowhead's a tough place to play and Charles is a monster, sure, but I think Dallas can hang.
Pick: Cowboys +3
At Chicago -6 Minnesota
The Bears stole one from CIncy, but the Vikings looked pretty non-threatening last week. Outside of AP's first carry, they couldn't get much done.
Pick: Bears -6
New Orleans -3.5 At Tampa Bay
The storyline could've been different. The Bucs could be 1-0 looking to rally round Josh Freeman and make a push towards relevancy. Instead, they pissed away a win, having players-only meetings and you got Freeman being stripped of his captaincy and missing the team photo. On the flipside, you got Payton back at the helm of a Saints team looking ready to inflict some damage on the NFC South. No dome, no problem for the Saints.
Pick: Saints -3.5
Detroit -1.5 At Arizona
Double team Calvin? Not a problem, that just opens things up for Reggie. Bush had a monster game despite messing up his groin and dislocating a thumb. Dude was a few inches shy of two more TDs that got Joiqued away from him. Bush's load won't lighten up this week as Patrick Peterson tries to lock down Calvin.
Pick: Lions -1.5
At Oakland -5.5 Jacksonville
Man, Pryor looked good. Not just cause he led the league in rushing before McCoy went off on MNF, either. Kid was pretty poised. He kept plays alive, went through his progressions and just made plays, man. Raiders fans might not want to get too optimistic, but playing the worst team in football in Week 2 should help. I don't expect
Pick: Raiders -5.5
Denver -4.5 At NY Giants
The Manning Bowl is in the Meadowlands, but you gotta love the chances of big bro's team better here.
Pick: Broncos -4.5
At Seattle -3 San Francisco
Seattle is a different team at home, yes, but the Niners look poised to make a big Super Bowl push this season. It all starts with winning the division, and this is the toughest roadblock in the NFC West. The Niners are up for the challenge.
Pick: 49ers +3
At Cincinnati -7 Pittsburgh
No one had it worse than the Steelers in Week One. The offense mustered only one garbage TD. That's atrocious. Losing your best lineman and not having a backup that's dressed will do that do a team. So will non-Dwyer options at running back. This will be a true test for the Steelers. They're a well-coached team with quality players on both sides of the ball. If they can bounce back here, they can make a season of it. If they can't run the ball or protect Ben at all, then it's going to be a very long year.
Pick: Steelers +7
Last Week: 4-11-1
Last Season: 136-121-5
Related Posts
| | | |
| --- | --- | --- |
| | Print article | This entry was posted by Chris Stout on September 12, 2013 at 4:55 pm, and is filed under Sports. Follow any responses to this post through RSS 2.0. Both comments and pings are currently closed. |
Comments are closed.