Week 10 NFL Picks
At New England -13 Buffalo
No Hernandez, but the Pats should handle the Bills. Fitzpatrick is on borrowed time as a starting QB in the NFL.
Pick: Pats-13
NY Giants -4 At Cincinnati
The G-Men can look vulnerable at times, but they should be able to close out the Bengals. Look for New York's offense to look both sluggish and effective throughout the course of the game.
Pick: Giants -4
At Tampa Bay -3 San Diego
This Doug Martin guy can play. San Diego will keep it close, but I like the Bucs to continue their newfound winning ways.
Pick: Bucs -3
Denver -4 At Carolina
The Panthers got their first win in weeks, but they're hosting their former coach who's bringing in a far superior team. John Fox gets the last laugh.
Pick: Broncos -4
At Miami -6 Tennessee
Will the return of Jake Locker give the Titans a boost on the road? I think not. The Dolphins can stop the run, force turnovers and they should cover at home.
Pick: Dolphins -6
At Baltimore -7.5 Oakland
Oakland's banged up backfield can't take advantage of this decrepit D. Baltimore continues to look better than they really are.
Pick: Ravens -7.5
Atlanta -2.5 At New Orleans
You got to like the Saints at home. With a newly discovered respect for running backs, this Joe Vitt led Saints team feels more potent. Too bad they can't stop anyone on D. Still like them to edge out Atlanta in a shoot out. Saints spoil the fun.
Pick: Saints +2.5
Detroit -2.5 At Minnesota
No Percy cripples an already pass-challenged offense. Lions offense gets it going even with Calvin Johnson not in top healthy form.
Pick: Lions -2.5
At Seattle -6 NY Jets
Grinder of a game. Edge goes to the home team.
Pick: Seattle -6
Dallas -2 At Philadelphia
Philly's downward spiral continues.
Pick: Cowboys -2
At San Francisco -12.5 St. Louis
In another week of big spreads, the heavy favorites keep on covering.
Pick: Niners -12.5
At Chicago -1.5 Houston
This game should be fun to watch. Tough conditions, tough defenses, you got to love it.
Pick: Texans +1.5
At Pittsburgh -12.5 Kansas City
The Steelers need to ride the hot hand in the backfield. Dwyer and Redman are both capable, but both backs perform better under featured circumstances. They just need to get in the rhythm of the game. Emmanuel Sanders is going to step right in and make plays. The spread's pretty steep, but you have to like Pittsburgh here.
Pick: Steelers -12.5
Last Week: 11-3
Season 65-62-2
Last Season: 140-120-12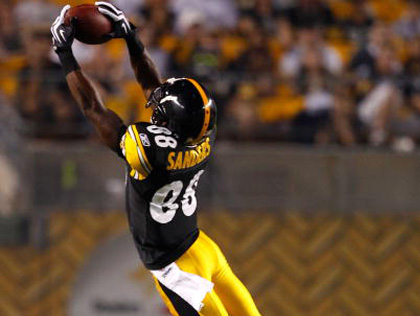 Related Posts
No comments yet.
No trackbacks yet.

about 5 months ago - No comments
At Tennessee -12 Jacksonville
Spread's a bit high, but so is the talent differential.
Pick: Titans -12
Philadelphia -1 At Green Bay
Foles over Seneca, even if Lacy goes off.
Pick: Eagles -1
At Pittsburgh -3 Buffalo
There's talk that Ben may want out in Pittsburgh. Things couldn't get much worse, so it's now or never for the Steelers.
Pick: Steelers -3
At NY

about 2 years ago - No comments
At San Diego -7 Oakland
The Chargers have lost three in a row, and when they do win games, they don't win by a wide margin. In four wins this year, San Diego's average margin of victory is 6.25. That includes a 10 point win over the lowly Dolphins. This isn't a team that blows people out.

about 3 years ago - No comments
At Indianapolis -7 Cincinnati
PICK: Colts -7
Kansas City -1 At Denver
PICK: Chiefs -1
At Jacksonville -1.5 Houston
PICK: Houston +1.5
At San Francisco -6 St. Louis
PICK: Rams +6
Tennessee -2 At Miami
PICK: Titans -2
At Arizona -3 Seattle
PICK: Cardinals -3
Minnesota -1 At Chicago
PICK: Vikings -1
At NY Giants -13.5 Dallas
PICK: Giants -13.5
At Buffalo