Posts tagged
NBA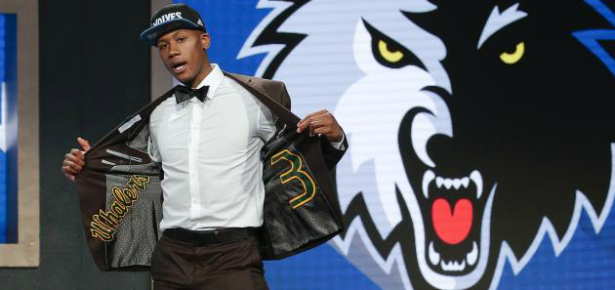 A week before the Minnesota Timberwolves made Kris Dunn the fifth overall pick in the 2016 NBA Draft, we caught up with the young point guard from Providence to discuss his decision to finish four years of school, his thoughts on the changing landscape of the NBA, how his skills will translate to the next level and his experience working with Speed Stick's Coach Speedman aka John C. McGinley. Here's the chat:
CS: Tell me about your decision to return to college for another season, finish up your degree and improve your game.
KS: The main reason why I came back to school was just to get my education. I put a lot of work in my first three years. I stayed in both summer sessions. I felt like I wanted to get that so no one could take it away from me, and just be a good role model for my two little sisters. They're heading off to high school and so just to show them how important education is and how important it is to graduate college. I'm just trying to set the standard high for my family, really. And you know, graduation day, that was a special day for us. It was a celebration for me, but also for the family and Providence College, so that was good.
On the court, I feel like I only had one full year of experience in college basketball, due to my injuries. And as a point guard, you have to be a leader, you have to be knowledgeable of the game, and felt like I needed to learn more to become a student of the game before heading off to the NBA. I felt like I needed to hone a couple more things in my game to be NBA-ready when it's time. Working on my ball handling, my decision making, improving my jump shot and becoming a better defender. A lot of people think I'm a good defender, but I could get even better. So those are the main things. Also, just trying to build a legacy at Providence. Providence hadn't gotten past the first round in 20 years. To be able to accomplish that, it takes a weight off of everyone's shoulders. My four years at Providence were amazing,
CS: Do you think other college players might follow your lead and try to hone their game, secure that education, and just get those skills up before going to the NBA? That definitely hasn't been the trend in recent years.
KS: Yeah, I mean everybody has a different scenario, a different situation at home. Some kids might need the money so that is why they go one-and-done. Some kids might feel like they're ready right away.
CS: Right.
KS: I'm not going to be the first to do this. Down the road, there's definitely going to be another person who does the same thing as me. So if they do that, I'm blessed to know that I showed them that you don't have to be afraid to go back and stick to your education. If you feel like you need to tighten up your game a little bit more, then you should be able to do that. You should be able to be a kid one more last time before going to the NBA. Because everybody knows the NBA is a business, so it's not like how college is where you always have your teammates around. Everybody has different lives though.
CS: The general landscape of the NBA is changing. It's no longer a league dominated by big guys in the paint. You see what the Warriors are doing and you see how the perimeter game is changing things. How do you think your game will translate to the next level?
KS: I think I'll adjust okay. At Providence College, all we did was pick and roll, so I'm very used to different schemes based on what defenses would do to us. I'm very comfortable in a pick and roll offense. I feel like I can get anybody involved. I'm very capable of getting into the lane, attacking at the rim or finding the open man. I've been doing a lot of that at Providence. And I'm very comfortable with my shot as well. Anybody who watches my games — any big time shot I hit, it wasn't due to lay ups, it was due to my jump shot. That shows your right there how confident I am in my shot. And I feel like my defense is going to be my greatest strength. I feel like I can defend. I feel like I can cause havoc.
CS: What players did you look up to when you were just learning the game?
KS: The player I looked up to when I was little was Kobe Bryant. It was just all because of his mentality. He's the type of person that – every day – he's going to bring it. Whether it's practice or in the game. His killer mentality, not too many people have that. That's the type of mentality I'm trying to create for myself. Just bring it every day and don't back down from anybody. That's what I loved about him.
CS: So you won't have the choice to decide where you go in the draft. Is there a certain place you'd like to end up? How do you manage those expectations when it's out of your hands?
KS: No, actually I don't have a specific place that I want to go to. My dream is just to be drafted. As a broke kid, all I wanted to do was play in the NBA. And to have that opportunity, to have a chance to be in the lottery, that is a blessing itself. Whatever team that selects me, I'm going to go there and work hard and try to impact the team the best way possible. If they need me to defend or if they need me to do whatever they want me to do. I just want to go there and I want to play. And I know it takes hard work to get out on the court.
CS: Have you done any preparation to account for any draft day jitters or just the pressure and the uncertainty of that specific day in your life?
KS: No. Right now, I'm just excited. I'm excited I'm just excited because me and my family have been through a lot of ups and downs throughout the years. Draft night, it's a moment for us. I think we deserve to be in this situation because we all worked hard as a family. It wasn't just me. Everybody put effort into helping me get to where I am. I have to appreciate my family. I have a great supporting cast. That night is for me and my family. I came from Northern Connecticut in an impoverished house, so that night is going to be great.
CS: Who is the hardest player you had to defend in college?
KS: The hardest player I had to defend…. Probably my freshman year, probably Pierre Jackson. When he was at Baylor, when he was a senior, he was a really good player. Fast. Changed his speed really well. He had a jump shot. Other than that, I wouldn't say a specific player, but I would say teams. Villanova, they're a hard team. They had so many great players. Seton Hall, they had some great players. Michigan State.
CS: What are you most excited about going from the college game to playing with the big guys in the NBA?
KS: Just going against the other point guards in the league. Everybody knows that this league is starting to get so point guard dominant. There's so many great point guards around the league. And I just want to see my skill level against the other point guards. See what I have to work on and improve on in order to become an elite point guard. I think that is everybody's standard, every day trying to become an elite player. You've got to go against the best in order to understand what you need to improve on.
CS: So I understand you'll be working with Speed Stick and Coach Speedman at the #Speedman Combine, what's that about?
KS: Coach Speedman is John McGinley, the actor. He's unreal. He's unbelievable. I had a great time with him during my set. So we're bringing the media through two circuits. In the first circuit, they're going to have to do their own commercial, their first commercial. They're going to mess up, of course. So they bring us in to help them get past their first commercial. So we tell them to stay true to themselves, you know, not try to get too down. Don't try to be perfect in your first run and whatnot. Just have fun with it. Basically John McGinley taught us to feel comfortable and have a good time with it.
Then the second circuit I think is going to be the best one. It's the pregame ritual. So the media has to do their own pregame ritual. Going through like Russell Westbrook or Kevin and they'll be dancing before the game. Or in my case, before the game I love listening to music to get myself pumped up so I don't have the jitters. It should be really fun.
CS: Is John C. McGinley that hilarious in person?
KS: [Laughs] Oh, he's so funny. It's unreal. Like, even when he doesn't try to be funny he's funny. He's amazing.