Rick Dale from American Restoration talks about new season on History Channel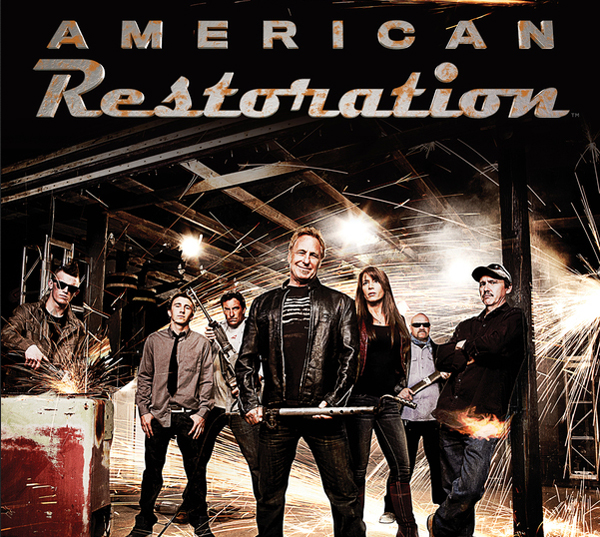 Rick Dale is the owner of Rick's Restorations in Las Vegas, Nevada. Now he has a show on the History Channel called "American Restoration." Rick and his crew take rusty, beat-up items and restore them to their original glory. Whether it's a giant gas pump from the 1940s or a Hopalong Cassidy bicycle from the 1950s, every restoration is a high-stakes business project where worthless rust is transformed into a valuable collectible. However, these restorations aren't easy. Every project presents unique challenges for Rick and his team, who develop inventive processes to finish each job flawlessly and on time.
May 28th on the History Channel starts a whole new season and the first episode features music legend Billy Joel. Dale needs to help Billy restore a rare BSA 850 motorcycle for the pop superstar. The singer has a passion for classic bikes and loves to make new models look old. After trying out an old Steinway spinet in Rick's "boneyard," the crate is opened. Inside is a 1967 BSA Royal Star or rather, a bunch of parts including a cracked engine that happens to be irreplaceable.  Rick and his crew try to get the bike to look like new.
I was able to talk to Rick about the new season on the History Channel and how he got started in the restoration business.
Art Eddy: On May 28th the new season of "American Restoration" starts up. In this episode you have Billy Joel on your show. He was looking to have a motorcycle restored. When Billy came to your store did you get a little star struck?
Rick Dale: I don't get star struck, but I was definitely nervous. It is Billy Joel for God sakes. I would watch him when I was a kid. It is pretty incredible to see him roll in and send me that bike to get restored. It was pretty cool.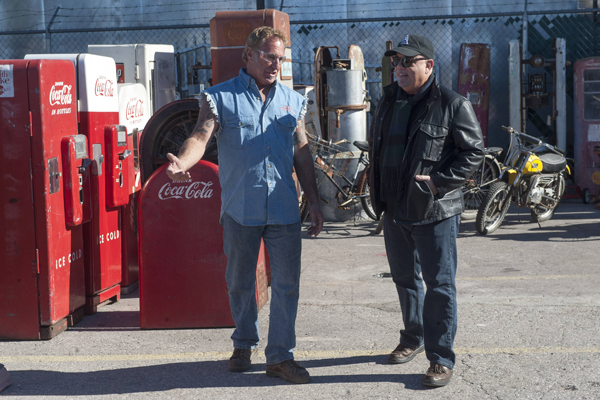 AE: Billy Joel said, "I've seen Rick's work and he does a great job. He does it the old fashioned way, he does it by hand. It's also done with care." When you hear a compliment like that does it make all your hard work that much more rewarding?
RD: Yea it does. I restore a lot of stuff for people and a lot memories. So to have a person of that caliber who actually builds bikes to come in to say that he has actually seen my work was a gigantic one. So that means Billy Joel is actually a fan or someone that likes what we do with the originality stuff. It really made me feel good that he allowed me to start this. The pressure was there while we were doing it I can tell you that right now.
AE: This can be for any project, but especially when you are doing work for a celebrity. Do you ever get overwhelmed with a restoration project?
RD: Yea I do. Someone sent me in this 35 foot slide that was from a park. It came in a million pieces. I think I can handle almost anything, but when that intimidation comes in it really shows up on screen. I was really freaking out. They will say cut and I will say 'Oh my God, are you kidding me?'
I think they test me. I think they find the biggest pile of junk. It goes all the way back to Rick Harrison. He would find the biggest pile of junk he possibly could and bring it in just to test me. I am up for the challenge. That is what sort of made my business and my life a little more creative. It allows me to really, really get into something and go deep.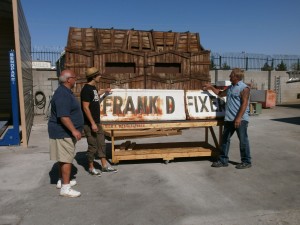 AE: This season not only do you do work for music legend Billy Joel, but you do a project for another well-known musician with Jason Mraz. What did you do for Jason?
RD: Jason's project is coming up. It is a sign out of his grandfather's garage. This is one of those projects that I almost didn't do. I didn't want to say no to him. Him and his dad came in and brought in this old sign. The sign is literally paper thin and the paper is full of rust. Finally after doing a bunch of different things figured out how I could finish the sign. It is not totally done so we are not out of the woods yet.
It is just one of those things where people see the show and think I can do anything. I am up to the challenge, but man some days I am definitely tested. I have thrown stuff, freaked out, and ran home. I have done it all.
AE: What can viewers expect from this season?
RD: Toward the end of the season we are going to be doing some high end projects. We are doing something for the Dodgers. We are doing this big hot dog cart. It was a design back from the Sixties. I get to go and meet Tommy Lasorda, which means more pressure. (Laughs)
We are doing a lot of motorcycles. We are doing this Ducati that they only made a hundred of them and so how do I find the parts for it? There is a lot of fun and really, really cool projects coming up.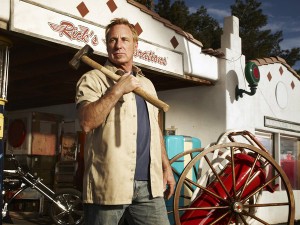 AE: How did you get into this business?
RD: Back in the day in the Eighties I actually was in construction. It really got bad here in Nevada. I had an old Coke machine in the back of my house. Somebody said to me that I could take that down to the Rose Bowl and people overseas buy them. I needed to make my house payment.
So what I decided to do was paint it all up. I needed to make enough money for the house payment and not just the electric bill. We cleaned it up and took it down there. A Japanese man bought and told me that he needed more of these.
That same day people were coming up to me since they literally saw that one machine and said to me if I wanted to buy other things. So it turned into a business. I thought I will just buy it from this guy and go home and restore them and then I will sell them. The business just took off.
To listen to the entire interview click here.
Related Posts
Comments are closed.