Week 1 NFL Picks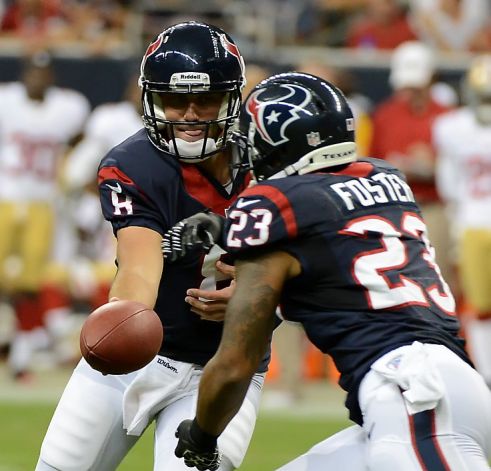 Are you ready for some football? Of course you are! It's been a long time coming, but the wait was certainly worth it. The terrible tease of the preseason is behind us. The real games are finally here. So let's get to some Week 1 NFL picks. Last season, I was 140-120-12 ATS on weekly picks. I whiffed on the Super Bowl, but hey, we all get blinded by Brady sometimes. Week 1 is always a goofy week to call. Biases from last season haven't worn off. Big stories from this season haven't fully developed. It's all hype and hope Week 1. Anything could happen. Here's how I think things will shake out (barring some terrible replacement ref calls which are sure to litter the fields this weekend).
At NY Giants -3.5 Dallas
I'm going with the champs here. The Cowboys have been yapping a ton lately. They're tired of New York's winning ways. Great way to psych your team up, guys. Sure the Giants don't always cover at home, but what does Tony Romo have to work with? A semi-gimpy Miles Austin, a spleen-less Jason Whitten and a knucklehead who's so unpredictable, he needs constant supervision. Demarco Murray may come out with brute force, and yea, Romo will find a way to move the ball through the air, but I don't think the Cowboys are going to cease their chance at a statement-win to kick off the season.
Pick: Giants -3.5
At Chicago -9.5 Indianapolis
Cutler finally has a real receiver. Luck is as good as advertised, but the Bears pick up where they left off after their season got derailed by lousy backup QBs. The Colts aren't going to stink it up like last year, but they're not going to upset the Bears in Chicago this week.
Pick: Bears -9.5
Philadelphia -8.5 At Cleveland
Vick's protecting his ribs with a special vest. Let's see if he can stay healthy for one whole game. Trent Richardson is Cleveland's entire offense. I'm curious to see what sort of impact Josh Gordon makes right away, but the Browns had trouble scoring in the preseason. They're also without a key contributor on defense, with Joe Haden serving a suspension for Adderall. Philly has too many weapons and the youth movement in Cleveland might not be ready for prime time.
Pick: Eagles -8.5
At NY Jets -3 Buffalo
I like the Bills this year. Fitzpatrick likes to go off early in the season. Fred Jackson is a beast whose monster season was cut short last year before it could fully materialize. The Bills D looks more legit than it has in years. Meanwhile the Jets continue to show signs of dysfunction. Maybe they'll pull it all together and surprise people. Not this week I think.
Pick: Bills +3
At New Orleans -7 Washington
Oh no, Drew Brees doesn't have a coach! How's he going to find a way to move the ball against the Skins? Don't overthink this. The Redskins have hope for the first time in years. RG3 looks like a legit stud who can pass when he wants to or blow past you if he must. The rookie QB and his new buddy Pierre Garcon should be able to light it up all season, especially in this first game against the Saints secondary. But the Saints don't lose at home. They dominate. They outscore the shit out of their opponents. Brees will continue to complete passes to any and every one out there. This game could be a huge score fest, but the Saints will end up on top.
Pick: Saints -7
New England -5.5 At Tennessee
The Britt-less Titans will open the season at home with a new QB under center and a rejuvenated Johnson in the backfield. The Titans won't be schlubs this season, but even with a better QB, a big game from Nate Washington and a vintage effort from CJ2K, they can't hang with the Pats.
Pick: Pats -5.5
At Minnesota -3.5 Jacksonville
This one is tough. Two of last season's terrible teams mix it up with questionable running back situations. Is AP 100 percent back or will we see large doses of Tobyball? Just how many touches will MJD get? Difficult questions to answer. Ponder and Gabbert should be better than they were a year ago, but that's not saying much. With a few personnel exceptions, both teams aren't that fantastic on the defensive side of the ball. Will Blackmon break out or will his recently injured hamstring hold him back? Does Percy lead the way for the Vikes? I'm tempted to say yes. With too many question marks, I'll take the home team.
Pick: Vikings -3.5
At Houston -12.5 Miami
I hope Reggie Bush can will this team to a couple wins this year. Philbin looks like a lifelong coordinator who has no business being a head coach. His team looked lousy on HBO and with each skill player they dump, it's clear that they're in full-on rebuilding mode. Houston's got the best running back in football and a QB who feels better than he has in a long time. Take the Texans in your survivor pool. This one's gonna get ugly.
Pick: Texans -12.5
At Detroit -7.5 St. Louis
It's the battle of the baby-faced quarterbacks. I'll take the guy throwing to Calvin Johnson and I'll make sure to insert Kevin Smith in my fantasy lineup so he can go off against a porous Rams D before he goes down with another inevitable injury.
Pick: Lions -7.5
Atlanta -3 At Kansas City
I'm not sure what to make of the Chiefs. They have two bruisers in the backfield with Charles and Hillis. They have a QB that no one is really sold on. Their top wideout ended his holdout, but jumps between greatness and inconsistent all too often. The Chiefs are built to control the line of scrimmage, and that's all well and good, but I think Matt Ryan to Julio, special Arrowhead Stadium guest start Tony G, Rowdy Roddy White and some combination of Turner-Rodgers Overdrive will prove to be too much for the hometown smashmouth team.
Pick: Falcons -3
At Green Bay -5 San Francisco
This should be a fun matchup. Aaron Rodgers and that sick offense take on the punishing Niners D. Cedric Benson will have a hard time moving the ball on the ground. I'm really curious to see what Randy Moss is going to do. He has the potential to be so sick, but can Alex Smith deliver the goods if the Randy of old shows up? And has Green Bay's defense improved enough to stop these guys? Confidence isn't super high with this one, but I have to go Packers at home.
Pick: Packers -5
Carolina -2.5 At Tampa Bay
Cam Newton connects with Greg Olsen all day long. The Bucs stay in it but trail off at the end.
Pick: Panthers -2.5
Seattle -2.5 At Arizona
Sparkplug Russell Wilson combined with that defense can make up for a lack of Marshawn, should back spasms keep the Skittles monster from starting. It's nice that the Cardinals went with Skelton. Here's hoping their o-line can keep him from getting killed the first game. Kolb knows he'll get another shot to screw the pooch again soon.
Pick: Seahawks -2.5
At Denver -1.5 Pittsburgh
The Steelers are extra bitter about how things ended last season. Peyton's back and he immediately makes Denver a favorite to win their division. Who's going to run the ball for Pittsburgh? I was on all in on Jonathan Dwyer as late as yesterday, but with Redman bouncing back from injury and the threat of a miraculously-healed Mendenhall being in the mix, I'm just not sure anymore. What I am sure about is that the Steelers have the best one-two punch combo of receivers in the league. Big Ben gets it done and the Steelers enjoy some sweet revenge, even with a makeshift o-line, injuries on defense and the absence of Ryan Clark.
Pick: Steelers +1.5
At Baltimore -6 Cincinnati
The Ravens absolutely demolished the Steelers during their home opener in Week 1 last season. The Bengals aren't going to be the chumps in the division anymore. They'll stay competitive, but the Ravens will pull away with a clear victory.
Pick: Ravens -6
San Diego -1 At Oakland
I hated myself for drafting Ryan Mathews. Sure he's a beast when he's available, but he just seems to end up on the sidelines all the friggin' time. Not sure what to make of Philip Rivers and his shit year last year. Maybe he'll get this interception thing sorted out, but I don't think Palmer will. That guy's guaranteed to throw at least two picks in this game. That's the line I'm setting. Make sure your gloves are on tight, Eric Weddle. DMC is healthy once again, but with too many wideouts out of the mix for the Raiders and with Oakland's run D all kinds of suspect, I think the Chargers pull this one out, even if Mathews sits.
Pick: Chargers -1

Last season: 140-120-12
Related Posts
| | | |
| --- | --- | --- |
| | Print article | This entry was posted by Chris Stout on September 5, 2012 at 5:00 pm, and is filed under Sports. Follow any responses to this post through RSS 2.0. Both comments and pings are currently closed. |
Comments are closed.