10 Things We Miss About the 2010 World Cup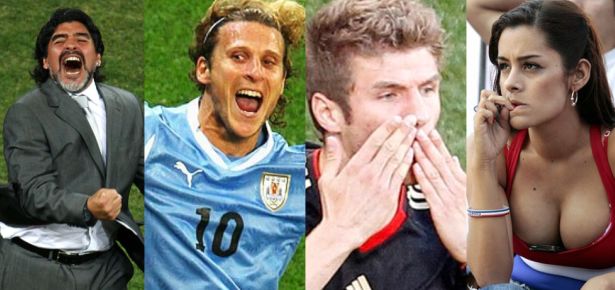 So not everything about the World Cup was awesome. A lot of people didn't like the Vuvuzelas or the flops or the horrible, horrible officiating. And let's be honest, any time Alexi Lalas is on your TV every day for a month, things aren't all good. But there were some great things. Things we can sit back and say we miss. Here's 10 of 'em:
10. Larissa Riquelme
Who doesn't miss this sweet, sweet slice of Paraguayan national pride? Riquelme's cell-phone-in-the-boobs photo blew up the Web during the early stages of the World Cup. By Cup's end, Riquelme's boobies were being sponsored by AXE. Seriously.
9. Maradona
Man, I miss this bearded midget. Maradona's colorful, semi-nutty sideline reactions, his touchy-feely relationship with his players and his awesome press conferences were extra-entertaining throughout the entire tourney. After the Cup, Argentinean officials decided not to renew the coach's contract. Sure the Germans annihilated the former superstar's squad, but if he doesn't come back, we'll never get to see shit like this again:
8. This Amazing Argentina Fan
Worth watching weekly. Yep.
7. David Villa Goals
David Villa scored five times in the tournament, and each goal was more beautiful than the next. So much touch, so much exploitation of angles and position. Watch this beautiful clip and try not to weep:
6. Watching England Choke
I love the Brits. They have all these brilliant, world-class players and they never do shit in major tournaments. Why? I don't know. Call it bad luck, lack of team chemistry, rampant individualism, bad coaching, I don't really know. They just seem cursed. That weak fumble by Robert Green just seemed appropriate, really. Like a punch to the stomach. That botched non-goal call against Germany couldn't have helped England fans feel any better either. England always has high hopes when the World Cup begins, but the team hasn't made it out of the quarterfinals since 1990. After the way the Germans handed it to 'em, the Round of 16 finish at the 2010 World Cup shouldn't have come as a big surprise.
5. Quality Soccer on U.S. TV
Wasn't it fun watching quality soccer on U.S. television? Sure, some Americans didn't appreciate the quality of play, but for soccer fans who enjoy things like fast tempo, the maintaining of possession, creative passing and so forth, a full month of quality soccer viewing was super refreshing. After the Cup was over, everything went back to normal. At the end of July, U.S. audiences were treated to the 2010 MLS All-Star Game. The best players in the U.S. were blasted 5-2 by Manchester United's second stringers. Here are some highlights from the mismatch:
4. Finishes Like That Amazing Uruguay-Ghana Match
Landon Donovan's last minute goal against Algeria was exciting, yes, but nothing was more insane than the Uruguay-Ghana finish in the Quarterfinals. Such a sick game. Ghana scores right before the half. Forlan nails the equalizer in the second half. Suarez earns the red card for an intentional handball in the stoppage time of extra time. Gyan cross-bars the PK that would've ended it all. Then the amazing shootout that followed. Just ridiculous.
3. Diego Forlan
Gaddamn this guy's good. Any time the ball left his foot you had to hold your breath. From setting up players to blasting filthy shots from set-pieces, Forlan did it all and he did it with flair. Forlan helped Uruguay to its best finish in 40 years. He earned himself FIFA Golden Ball honors for being the best player in the World Cup. Forlan posted 5 goals in the tournament (along with David Villa, Wesley Sneijder and Thomas Müller), but he was edged out of the Gold Boot race by Muller, who had more assists than the Uruguayan striker.
2. Ze Germans
This World Cup, ze Germans weren't expected to do much. They were a young squad missing their douchebag Captain. Expectations were low. But this team was fun as hell to watch and you know it. Quality passing, solid defense, creativity and friggin Thomas Muller comin' out of nowhere. The only way to contain that guy was to give him a phantom card for a phantom handball. Dude missed one game and still won the Golden Boot (with five goals and three assists). Oh yea, and he's 20. And Maradona thought he was a ball boy. Not. Like. This:
1. Actually Rooting for the U.S. Team
I don't like U.S. soccer. I think it's an inferior product. It's hard to get behind a team that allows a score in the first five minutes of every single match. But you gotta give it up for the U.S. team. They kept the Cup entertaining for a lot of people. There was a good week and a half there when people in this country truly cared about the sport. You knew their run had to end sometime, but the U.S. team made it easier for a lot more people to care about the biggest sporting event in the world.
Related Posts
Comments are closed.