Posts tagged
Yankees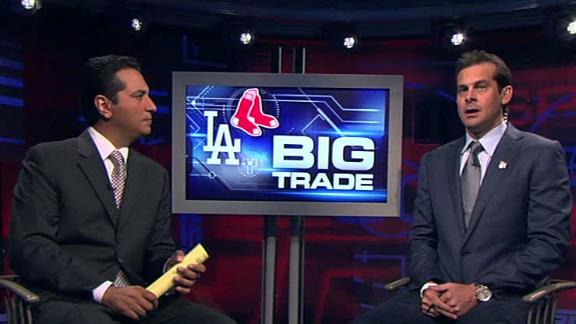 In February we celebrate Heart Awareness month. One of those weeks in that month we recognize and raise awareness for the disease known as Congenital Heart Defect (CHD). I didn't know too much about the disease until my friend told me his daughter had CHD. Now I am trying to help by spreading information about it to others.
To help with that cause I had the great fortune to speak with former Major League Baseball player, Aaron Boone about CHD. He found out back in his college days that he had a heart defect. Even with that news he didn't let that didn't slow him down. He made it all the way to the big leagues and is in inspiration to those with CHD.
You might recognize him because he appears regularly on ESPN's "Baseball Tonight", which is celebrating its 25th season. You can also see Aaron as the color commentator of baseball games on ESPN as well as his "SportsCenter" coverage.
Art Eddy: Before we get into baseball and fatherhood I want to talk about CHD Awareness Week. You knew that you had CHD back in college, but you had to have heart surgery in 2009. When you heard the news that you needed an operation what was racing through your mind at that moment?
Aaron Boone: I knew that that day was out there someday. When they tell you that the time has come it hits you pretty hard. The reality of something major that you got to tackle and take on. It happened right in Spring Training when I was getting ready for the season so I didn't expect it.
It definitely is a wakeup call. At the same time I was very eager to get it done. I had different injuries throughout my career obviously not related to the heart. I knew that this was a big one. I had a ton of confidence in my doctor, my surgeons, and all the people up in Stamford that did my procedure. I was very much at peace going in knowing I was in good hands and ultimately God's hands.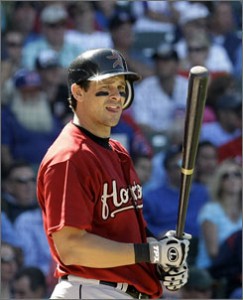 AE: After the surgery you came back to play in the league. You played a bit for the Astros. How good did it feel to be back in the game you love?
AB: Certainly heading in I was at peace if this was the end of my career I was going to be fine with that. That being said once I knew that I had the surgery and that things went well and the rehab process was going well they green lighted me to try and get back.
It was very gratifying. To see your body go through open heart surgery and all of that it entails. To see the weight loss. To really see your body return over a few months period and working hard at the gym to get back and play in the month of September was great. It was my going out party if you will. It was my only year in Houston, but I ended up playing with a lot of people that I am still close with that were so supportive.
It is times like that where you really appreciate friendships and people that are trying to enable you, help you, and support you in realizing your dream in getting back. The fact that I was able to do that was a little bit of closure for me in my career.
AE: What do you think people should know about CHD?
AB: With medicine and technology now, like many diseases in our society you can find out what is going on with your body at early stages of things. It can really help you fulfill your life and get the most out of your life just from early detection.
The fact that I knew about my situation starting in college and I knew about it for 20 years. I did my due diligence of getting my checkups. So doctors were on top of the growth of my heart for when I actually needed to have the surgeries. Maybe 20 to 40 years before that they wouldn't be able to detect and it would have turned into a heart attack or a stroke. All the advancements and the great technology you can really prevent catastrophic situations by being aware, by getting checked out, by monitoring not only what is going on with your heart, but with your body.
AE: You played for a handful of teams in your career. How was the transition for you when you would start up with another team?
AB: It was a fun part of the game. For me I played my whole minor league career and then my first six, seven years in the big leagues with Cincinnati. When I started bouncing around to different teams I was already a veteran player so I knew a lot of people. I had a lot of relationships throughout the game.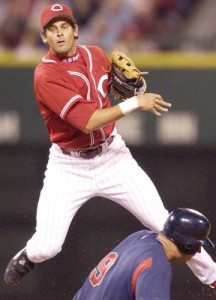 Anytime you would go to another team there was typically several guys that you were familiar with or had friendships with. For me it was always a new challenge, a new chapter of building something with a new team. It was something that I enjoyed to get the opportunity to get to play with several teams at the end of my career.
AE: What is your favorite memory from your playing days? Please don't say the home run against the Boston Red Sox in 2003. I am a Sox fan and that still hurts. (Both laugh)
AB: Well it was pretty good, but you know 1999 we won 96 games with the Reds. We were a nice mix of young and up and coming players, me, Sean Casey, Pokey Reese, and Mike Cameron early on in our careers with veteran players. There was Barry Larkin, Pete Harnisch, and Greg Vaughan. It was such a really good blend of veteran players, younger players, and it all kind of came together. There were so many special moments that came together that year. Looking back my best year was playing in 1999 with the Reds.
AE: When I watch you on TV I love to hear the passion you have for the game. You do a great job of breaking the game down for the audience. How much fun do you have at ESPN being an analyst?
AB: Well thank you for that. It has been such an awesome way to really be continuing my career. Not being able to play at the highest of levels your body tells you that it is time for that. This is a way to stay involved like you said in a game that I love. It is a sport that I have a lot of passion for. It is a sport where I have a lot of ideas.
The fact that I get to go out there and have a platform to try and bring the game to the viewer from a player's perspective is what I take a lot of pride in. I enjoy trying to convey the sport that I love in hopefully a simple manner.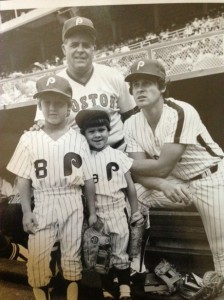 AE: You come from a long line of baseball players. Your grandfather played. Your dad and brother played. First off I think that is amazing for a family to have that type of baseball heritage. What advice did you get from your family as you entered the big leagues?
AB: My dad played for 19 years in the Major Leagues. He had such a tremendous work ethic that I think hopefully a little bit of that rubbed off on me. He always told me all the time, no matter what I did, do it because you love it and do it to the best of your ability. I always thought that if I could take those two thoughts in whatever path I choose in what I do each and every day that you are going to get a lot out of it. You are probably going to get the most out of your ability.
I always tried to have that simple perspective in even the most trying of times. When you are scuffling at your job or it is not going as smooth as you want, I always tried to get back to that foundation.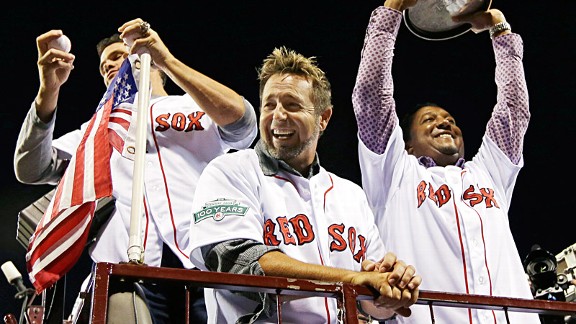 Kevin Millar had many outstanding moments in his Major League Baseball career. The 2004 season has to rank really high up for him. That year he and the rest of the Boston Red Sox did the unbelievable by beating a 0-3 series deficit against the New York Yankees in the ALCS to move on in the playoffs and eventually win the World Series.
Now retired from the game he loves, Kevin is the co-host of the phenomenal show "Intentional Talk" with Chris Rose on the MLB Network. The show airs weekdays at 5 PM EST. If you have never seen this show you are missing out on some good times. Kevin and Chris talk baseball, but discuss a whole lot more. They even get players from around the league to sing on television. What other shows can do that? Not many!
I had the great pleasure of talking with Kevin about his time in the majors, his show "Intentional Talk," and winning the World Series.
Art Eddy: I know that you have spoken about this issue at great length, but I have to ask you to put a bow on the Ryan Dempster and Alex Rodriguez fiasco?
Kevin Millar: I think that once everyone has their own opinions, because the bottom line is that what is the right thing to do? Players are upset that A-Rod is playing. They feel that he should be suspended. They feel that he should be serving his suspension.  There is an appeal process that Alex has the right to go through, which any other player would go through, and he is appealing this process.
I think the whole bottom line is that we know too much about Alex Rodriguez's situation. It is public knowledge. For some reason it has been public knowledge and most players that appeal their process we don't hear about it. There has been a ton of players that have appealed. Melky Cabrera. Miguel Tejada was just playing through an appeal process. Ryan Braun played through his appeal process, but no one knew about it.
Alex Rodriguez, we all knew about it. Players are kind of angry because one now you are judging a guy. The other side of it is the Ryan Dempster situation. The first pitch behind the calf. Did it shock everybody? Sure it did. It wasn't a dangerous pitch. I do think we blow things out of proportion because it is Alex Rodriguez and the situation. There are players in baseball that get hit every single night. We saw Bryce Harper get drilled in the thigh two weeks ago when he hit a home run off of (Julio) Teheran.
So this happens. It is baseball. I mean my goodness gracious Dempster hits A-Rod. He hits his elbow pad, grazes him in his ribs and it became a huge story. I think everybody is confused. Everyone has got their own opinion. I really don't know the right situation or the right way. I don't want to be the Red Sox homer and be anti-A-Rod. That is not what I am about. I am just confused.
This is the first time I think that we have seen this in our sport, ever. It is a lightning rod and Alex Rodriguez should be serving a major suspension and he is going through the appeal process. Players are angry and you are hearing voices. We saw the first action by a Major League player in Ryan Dempster.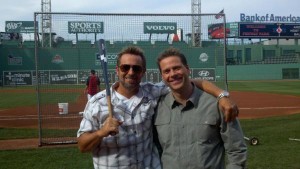 AE: Before we talk about your career in the majors, I want to talk about the show you co-host with Chris Rose called Intentional Talk that launched April 2011 on the MLB Network. It looks like you have blast on that show. You and Chris work great together. How did you get involved to be on the show?
KM: First of all it is a tremendous show. The reason why I say that is if you have one game the Red Sox and Yankees game and you have five different shows, you can only talk about that game so many times. Yankees win 3-1 and (Robinson) Cano hits a three run home run, how many times and spins can you see the Cano home run and that they Yankees won?
It started back then and we love to laugh. I am not a comedian by any means. What you see is what you get, but I am a little goofy. What you see is going to be from my heart. You are going to laugh. It is different. You are going to have relevant videos. You are going to have a player interview every day. We are not going to talk baseball half the time. We are going to ask them a lot of funny questions.  Every week we try to get better.
We have a rapid fire segment that is just off the wall questions that players love. It is shocking some of the questions. Two days ago we had J. J. Hardy and one of the questions I asked him was give me the worst thing about Buck Showalter's face. To see his reaction, he was like 'What? I can't say that.'
The show itself is fun. Chris Rose is brilliant. He is very smart. He is very knowledgeable. He is a hard worker. He has helped me a lot. I met Chris through "The Best Damn Sports Show" days when he was working there and I played with the Red Sox.  They asked about doing the show. Tony Petitti and John Entz asked, 'Would you like to do a show?' I live in Austin and have four kids, I can't live in Jersey, but they put a camera in my house.
We tried it. It took time. The first three months we were double talking, speaking over each other, but it truly is a fun show. I enjoy doing it. I love doing it. Hopefully everyone who gets a chance to watch it can at least laugh.
AE: What are some of your favorite moments so far on Intentional Talk?
KM: I think when we get players to sing. I mean you are getting Major League players to sing on a microphone. We had Mike Stanton and Michael Morse and it just started. It was like sing us a song, the best line. The next thing you know these are looking in the camera like they are JLO. When you start playing them back, it doesn't get any better than that. It is great.
Last year at the World Series we had Marco Scutaro on the set and Miguel Cabrera. They start getting into it with each other. Talking about each other's hair. It is a World Series game and they are getting ready to face each other. This isn't an All-Star Game. That is what are show is about. Players feel comfortable and you are going to get anybody you want because the trust us. They are not getting the standard baseball question like how do you feel and blah, blah, blah.
AE: Who would be your ultimate guest to have on your show?
KM: I think the biggest running joke has been Derek Jeter. I think Derek Jeter has to come on the show. I want to talk about his hair. How bad his hair is. I want to talk about his cologne. He has never sent me a bottle of his cologne. I want to know who Derek Jeter really is. I think he would probably be a great interview. I don't think that anybody rags on Derek Jeter publicly. I am going to rag on him. I think it is time for America to know about Derek Jeter.
He has got a lot money. He has got a lot of rings and he is good looking. We know all that. I want to know about some of the girls that he has dated like the rest of the world.
AE: Switching to your playing days as a Red Sox fan I will always remember 2004 season for many reasons. One was your famous rally cry "Cowboy Up." Take me back and talk about the change of emotions in the clubhouse from Game 3 in the ALCS to Game 4?
KM: In Game 3 we got beat 17-8 or 9 or whatever that score was I was hoping that (Hideki) Matsui and (Gary) Sheffield had blisters on their hands. I think they had four hits and a couple of home runs. I was thinking that maybe their hands were damaged for Game 4. Maybe their blisters are bleeding and they won't be able to play the next day. At that point we are down 0-3 and we got crushed. There is a long road ahead. You can't make it up.
You can't win four straight games against the mighty Yankees. It was a bad time. We showered. As soon as I got up the next day, that night it stays with you, I read the paper. Dan Shaughnessy wrote an article and in there he called us frauds that we all have seen. Then it hit me. I said okay, I didn't think we were frauds.
I thought that the Yankees were better than us. I got that. You can say that. Sheffield, A-Rod, and Jeter and (Jason) Giambi and Matsui, I get it. They are better, but you can't call us frauds. I am over there looking at Billy Miller and Trot Nixon and Jason Varitek and Pedro (Martinez), we are not frauds. We are just down 0-3.
That got me a little bit. I got to the field. It was like this little light switch that clicked on. I got to figure this out. When Dan Shaughnessy walked in I wore him out publically in the locker room. I said, 'Your hair sucks Dan. You got a red perm.' He had no idea where I was coming from. I am like yea your hair sucks.
He said, 'Why are you on me?' Then the whole fraud thing came out.  I said don't let us win tonight and that is how the whole thing started. At that point I think that was our only hope.  It was to forget about the three games and let's move forward and let's try to win a game tonight. I felt strong with that statement and it is amazing how it all worked out.
AE: Is there one singular moment that stood out to you when you saw the tide turning for you and your teammates?
KM: The part that really turned and I think was the Tony Clark ground rule double. If that ball doesn't go in the stands we probably lose Game 4 and the series is over. His ball goes into the stands, they can't score. Now it stays second and third and we win that game. Now you start seeing uh-oh, it was just like one win.
At that point, I don't care who says who, that pressure is in their dugout. They were a nervous wreck. They knew that this was not looking good. I don't care who you are, but that was just the way it was. We had nothing to lose. When we left the hotel room going to Yankees Stadium they had no chance. They really had no chance.
They were going to try so hard. There was no ghosts this year. It was the boys of the Sox were going to roll in here and it was just the way it was. It was in the cards. You can't fight that. We went up there and boat raced them in Game 7. Johnny Damon with two home runs. It was just in the cards. You can't have a rivalry if you are not going to let us win once. It was about time we won one.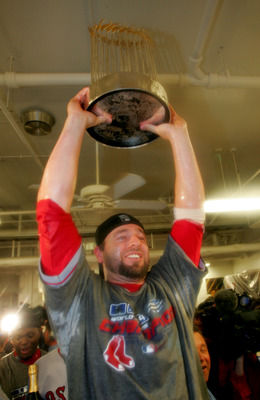 AE: For people like me that will never experience winning a World Series, can you describe what it was like to win a championship?
KM: It is indescribable, because you are men, you are dads, and you are husbands. You got gray hairs. Some of the guys have bad bodies. They are old, but yet we are kids. You are playing for a ring. You are playing for a World Series Championship. You are playing for a title. You are playing for a city. I am telling you, you can't describe it.
The Boston Red Sox are number one at that point. 86 years they haven't won anything. Say what you want with the Cubs. They are the lovable losers. They are cute. They drink beer on day games. I get it. It will be a cool World Series one day, but there is nothing like Red Sox nation at that point. That group of guys, because we were normal. We are bad bodied, normal guys not making $40 million a year.
We are not good looking. We are just normal guys. I think Boston related to us and we were like one big family. We were out. We didn't have VIP limos dropping us off at the bar. We want a beer, we went across the street on Boylston and go get a beer. You put all that in. It doesn't make sense, but is was that group, that year, that series, that championship, we were a bunch of kids and it was awesome.