Aaron Boone Interview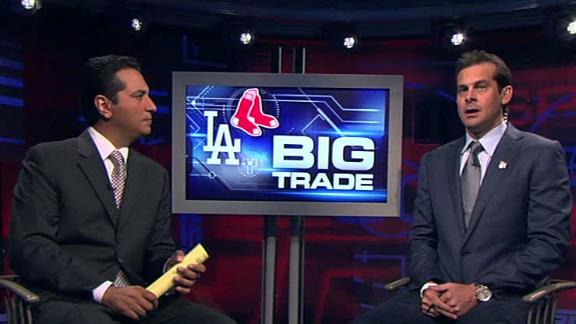 In February we celebrate Heart Awareness month. One of those weeks in that month we recognize and raise awareness for the disease known as Congenital Heart Defect (CHD). I didn't know too much about the disease until my friend told me his daughter had CHD. Now I am trying to help by spreading information about it to others.
To help with that cause I had the great fortune to speak with former Major League Baseball player, Aaron Boone about CHD. He found out back in his college days that he had a heart defect. Even with that news he didn't let that didn't slow him down. He made it all the way to the big leagues and is in inspiration to those with CHD.
You might recognize him because he appears regularly on ESPN's "Baseball Tonight", which is celebrating its 25th season. You can also see Aaron as the color commentator of baseball games on ESPN as well as his "SportsCenter" coverage.
Art Eddy: Before we get into baseball and fatherhood I want to talk about CHD Awareness Week. You knew that you had CHD back in college, but you had to have heart surgery in 2009. When you heard the news that you needed an operation what was racing through your mind at that moment?
Aaron Boone: I knew that that day was out there someday. When they tell you that the time has come it hits you pretty hard. The reality of something major that you got to tackle and take on. It happened right in Spring Training when I was getting ready for the season so I didn't expect it.
It definitely is a wakeup call. At the same time I was very eager to get it done. I had different injuries throughout my career obviously not related to the heart. I knew that this was a big one. I had a ton of confidence in my doctor, my surgeons, and all the people up in Stamford that did my procedure. I was very much at peace going in knowing I was in good hands and ultimately God's hands.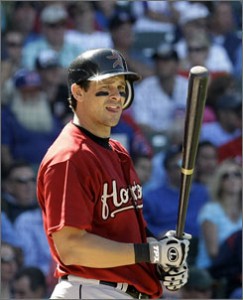 AE: After the surgery you came back to play in the league. You played a bit for the Astros. How good did it feel to be back in the game you love?
AB: Certainly heading in I was at peace if this was the end of my career I was going to be fine with that. That being said once I knew that I had the surgery and that things went well and the rehab process was going well they green lighted me to try and get back.
It was very gratifying. To see your body go through open heart surgery and all of that it entails. To see the weight loss. To really see your body return over a few months period and working hard at the gym to get back and play in the month of September was great. It was my going out party if you will. It was my only year in Houston, but I ended up playing with a lot of people that I am still close with that were so supportive.
It is times like that where you really appreciate friendships and people that are trying to enable you, help you, and support you in realizing your dream in getting back. The fact that I was able to do that was a little bit of closure for me in my career.
AE: What do you think people should know about CHD?
AB: With medicine and technology now, like many diseases in our society you can find out what is going on with your body at early stages of things. It can really help you fulfill your life and get the most out of your life just from early detection.
The fact that I knew about my situation starting in college and I knew about it for 20 years. I did my due diligence of getting my checkups. So doctors were on top of the growth of my heart for when I actually needed to have the surgeries. Maybe 20 to 40 years before that they wouldn't be able to detect and it would have turned into a heart attack or a stroke. All the advancements and the great technology you can really prevent catastrophic situations by being aware, by getting checked out, by monitoring not only what is going on with your heart, but with your body.
AE: You played for a handful of teams in your career. How was the transition for you when you would start up with another team?
AB: It was a fun part of the game. For me I played my whole minor league career and then my first six, seven years in the big leagues with Cincinnati. When I started bouncing around to different teams I was already a veteran player so I knew a lot of people. I had a lot of relationships throughout the game.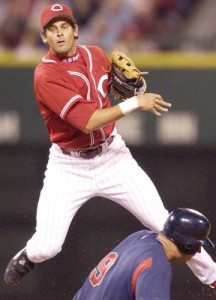 Anytime you would go to another team there was typically several guys that you were familiar with or had friendships with. For me it was always a new challenge, a new chapter of building something with a new team. It was something that I enjoyed to get the opportunity to get to play with several teams at the end of my career.
AE: What is your favorite memory from your playing days? Please don't say the home run against the Boston Red Sox in 2003. I am a Sox fan and that still hurts. (Both laugh)
AB: Well it was pretty good, but you know 1999 we won 96 games with the Reds. We were a nice mix of young and up and coming players, me, Sean Casey, Pokey Reese, and Mike Cameron early on in our careers with veteran players. There was Barry Larkin, Pete Harnisch, and Greg Vaughan. It was such a really good blend of veteran players, younger players, and it all kind of came together. There were so many special moments that came together that year. Looking back my best year was playing in 1999 with the Reds.
AE: When I watch you on TV I love to hear the passion you have for the game. You do a great job of breaking the game down for the audience. How much fun do you have at ESPN being an analyst?
AB: Well thank you for that. It has been such an awesome way to really be continuing my career. Not being able to play at the highest of levels your body tells you that it is time for that. This is a way to stay involved like you said in a game that I love. It is a sport that I have a lot of passion for. It is a sport where I have a lot of ideas.
The fact that I get to go out there and have a platform to try and bring the game to the viewer from a player's perspective is what I take a lot of pride in. I enjoy trying to convey the sport that I love in hopefully a simple manner.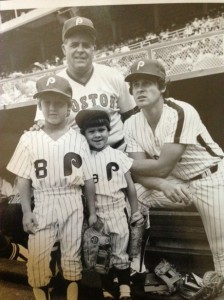 AE: You come from a long line of baseball players. Your grandfather played. Your dad and brother played. First off I think that is amazing for a family to have that type of baseball heritage. What advice did you get from your family as you entered the big leagues?
AB: My dad played for 19 years in the Major Leagues. He had such a tremendous work ethic that I think hopefully a little bit of that rubbed off on me. He always told me all the time, no matter what I did, do it because you love it and do it to the best of your ability. I always thought that if I could take those two thoughts in whatever path I choose in what I do each and every day that you are going to get a lot out of it. You are probably going to get the most out of your ability.
I always tried to have that simple perspective in even the most trying of times. When you are scuffling at your job or it is not going as smooth as you want, I always tried to get back to that foundation.
Related Posts
| | | |
| --- | --- | --- |
| | Print article | This entry was posted by Art Eddy III on February 10, 2014 at 5:42 am, and is filed under Sports. Follow any responses to this post through RSS 2.0. Both comments and pings are currently closed. |
Comments are closed.