Posts tagged
Whiskey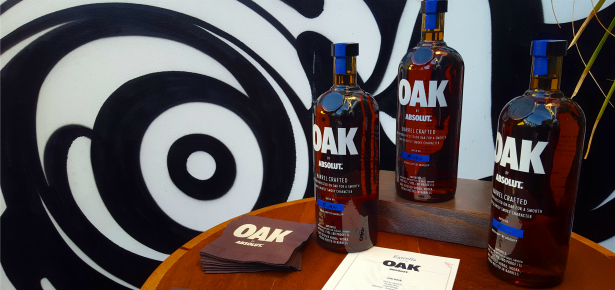 Whiskey is really popular these day, but people still like to party with vodka. Whiskey wins the sipping competition easily. If you're going to sit and sip and you really want to enjoy a well-crafted spirit, you're probably going to reach for whiskey, Scotch or bourbon. But if you want a shot or a cocktail, you may want to explore some vodka options. But what if you can't decide? What if you want the mixability of vodka without sacrificing the flavor of whiskey?
Well, Absolut has an answer for this scenario and it's name is Oak. Oak by Absolut was devised by Per Hermansen, a guy who almost certainly owns the most amazing job title available at Abolsut: Director of Sensory Strategy. I mean that just sounds cool, right? Apparently, Per's job description includes coming up with fun and unique vodka flavor combos. This is something Absolut has been doing for years with variants like Citron, Mandrin, Cilantro, Mango, Vanilla, Berri Acai, Apple, Pears, Hibiskus, Peppar. You get the idea.
So Per came up with the idea of aging vodka in oak barrels and he set about testing different barrel options to see what sort of flavors he could produce. The combination he came up with featured three distinct barrel types: American oak, Swedish oak and American oak barrels that had previously been used to age bourbon. The Swedish oak barrels produced a spicy, chocolatey flavor. The American oak barrels delivered a less spicy and more caramel forward flavor. The ex-bourbon barrels imparted a very strong vanilla vibe.
After the success of one of their most recent variants – Absolut Elyx – the brand decided to release Absolut Oak in a similar, city-by-city test program. Oak was first introduced in May of last year in Denver, Minneapolis and San Diego. Last week we attended the official launch of Oak in Los Angeles at Estrella on Sunset. I admit to being a bit skeptical of the product, but I have to say I was pleasantly surprised. I expected a spirit that would be overly sweet and not quite sure what to make of itself, but instead I found a pretty mellow spirit that's difficult to classify. Yes, its still vodka, but the barrel aging passes along so much additional flavor and color that it can easily be mistaken for a very light, drinkable whiskey.
Sampling the stuff straight up, it really wasn't all that bad. It's real power, though, comes in the form of a utility mixer. It plays nice with other ingredients. Here are the three different cocktails were served at the launch event: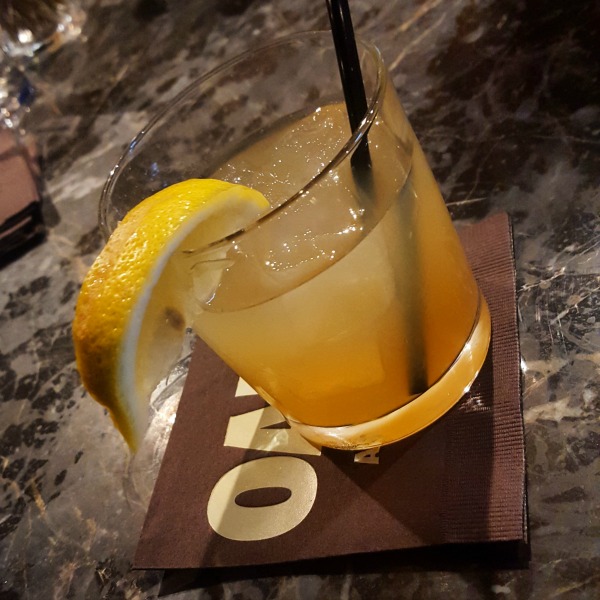 Oak & Cola
Uppsala Sour
2 parts Oak by Absolut
1 part Lemon Juice
.75 parts Simple Syrup
Combine all ingredients in a cocktail shaker
Shake with ice until cold
Strain into a rock glass over cubed ice
Garnish with a lemon wedge
Oak Mule
2 parts Oak by Absolut
.5 parts Ginger Beer
Lime Wedge
Angostura bitters (optional)
Pour all ingredients into a fancy mug
Fill with ice
Garnish with a lime wedge
The Oak and Cola was simple and not too sweet. The Uppsala Sour was tart and refreshing. The Oak Mule was a nice take on the classic cocktail served in a fancy mug. I find traditional Moscow Mules to either be too sour or too sweet, but the extra smoky oak flavor of the vodka mixed well with the bitters and ginger beer to produce a very drinkable cocktail.
I'm still a whiskey guy and Oak by Absolut faced an uphill battle with me. I didn't expect to be fully won over or converted on the spot, but I can definitely see myself partaking in this smoky brown vodka again in the future. I may not order it straight up, but I would certainly welcome the barrel-aged flavors that Oak can introduce to classic vodka-based cocktail options.